 News
Queens of the Stone Age vinyl reissues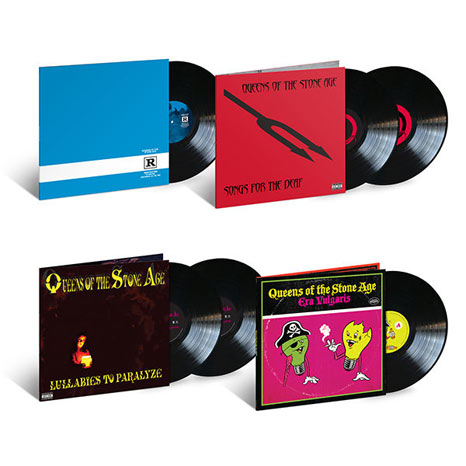 Four Queens of the Stone Age albums will be reissued as deluxe vinyl releases in November.

Rated R (2000), Songs for the Deaf (2002), Lullabies to Paralyze (2005) and Era Vulgaris (2007) are the albums in question, and all are pressed on black vinyl.
Rated R features the original blue album artwork and features the vinyl bonus track 'Ode To Clarissa' and includes a big 12″ x 24″ insert. Songs for the Deaf is a gatefold 2LP set and also includes an insert, this time a 12″ x 12″ square one. This is the first time the original red background with black graphics has been used on a vinyl pressing.
Lullabies to Paralyze is another double album and includes three vinyl-only bonus tracks ('Infinity', 'Like A Drug' and 'Precious Grace') andlike Songs for the Deaf is a gatefold, while Era Vulgaris is released on vinyl for the first time in the UK and the first time anywhere as a 12-inch black vinyl pressing (the US original was a 3 x 10-inch pressing). This comes with a 12″ x 12″ insert and includes the vinyl-only bonus track 'Running Joke.'
Rated R and Songs For The Deaf are issued on 22 November while Lullabies to Paralyze and Era Vulgaris are out on 20 December 2019 via Universal Music.
The SDE shop has a 6LP bundle of all four vinyl albums at a special price, although please note that these won't ship until all four products are available in Dec. Pre-order via this link or use the button below.

Rated R: Deluxe vinyl reissue
Side A
1 Feel Good Hit Of The Summer
2 The Lost Art Of Keeping A Secret
3 Leg Of Lamb
4 Auto Pilot
5 Better Living Through Chemistry
6 Monsters In The Parasol
7 Quick And To The Pointless
Side B
1 In The Fade
2 Tension Head
3 Lightning Song
4 I Think I Lost My Headache
5 Ode To Clarissa *Intl vinyl bonus track
Songs For The Deaf: Deluxe Reissue
Side A
1 You Think I Ain't Worth A Dollar, But IFeel Like A Millionaire
2 No One Knows
3 First It Giveth
4 Song For The Dead
Side B
1 The Sky Is Fallin'
2 Six Shooter
3 Hangin' Tree
4 Go With The Flow
5 Gonna Leave You
Side C
1 Do It Again
2 God Is In The Radio
3 Another Love Song
Side D
1 Song For The Deaf
2 Mosquito Song
Lullabies To Paralyze: Deluxe Reissue
Side A
1 This Lullaby
2 Medication
3 Everybody Knows That You Are Insane
4 Tangled Up In Plaid
5 Burn The Witch
Side B
1 In My Head
2 Little Sister
3 I Never Came
4 Someone's In The Wolf
Side C
1 Infinity *Vinyl bonus track
2 The Blood Is Love
3 Like A Drug *Vinyl bonus track
4 Skin On Skin
Side D
1 Broken Box
2 Precious And Grace *Vinyl bonus track
3 "You Got A Killer Scene There, Man…"
4 Long Slow Goodbye
Era Vulgaris: Deluxe Reissue
Side A
1 Turnin' On The Screw
2 Sick, Sick, Sick
3 I'm Designer
4 Into The Hollow
5 Misfit Love
6 Running Joke *Exclusive vinyl track
Side B
1 Battery Acid
2 Make It Wit Chu
3 3's & 7's
4 Suture Up Your Future
5 River In The Road
6 Run, Pig, Run