 News
R.E.M. / Monster anniversary reissue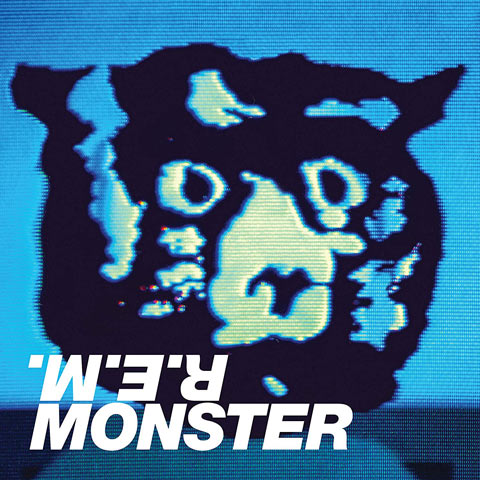 5CD+blu-ray super deluxe • Scott Litt 2019 remix • demos • Live • 5.1 surround mix • 2LP, single LP and 2CD editions also available
Craft Recordings will reissue R.E.M.'s 1994 album Monster as a six-disc 25th anniversary issue in November. The 5CD+blu-ray set will include a brand new Scott Litt stereo mix, unreleased demos and a 5.1 surround sound mix.

Although the album was not particularly well received critically, it still delivered twice the number of UK top ten hits than its much loved predecessor Automatic For The People ('What's The Frequency Kenneth?' and 'Strange Currencies' both got to number nine, whereas number seven hit 'Everybody Hurts' was the only one of six singles to penetrate the top ten). In fact of Monster's five UK singles, only 'Crush With Eyeliner' failed to reach the top 20.

Six disc super deluxe of Monster comes in a CD-sized hardcover book
The 25th anniversary edition features the remastered original mix on CD 1, followed by a disc of 15 previously unreleased demos, with names like 'Rocker With Vocal' or 'Mike's Gtr'. The third CD is Scott Litt's new 2019 stereo remix and this is followed by two further CDs that offer an unreleased live set from the 1995 Monster Tour. In terms of the new stereo mix, the idea was to pull the guitars back and push the vocals forward to create a more open sound and showcase the lyrics. You can get a taster by listening to 'What's The Frequency Kenneth?', below.
The blu-ray is the sixth and final disc and it includes hi-res stereo (presumably the remastered original mix) and a 5.1 surround mix of Monster. No Dolby Atmos this time around, then. This disc also features the blu-ray debut of the 1996 Road Movie concert film as well as six music videos.
Packaging-wise, for the super deluxe, Craft Recordings are delivering a third different presentational approach in as many R.E.M. album reissues, which suggests a make-it-up-as-you-go-along approach (you could say 'pragmatic', if you were feeling generous). 2016's Out Of Time super deluxe was a DVD-sized hardcover book, while Automatic For The People was a large format 12-inch box with a big book, which discs housed underneath. As can be seen from the image above, the label are cramming six discs into a CD-sized hardcover book for Monster. Doesn't feel very 'top of the range'. The three super deluxe reissues for consecutive albums are going to look rather higgledy-piggledy if you place them side-by-side on your shelf.
In terms of the actual audio (and video), the content is reasonably similar to previous super deluxe reissues. There's nothing from any of the singles though, which admittedly mainly featured live cuts. Even so, there is no radio mix of 'What's The Frequency Kenneth?', no 'K Version' of 'Bang and Blame', and no 'Tongue' or 'Crush With Eyeliner' instrumentals.

2CD edition of Monster is consistent with both Out of Time and Automatic For The People
The Monster reissue also boasts 'reimagined' artwork by the original cover artist Chris Bilheimer and features new sleeve notes by Mathew Perpetua, which include new interviews that explain a lot of process and include fresh takes on the lyrics from Michael.
There will also be a two-CD edition and a 2LP vinyl version of Monster both of which feature the album remaster on the first disc and the 2019 remix on the second. I'm not sure repeating the album in this way, on these formats, is what most fans would want. A selection of live tracks and/or some demos would surely be preferable. The two-CD of Monster comes in a small lift-off lid box with booklet and poster (as per Out Of Time and Automatic For The People).
Finally, a single vinyl LP of Monster will also be available. This features the remastered version of the original mix and comes in the original artwork.
The 25th anniversary reissue of Monster will be released on 1 November 2019.
Disc: 1 (CD) Monster remastered
1. What's The Frequency, Kenneth?
2. Crush With Eyeliner
3. King Of Comedy
4. I Don't Sleep, I Dream
5. Star 69
6. Strange Currencies
7. Tongue
8. Bang And Blame
9. I Took Your Name
10. Let Me In
11. Circus Envy
12. You
Disc: 2 (CD) Unreleased Demos
1. Pete's Hit
2. Uptempo Mo Distortion
3. Uptempo Ricky
4. Harlan County with Whistling
5. Lost Song
6. AM Boo
7. Mike's Gtr
8. Sputnik 1 Remix
9. Black Sky 4-14
10. Revolution 4-21
11. Rocker with vocal
12. Time Is On Mike's Side
13. 1Experiment 4-28 no vocal
14. Highland Fling 4-29
15. Cranky 4-29
Disc: 3 (CD) Monster Scott Litt 2019 remix
1. What's The Frequency, Kenneth? (2019 Remix)
2. Crush With Eyeliner (2019 Remix)
3. King Of Comedy (2019 Remix)
4. I Don't Sleep, I Dream (2019 Remix)
5. Star 69 (2019 Remix)
6. Strange Currencies (2019 Remix)
7. Tongue (2019 Remix)
8. Bang And Blame (2019 Remix)
9. I Took Your Name (2019 Remix)
10. Let Me In (2019 Remix)
11. Circus Envy (2019 Remix)
12. You (2019 Remix)
Disc: 4 (CD) Live in Chicago 6/3/95 – Monster 1995 Tour (Part One)
1. What's The Frequency, Kenneth?
2. Circus Envy
3. Crush With Eyeliner
4. Near Wild Heaven
5. Welcome To The Occupation
6. Undertow
7. I Took Your Name
8. Strange Currencies
9. Me In Honey
10. Revolution
11. Tongue
12. Man On The Moon
13. Country Feedback
14. Monty Got A Raw Deal
Disc: 5 (CD) Live in Chicago 6/3/95 – Monster 1995 Tour (Part Two)
1. Losing My Religion
2. You
3. Departure
4. Orange Crush
5. Get Up
6. Star 69
7. Let Me In
8. Everybody Hurts
9. So. Central Rain (I'm Sorry)
10. Pop Song 89
11. Its The End Of The World As We Know It (And I Feel Fine)
Disc: 6 (Blu-ray) Monster in 5.1 plus videos and Road Movie
1. Monster – 5.1 Surround Sound
2. Monster – Hi-Resolution Audio
3. Road Movie (concert film)
4. What's The Frequency, Kenneth? (music video)
5. Crush With Eyeliner (music video)
6. Star 69 (music video)
7. Strange Currencies (music video)
8. Tongue (music video)
9. Bang and Blame (music video)
Monster 25th anniversary 2LP vinyl
LP 1
1. What's The Frequency, Kenneth?
2. Crush With Eyeliner
3. King Of Comedy
4. I Don't Sleep, I Dream
5. Star 69
6. Strange Currencies
7. Tongue
8. Bang And Blame
9. I Took Your Name
10. Let Me In
11. Circus Envy
12. You
LP 2
1. What's The Frequency, Kenneth? (2019 Remix)
2. Crush With Eyeliner (2019 Remix)
3. King Of Comedy (2019 Remix)
4. I Don't Sleep, I Dream (2019 Remix)
5. Star 69 (2019 Remix)
6. Strange Currencies (2019 Remix)
7. Tongue (2019 Remix)
8. Bang And Blame (2019 Remix)
9. I Took Your Name (2019 Remix)
10. Let Me In (2019 Remix)
11. Circus Envy (2019 Remix)
12. You (2019 Remix)
Monster 25th anniversary 2CD deluxe
CD 1
1. What's The Frequency, Kenneth?
2. Crush With Eyeliner
3. King Of Comedy
4. I Don't Sleep, I Dream
5. Star 69
6. Strange Currencies
7. Tongue
8. Bang And Blame
9. I Took Your Name
10. Let Me In
11. Circus Envy
12. You
CD 2
1. What's The Frequency, Kenneth? (2019 Remix)
2. Crush With Eyeliner (2019 Remix)
3. King Of Comedy (2019 Remix)
4. I Don't Sleep, I Dream (2019 Remix)
5. Star 69 (2019 Remix)
6. Strange Currencies (2019 Remix)
7. Tongue (2019 Remix)
8. Bang And Blame (2019 Remix)
9. I Took Your Name (2019 Remix)
10. Let Me In (2019 Remix)
11. Circus Envy (2019 Remix)
12. You (2019 Remix)