 News
Rick Astley / New greatest hits 'The Best of Me' / pre-order a signed CD
2LP blue vinyl also available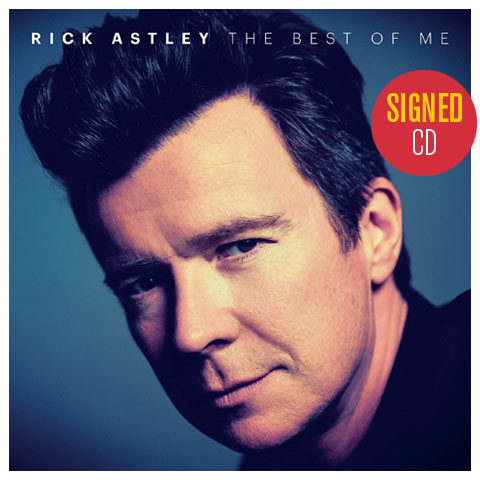 1980s pop star Rick Astley releases a new greatest hits 'The Best Of Me' in October and you can secure a signed CD edition right now.

Astley came to fame via Stock Aitken Waterman in 1987 and enjoyed seven consecutive top 10 singles in the UK with the trio, including the massive global number one Never Gonna Give You Up.

After a couple of long-players with SAW, Rick recorded two further albums with Gary Stevenson co-producing before stepping back from the limelight somewhat in the late 1990s and the new millennium. The album 50 was a surprise return to the top of the charts in 2016 and two years later Beautiful Life was another top ten album.

This new collection has the old hits sitting alongside recent fan favourites such as 'Keep Singing', 'Angels On My Side' and 'Try'. The opening track 'Every One of Us' is a brand new song and there's a new 'Pianoforte' take on 'Never Gonna Give You Up'. Disc two (CD only) sees Rick create 'reimagined' interpretations of his songs.

The Best Of Me is available as an Amazon UK exclusive SIGNED 2CD edition, a deluxe 2CD package with enhanced packaging (and lyrics and 'additional imagery' and a 2LP blue coloured vinyl. Signed deluxe 2CD and other options available via Rick's store (see widgets below)

The Best Of Me is released on 25 October 2019.


Probable
track listing but still TBC
CD 1
1. Every One of Us / 2. Never Gonna Give You Up / 3. Whenever You Need Somebody / 4. When I Fall in Love / 5. Together Forever / 6. It Would Take a Strong Strong Man / 7. She Wants to Dance with Me / 8. Take Me to Your Heart / 9. Hold Me in Your Arms / 10. Cry for Help (Single Edit) / 11. Sleeping (Edit) / 12. Lights Out / 13. Keep Singing / 14. Angels on My Side / 15. Dance / 16. This Old House / 17. Beautiful Life / 18. Try / 19. She Makes Me / 20. Never Gonna Give You Up (Pianoforte)
CD 2
1. Together Forever (Reimagined) / 2. Whenever You Need Somebody (Reimagined) / 3. When I Fall in Love (Reimagined) / 4. Beautiful Life (Reimagined) / 5. She Wants to Dance with Me (Reimagined) / 6. Hold Me in Your Arms (Reimagined) / 7. Cry for Help (Reimagined) / 8. Keep Singing (Reimagined) / 9. Angels on My Side (Reimagined) / 10. Try (Reimagined)
The Best Of Me
2LP blue vinyl
Side 1
1. Every One Of Us
2. Never Gonna Give You Up
3. Whenever You Need Somebody
4. When I Fall In Love
5. Together Forever
Side 2
1. (It Would Take A) Strong Strong Man
2. She Wants To Dance With Me
3. Take Me To Your Heart
4. Hold Me In Your Arms
5. Cry For Help (single edit)
Side 3
1. Sleeping (edit)
2. Lights Out
3. Keep Singing
4. Angels On My Side
5. Dance
Side 4
1. This Old House
2. Beautiful Life
3. Try
4. She Makes Me
5. Never Gonna Give You Up (Pianoforte)