 News
Shakespears Sister / Our History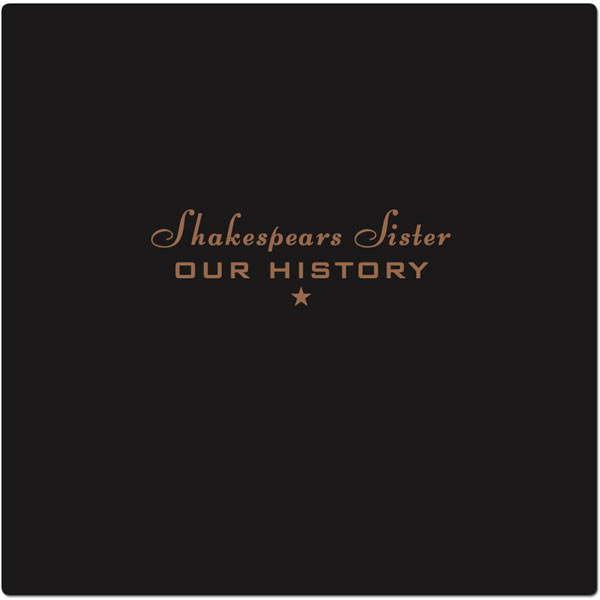 The Complete London Records Collection – 11-disc box set
London Records are to release Our History, a multi-format Shakespears Sister box set that contains remastered and expanded versions of the two original London Records' albums on vinyl and CD and a host of other content.

The box set contains the following:
Sacred Heart on black vinyl (remastered)
Hormonally Yours on black vinyl (remastered)
Sacred Heart (remastered) 3CD set (six-panel digipak with booklet)
Hormonally Yours (remastered) 3CD set (six-panel digipak with booklet)
DVD featuring the complete Brighton Dome gig from 2019 plus over 13 videos
The Ride Again EP on white 12-inch vinyl
You Made Me Come To This 10-inch vinyl
Hardcover photo book (44-pages) designed by original designer Laurence Stevens with foreword by Siobhan Fahey (individually numbered on the back)
Postcards, art print, circular patch

'Our History' box set (click image to enlarge)
Our History: The Complete London Records Collection is a 12-inch lift of lid box set with gold foil-blocking on the cover.
It's important to note that the three-CD expanded editions are exclusive to this box. They will not be released separately as triple-CD sets in the future. London Records have confirmed this with SDE.
Our History will be released on 11 December 2020 and is exclusive to the official store. They are shipping with a bonus 'I Can Drive' CD single.
Sacred Heart Vinyl LP

A1 Heroine
A2 Run Silent, Run Deep
A3 Dirty Mind
A4 Sacred Heart
A5 Heaven Is in Your Arms
A6 Twist the Knife
B1 You're History
B2 Break My Heart
B3 Red Rocket
B4 Electric Moon
B5 Primitive Love
B6 You Made Me Come to This
Sacred Heart 3CD set
CD1
1 Heroine
2 Run Silent, Run Deep
3 Dirty Mind
4 Sacred Heart
5 Heaven Is in Your Arms
6 Twist the Knife
7 You're History
8 Break My Heart
9 Red Rocket
10 Electric Moon
11 Primitive Love
12 Could You Be Loved
13 You Made Me Come to This
Bonus tracks:
14 Pretty Boy
15 Mr Wrong
16 Run Silent [Restructured]
17 Dirty Mind [1990 Version]
18 A Piece of Heaven [Demo]
19 Heroine [Live in Leningrad]
20 Dirty Mind [Live in Leningrad]
CD2
1 Break My Heart [Extended Version]
2 Heroine [Extended Version]
3 You're History [Maximized Version]
4 Run Silent [The Run Deep Mix]
5 Dirty Mind [Extended 1990 Version]
6 You Made Me Come to This [Extended Version]
7 Break My Heart [Shep Pettibone House Mix]
8 Heroine [Heavenly Remix]
9 You're History [Voodoo Remix]
10 Run Silent [Revolution Remix]
11 Dirty Mind [E-Zee Remix]
12 Break My Heart [Yesterday, Today Mix]
CD3
1 Dirty Mind [Original Mix]
2 Sacred Heart [Original Mix]
3 Heaven Is in Your Arms [Original Mix]
4 You're History [Original Mix]
5 Red Rocket [Original Mix]
6 Primitive Love [Original Version]
7 Could You Be Loved [Full-Length Version]
8 Break My Heart [Copa Mix]
9 Dirty Mind [1990 Handbag le Palais Mix]
10 Run Silent [Revolution Dub]
11 Break My Heart [Acidic Mix]
12 Dirty Mind [1990 Roughed Up]
13 Break My Heart [Break My Dub]
14 You're History [Instrumental]
15 Run Silent [Instrumental]
16 Break My Heart [Shep Pettibone Dub]
Hormonally Yours vinyl LP
LP1
A1 Goodbye Cruel World
A2 I Don't Care
A3 My 16th Apology
A4 Are We in Love Yet
A5 Emotional Thing
A6 Stay
B1 Black Sky
B2 The Trouble with Andre
B3 Moonchild
B4 Catwoman
B5 Let Me Entertain You
B6 Hello (Turn Your Radio On)
Hormonally Yours 3CD set
CD1
1 Goodbye Cruel World
2 I Don't Care
3 My 16th Apology
4 Are We in Love Yet
5 Emotional Thing
6 Stay
7 Black Sky
8 The Trouble with Andre
9 Moonchild
10 Catwoman
11 Let Me Entertain You
12 Hello (Turn Your Radio On)
Bonus tracks:
13 Remember My Name
14 Out to Groove [Demo]
15 Are We in Love Yet [Remix]
16 Cat Worship
17 Stay [Radio Mix]
18 I Don't Care [7" Remix]
19 Goodbye Cruel World [1992 Remix]
20 Hello (Turn Your Radio On) [7" Version]
CD2
1 Stay [Acoustic Version]
2 I Don't Care [Henley Board Mix]
3 Goodbye Cruel World [1992 Alternative Remix]
4 Hello (Turn Your Radio On) [Alternative Piano Mix]
5 Black Sky [Unsegued Version]
6 The Trouble with Andre [Unsegued Version]
7 Are We in Love Yet [Abbey Road Mix]
8 Let Me Entertain You [Full-Length Version]
9 Emotional Thing [Luke Mornay Emotional Mix]
10 Black Sky [The Black Widow Mix]
11 Goodbye Cruel World [BTO Remix]
12 Stay [Andre Betts 12" Remix]
13 The Trouble with Andre [Chris Thomas Remix]
14 Black Sky [Dub Extravaganza Part One]
15 Black Sky [Dub Extravaganza Part Two]
CD3
BBC Session, 1992:
1 Are We in Love Yet
2 I Don't Care
3 Catwoman
Live at the Town & Country Club, 1992:
4 Heroine
5 Dirty Mind
6 Are We in Love Yet
7 Red Rocket
8 My 16th Apology
9 I Don't Care
10 Black Sky
11 Stay
12 You're History
13 Goodbye Cruel World
14 Catwoman
15 Hello (Turn Your Radio On)
16 Hot Love
Ride Again 12-inch EP
1 Time to Say Goodbye
2 When She Finds You [Single Mix]
3 C U Next Tuesday [Perfect Mix]
4 Dangerous Game
5 All the Queen's Horses [Video Mix]
You Made Me Come To This 10-inch EP
A You Made Me Come to This
B You Made Me Come to This [HMD Pulsatron Mix]
DVD Shakespears Sister Ride Again: Live in Brighton, 2019

1 Intro
2 Goodbye Cruel World
3 Heroine
4 Dangerous Game
5 Dirty Mind
6 My 16th Apology
7 Heaven Is in Your Arms
8 The Trouble with Andre
9 Emotional Thing
10 C U Next Tuesday
11 Time to Say Goodbye
12 All the Queen's Horses
13 When She Finds You
14 Black Sky
15 Stay
16 Are We in Love Yet
17 I Don't Care
18 You're History
Encore:
19 Catwoman
20 Hello (Turn Your Radio On)
+ The Visions of Shakespears Sister: Videos

21 Break My Heart
22 Heroine
23 You're History
24 Run Silent
25 Dirty Mind
26 Goodbye Cruel World
27 Stay
28 I Don't Care
29 Hello (Turn Your Radio On)
30 My 16th Apology
31 I Can Drive
32 All the Queen's Horses
33 When She Finds You
34 The Russian Film: featuring Dirty Mind and Heroine live in Leningrad, 1988
35 Catwoman [Live]