 News
Simple Minds / Live In The City Of Angels / 4LP and 4CD sets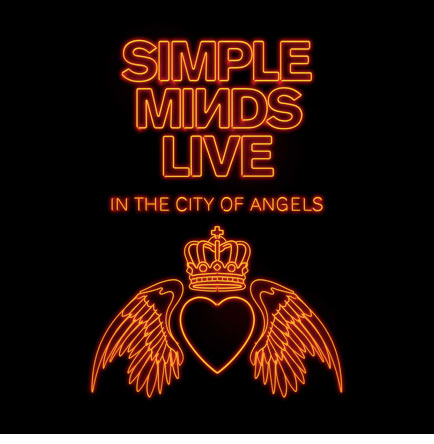 Simple Minds will release a new live album, Live In The City of Angels in October.

The album captures the band on their most recent North American tour where they took in 31 cities on a coast-to-coast excursion.
The career spanning set it features songs from the band's Empires and Dance album through to last year's Walk Between Worlds.  In total, 40 tracks are presented on 4CD deluxe edition (in hardcover book) while a 25-track selection is offered across two CDs and the 4LP package. The official Simple Minds store offers bundles with signed set lists.
Live In The City Of Angels will be released on 4 October 2019.
Compare prices and pre-order
Simple Minds
Live In The City Of Angels - 4CD deluxe
Compare prices and pre-order
Simple Minds
Live In The City Of Angels - 4LP vinyl
Live In The City Of Angels 4CD deluxe set
CD 1
1. The Signal and the Noise
2. Waterfront
3. Love Song
4. Let There Be Love
5. Up on the Catwalk
6. Sense of Discovery
7. Glittering Prize
8. Promised You a Miracle
9. The American
10. Hunter and the Hunted
11. Stand by Love
12. Dirty Old Town
CD 2
1. Theme for Great Cities
2. She's a River
3. Walk Between Worlds
4. Hypnotised
5. Someone Somewhere in Summertime
6. See the Lights
7. All the Things She Said
8. Dolphins
9. Don't You (Forget About Me)
10. New Gold Dream (81-82-83-84)
11. Once Upon a Time
12. Alive and Kicking
13. Sanctify Yourself
CD 3
1. Book of Brilliant Things
2. I Travel
3. Blindfolded
4. Honest Town
5. In Dreams
6. Stars Will Lead The Way
7. Big Sleep
CD 4
1. Let the Day Begin
2. Barrowland Star
3. Midnight Walking
4. Summer
5. Big Music
6. Celebrate
7. The Cross
Live In The City Of Angels 4LP vinyl set
SIDE 1
1. The Signal and the Noise
2. Waterfront
3. Love Song
SIDE 2
1. Let There Be Love
2. Up on the Catwalk
3. Sense of Discovery
SIDE 3
1. Glittering Prize
2. Promised You a Miracle
3. The American
SIDE 4
1. Hunter and the Hunted
2. Stand by Love
3. Dirty Old Town
SIDE 5
1. Theme for Great Cities
2. She's a River
3. Walk Between Worlds
SIDE 6
1. Hypnotised
2. Someone Somewhere in Summertime
3. See the Lights
SIDE 7
1. All the Things She Said
2. Dolphins
3. Don't You (Forget About Me)
SIDE 8
1. New Gold Dream (81-82-83-84)
2. Once Upon a Time
3. Alive and Kicking
4. Sanctify Yourself
Live In The City Of Angels 2CD set
DISC 1
1. The Signal and the Noise
2. Waterfront
3. Love Song
4. Let There Be Love
5. Up on the Catwalk
6. Sense of Discovery
7. Glittering Prize
8. Promised You a Miracle
9. The American
10. Hunter and the Hunted
11. Stand by Love
12. Dirty Old Town
DISC 2
1. Theme for Great Cities
2. She's a River
3. Walk Between Worlds
4. Hypnotised
5. Someone Somewhere in Summertime
6. See the Lights
7. All the Things She Said
8. Dolphins
9. Don't You (Forget About Me)
10. New Gold Dream (81-82-83-84)
11. Once Upon a Time
12. Alive and Kicking
13. Sanctify Yourself