 News
Simple Minds / Rejuvenation 2001-2014 / 6LP coloured vinyl box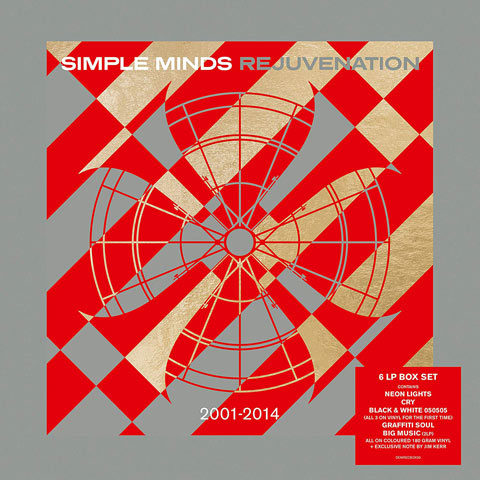 6LP coloured vinyl studio albums box set • Some on vinyl for the first time
This December, Demon Records will issue Rejuvenation 2001-2014 a collectors' coloured vinyl box set that brings together the studio albums of Simple Minds spanning the era that delivered covers album Neon Lights (2001) through to 2014's Big Music.

The albums in this set are Neon Lights (2001), Cry (2002), Black and White 050505 (2005), Graffiti Soul (2009) and Big Music (2014). The first three in that list make their first appearances on vinyl in this box, with specially-created outer and inner sleeves, and include some bonus tracks from the CD releases.
Rejuvenation 2001 – 2014 (click image to enlarge)
All the albums are pressed on different coloured 180 gram vinyl (see the image above) and the rigid slipcase features a brand new note by Jim Kerr.
Rejuvenation 2001-2014 is released on 7 December 2018.
Compare prices and pre-order
Simple Minds
Rejuvenation 2001-2014
LP 1 – Neon Lights
1. Gloria
2. The Man Who Sold The World
3. Homosapien
4. Dancing Barefoot
5. Neon Lights
6. Hello I Love You
7. Bring On the Dancing Horses
8. The Needle And The Damage Done
9. For Your Pleasure
10. All Tomorrow's Parties
Bonus tracks
11. Being Boiled
12. Love Will Tear Us Apart
LP 2 – Cry
1. Cry
2. Spaceface
3. New Sunshine Morning
4. One Step Closer
5. Face In The Sun
6. Disconnected
7. Lazy Lately
8. Sugar
9. Sleeping Girl
10. Cry Again
11. Slave Nation
12. The Floating World
LP 3 – Black and White 050505

1. Stay Visible
2. Home
3. Stranger
4. Different World (Taormina.me)
5. Underneath The Ice
6. The Jeweller Part 2
7. A Life Shot In Black And White
8. Kiss The Ground
9. Dolphins
Bonus track
10. Too Much Television
LP 4 – Graffiti Soul
1. Moscow Underground
2. Rockets
3. Stars Will Lead The Way
4. Light Travels
5. Kiss And Fly
6. Graffiti Soul
7. Blood Type O
8. This Is It
9. Shadows And Light
Bonus track
10. Rockin' In The Free World
LP 5 & 6 – Big Music (2LP)
1. Blindfolded
2. Midnight Walking
3. Honest Town
4. Big Music
5. Human
6. Blood Diamonds
7. Let The Day Begin
8. Concrete And Cherry Blossom
9. Imagination
10. Kill Or Cure
11. Broken Glass Park
12. Spirited Away