 News
Slade / Feel the Noize: The Singlez Box!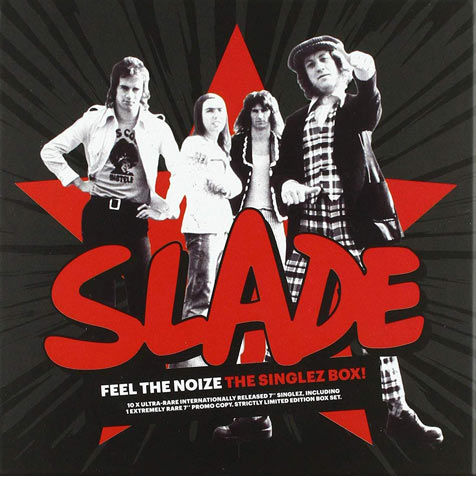 10 seven-inch singles in a box set
Next month, BMG will issue a Feel The Noize: The Singlez Box! a new Slade vinyl box set filled with seven-inch singles.

This is a 'strictly limited edition' vinyl box which features ten 'internationally released' seven-inch singles with the artwork from the respective European country where it was released.
The singles start with the band's first UK number one, 'Coz I Luv You' which was issued in 1971 and in fact five of the first six singles in this box set all hit the top of the UK chart ('Gudbuy T'Jane' peaked at number two) which is a reminder, if one was needed, at the phenomenal popularity of Slade in the early 1970s.
The next three songs included here – 'My Friend Stan', 'Everyday' and 'Far Far Away' – were all top three singles and the seven-inch box then skips forward six years to recreate the rare 1980 promo single of 'Night Starvation'. This was one of three new songs on the Six of the Best EP of the same year (the B-side of this promo single 'When I'm Dancin' I Ain't Fightin' was also a new track that featured on the same EP).
Feel The Noize: The Singlez Box!  will be released on 31 May 2019. Best to ignore the Amazon UK price for now and opt for the German price which brings this in at about £46 plus shipping.
Compare prices and pre-order
Slade
Feel the Noize [VINYL]
You might also like…
Compare prices and pre-order
Slade
When Slade Rocked The World box set
Feel The Noize: The Singlez Box!
1. Coz I Luv You / My Life Is Natural
2. Take Me Bak 'Ome / Wonderin' Y
3. Mama Weer All Crazee Now / Man Who Speeks Evil
4. Gudbuy T'Jane / I Won't Let It 'appen Agen
5. Cum On Feel The Noize / I'm Mee, I'm Now, And That's Orl
6. Skweeze Me, Pleeze Me / Kill 'em At The Hot Club Tonite
7. My Friend Stan / My Town
8. Everyday / Good Time Gals
9. Far Far Away / O.K. Yesterday Was Yesterday
10. Night Starvation / When I'm Dancin' I Ain't Fightin'