 News
Soft Cell / Non-Stop Erotic Cabaret reissue
6CD box set and 2LP vinyl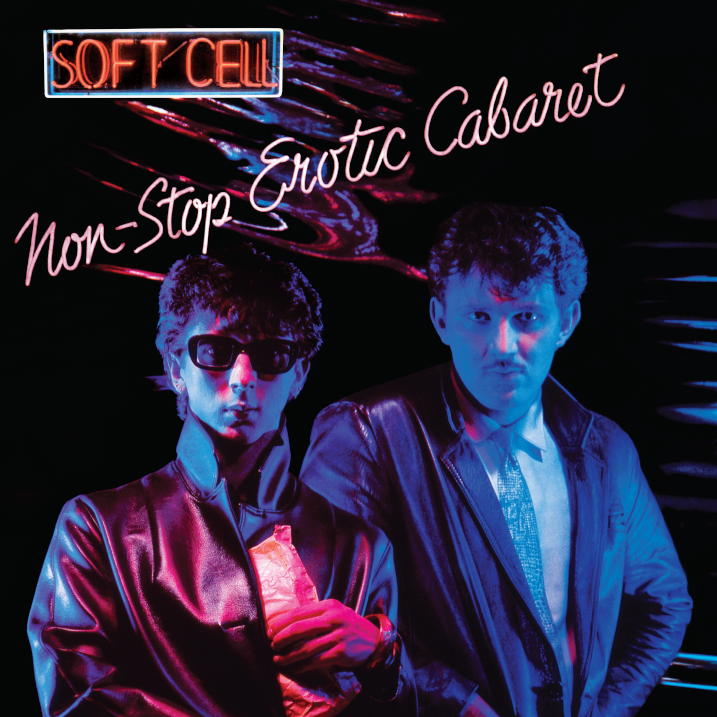 Soft Cell's debut album Non-Stop Erotic Cabaret will be reissued in October across a number of formats including a 6CD box set with many previously unreleased tracks.
Initially released in November 1981, the 10-track song cycle, in the words of Marc Almond, "Tells a story of a bored ordinary bloke seething with his life wanting more and looking for excitement and adventure in a red neon lit Soho world of red-light cabarets, prostitutes and sex dwarves, looking back at his youth and wondering what happened." The album was massively influential and paved the way for countless synth-based music duos, notably the Pet Shop Boys. It contains three top five singles in 'Tainted Love' (a No 1 and the best-selling UK single of 1981), 'Bedsitter' and 'Say Hello Wave Goodbye'.
"The album was the other side of the coin of Margaret Thatcher's Britain: I never felt it was
political at the time, but it seems it now. Non-Stop Erotic Cabaret was the secret seedy life that went on behind the mask of Conservative Britain" Marc Almond

Marc Almond
The 6CD box set offers 96 tracks in total, 40 of which are previously unreleased. Content includes new and old 12-inch mixes (including Dave Ball's 2018 studio reworkings), BBC Radio One sessions, early versions (including a Daniel Miller-produced version of 'Tainted Love'), instrumentals and live performances including from the band's O2 show in 2021.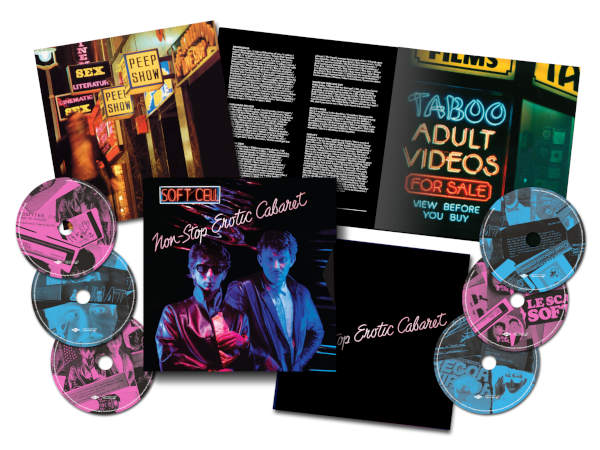 The box set is presented as al 10" x 10" package and includes an essay on the story of the album by Adrian Thrills, including new interviews with Marc and Dave, album and single sleeve scans and more.
Additionally, there's a 2LP vinyl version (in black and coloured variants) which adds a bonus LP of single versions (A-sides and B-sides).
Non-Stop Erotic Cabaret will be reissued on 20 October 2023 via UMR/EMI.
Compare prices and pre-order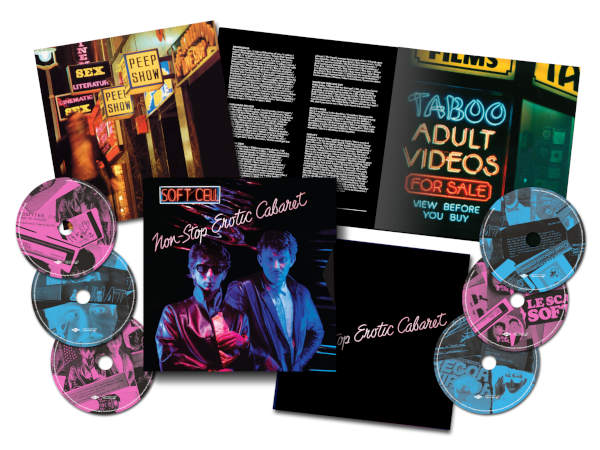 Soft Cell
Non-Stop Erotic Cabaret - 6CD box set
Compare prices and pre-order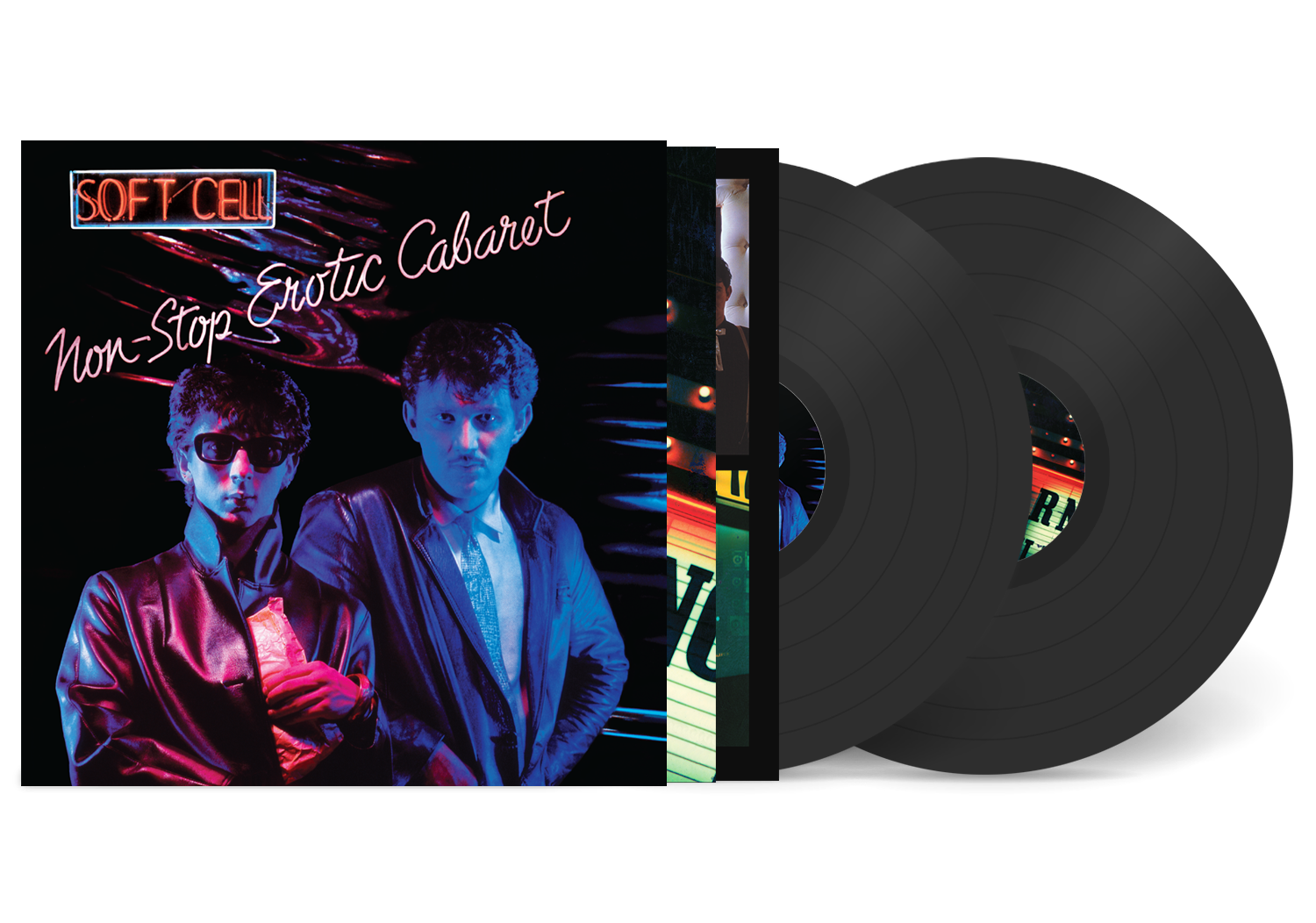 Soft Cell
Non-Stop Erotic Cabaret - 2LP vinyl
Tracklisting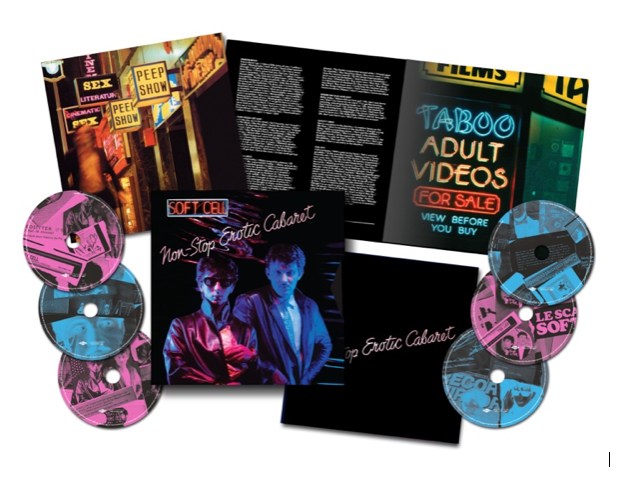 Non-Stop Erotic Cabaret Soft Cell
/
6CD box set
CD 1: 2023 Remaster + Singles, B-Sides & Edits

Frustration 04:12
Tainted Love 02:35
Seedy Films 05:05
Youth 03:21
Sex Dwarf 05:47
Entertain Me 03:00
Chips On My Shoulder 04:06
Bedsitter 03:36
Secret Life 03:37
Say Hello, Wave Goodbye 05:34

Bonus tracks

Memorabilia (Single Version) 04:49
A Man Could Get Lost (Single Version) 03:17
Persuasion (Edit of 12" Single B-Side) 03:36 *
Where Did Our Love Go? (Single B-Side) 03:14
Facility Girls (Single B-Side) 02:23
Fun City (Edit of 12" Single B-Side) 04:24
Torch (Single Version) 04:08
Insecure Me (Single B-Side) 04:40
What! (Single Version) 02:51
…So (Single B-Side) 03:49

*Previously unreleased

CD 2: Full-Length Versions & New Remixes

Frustration (Extended Version) 06:02 *
Tainted Love (2021 10" Extended Version) 05:05
Seedy Films (2023 Extended Version) 05:16 *
Youth (2018 'Wasted On The Young' Extended Version) 05:41
Sex Dwarf (2023 Extended Version) 05:45 *
Entertain Me (2023 Extended Version) 06:05 *
Chips On My Shoulder (2018 Extended Version) 06:16
Bedsitter (1981 Original 12" Mix) 07:52
Secret Life (2018 Extended Version) 05:20
Say Hello, Wave Goodbye (2018 Dave Ball 'Lateral Mix') 07:07
A Man Could Get Lost (2023 Extended Version) 05:08 *
Memorabilia (Daniel Miller 2023 Remix) 05:16
Memorabilia (The Hacker 2023 Remix) 06:37

*Previously unreleased

CD 3: Curios, Rarities, Sessions & Alternate Mixes

Frustration (Original 'Mutant Moments' Version) 03:32
Tainted Love (New 2023 Version) 03:01 *
Seedy Films (Richard X Remix) 05:20
Youth (Dave Ball 'Warhol Funeral' Mix) 03:05 *
Sex Dwarf (Live On BBC 'Old Grey Whistle Test' 4th February 1982) 05:16
Entertain Me (Richard Skinner Session, Radio 1, 26th July 1981) 03:45
Chips On My Shoulder (Live From 'The Oxford Road Show' 22nd January 1982) 03:28 *
Bedsitter ((Richard Skinner Session, Radio 1, 26th July 1981) 03:34
Secret Life (George Demure Remix) 05:10
Say Hello, Wave Goodbye (Live From 'The Oxford Road Show' 22nd January 1982) 04:33 *
A Man Could Get Lost (Live at Leeds Warehouse, 16th July 2018) 03:30 *
Torch (Live from 'Top Of The Pops 2', 28th January 2002) 04:05 *
Tainted Love/Where Did Our Love Go (US Radio Edit) 04:01 *
Seedy Films (Richard Skinner Session, Radio 1, 26th July 1981) 03:58
Youth (Live On BBC 'Old Grey Whistle Test' 4th February 1982) 03:15 *
Chips On My Shoulder (Richard Skinner Session, Radio 1, 26th July 1981) 04:20
Tainted Love (Live from 'Top Of The Pops' 1981 Reunion, 2001) 03:14 *
Bedsitter ('Flexipop' Version) 03:45 *
Memorabilia (2023 Dub Mix) 5:44 *
Tainted Love (Aborted 1981 Studio Take) 1:07 *

*Previously unreleased

CD 4: Instrumentals & Bonus Demos

Frustration (Instrumental) 04:15 *
Tainted Love (Instrumental) 03:01 *
Seedy Films (Instrumental) 05:10 *
Youth (Instrumental) 03:25 *
Sex Dwarf (Instrumental) 05:15 *
Entertain Me (Instrumental) 02:57 *
Chips On My Shoulder (Instrumental) 04:09 *
Bedsitter (Instrumental) 03:39 *
Secret Life (Instrumental) 04:03 *
Say Hello, Wave Goodbye (Single B-Side Instrumental) 03:54
A Man Could Get Lost (Original Daniel Miller Instrumental Version) 03:30 *
Torch (Instrumental) 04:12 *
What! (Instrumental) 03:11 *
Insecure Me (Instrumental) 03:12 *
Tainted Love (Original 1981 Daniel Miller Demo) 02:47
Seedy Films (Original 1981 Demo) 04:02 *
Sex Dwarf (Original 1981 Demo) 06:53 *
Chips On My Shoulder (Original Demo) 03:50 *
Secret Life (Original 1981 Demo) 03:39 *
Say Hello, Wave Goodbye (Original 1981 Demo) 04:39 *

*Previously unreleased

CD 5: The 1981 / 1982 12" Mixes & B Sides

Tainted Love/Where Did Our Love Go? (Original 12″ Version) 08:57
Memorabilia (Original 12″ Version) 07:47
Torch (Original 12″ Version) 08:28
What! (Original 12″ Version) 06:09
Tainted Dub (Original Version) 09:14
Persuasion (Original 12″ Version) 07:35
Facility Girls (Original 12″ Version) 07:16
Fun City (Original Version) 07:33
Insecure Me (Original 12″ Version) 08:16
…So (Original 12″) 08:29

*Previously unreleased

CD 6: Live In Concert, London 2021 & 2018

Frustration (Live at Eventim Apollo London, November 2021)
Tainted Love (Live at Eventim Apollo London, November 2021)
Seedy Films (Live at Eventim Apollo London, November 2021)
Youth (Live at Eventim Apollo London, November 2021)
Sex Dwarf (Live at Eventim Apollo London, November 2021)
Entertain Me (Live at Eventim Apollo London, November 2021)
Chips On My Shoulder (Live at Eventim Apollo London, November 2021)
Bedsitter (Live at Eventim Apollo London, November 2021)
Secret Life (Live at Eventim Apollo London, November 2021)
Say Hello, Wave Goodbye (Live at Eventim Apollo London, November 2021)
Torch (Live at Eventim Apollo London, November 2021)
Memorabilia (Live at Eventim Apollo London, November 2021)
Insecure Me (Live at 02 Arena London, 30 September 2018
What! (Live at 02 Arena London, 30 September 2018
Tainted Love/Where Did Our Love Go? (Live at 02 Arena London, 30 September 2018

*Previously unreleased
Tracklisting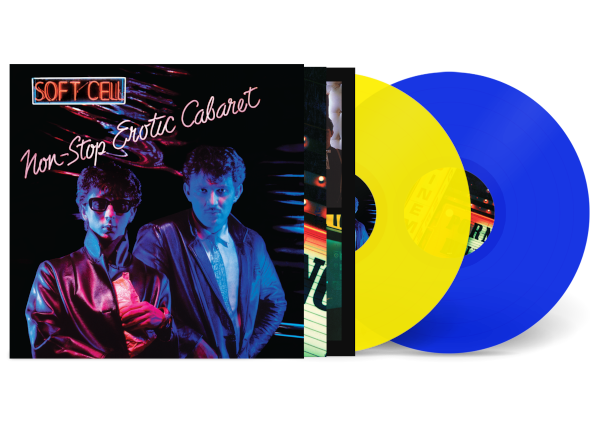 Non-Stop Erotic Cabaret Soft Cell
/
2LP vinyl
LP 1

Side A

Frustration 04:12
Tainted Love 02:35
Seedy Films 05:05
Youth 03:21
Sex Dwarf 05:47

Side B

Entertain Me 03:00
Chips On My Shoulder 04:06
Bedsitter 03:36
Secret Life 03:37
Say Hello, Wave Goodbye 05:34

LP 2

Side C

Memorabilia (Single Version) 04:49
A Man Could Get Lost (Single Version) 03:17
Persuasion (Edit of 12" Single B-Side) 03:36
Where Did Our Love Go? (Single B-Side) 03:14
Facility Girls (Single B-Side) 02:23
Say Hello, Wave Goodbye (Single B-side, Instrumental) 03:54

Side D

Fun City (Edit of 12" Single B-Side) 04:24
Torch (Single Version) 04:08
Insecure Me (Single B-Side) 03:10
What! (Single Version) 02:51
…So (Single B-Side) 03:49