 News
Sonia / Everybody Knows – The Singles Box Set / 6CD package
CD singles box set offers 40 remastered tracks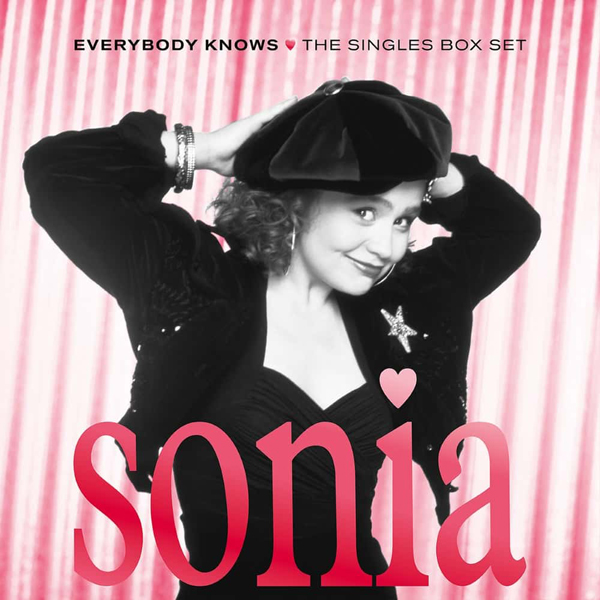 Stock Aitken Waterman/PWL fans will be interested to know that Cherry Red are to issue a CD singles box set featuring Sonia, the Liverpudlian singer who reached number one in the UK charts in July 1989 with her first single, 'You'll Never Stop Me Loving You'.

Everybody Knows: The Singles Box Set features six CDs, each devoted to one of the six singles from Sonia's first album, including You've Got A Friend, the non-album charity 45, which was credited to Big Fun and Sonia ("featuring Gary Barnacle on saxophone").
As you might expect, this offers remixes galore and in total delivers 40 remastered tracks. It comes with a 24-page booklet featuring lyrics, discography, a hand-written introduction and commentary from Sonia herself (and plenty of photos). The outer box is foil-blocked and spot varnished.
This set has been curated by PWL expert Tom Parker, the man responsible for the 2015 Bananarama In A Bunch CD singles box and more recently 2019's Mel & Kim Singles box set.
Everybody Knows – The Singles Box Set will be released on
Compare prices and pre-order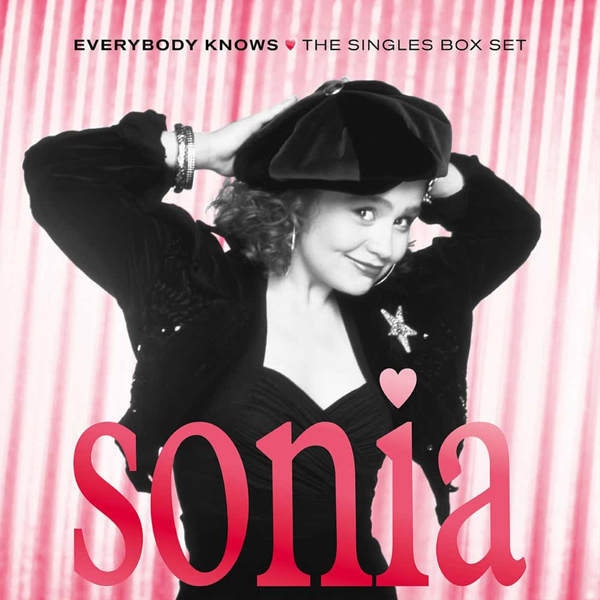 Sonia
Everybody Knows - The Singles Box Set - 6CD
CD 1:  YOU'LL NEVER STOP ME LOVING YOU
1. YOU'LL NEVER STOP ME LOVING YOU
2. YOU'LL NEVER STOP ME LOVING YOU (EXTENDED VERSION)
3. YOU'LL NEVER STOP ME LOVING YOU (SONIA'S KISS MIX)
4. YOU'LL NEVER STOP ME LOVING YOU (X.X.X. KISS MIX)
5. YOU'LL NEVER STOP ME LOVING YOU (KISS MIX EDIT)
6. YOU'LL NEVER STOP ME LOVING YOU (DEMO VERSION)
7. YOU'LL NEVER STOP ME LOVING YOU (INSTRUMENTAL)
CD 2: CAN'T FORGET YOU
1. CAN'T FORGET YOU
2. CLIMB TO THE TOP OF A MOUNTAIN (ORIGINAL MIX)
3. CAN'T FORGET YOU (EXTENDED VERSION)
4. CAN'T FORGET YOU (INSTRUMENTAL)
5. CLIMB TO THE TOP OF A MOUNTAIN (ORIGINAL INSTRUMENTAL)
CD 3: LISTEN TO YOUR HEART
1. LISTEN TO YOUR HEART
2. BETTER THAN EVER
3. LISTEN TO YOUR HEART (EXTENDED VERSION)
4. BETTER THAN EVER (ORIGINAL MIX)
5. LISTEN TO YOUR HEART (INSTRUMENTAL)
6. BETTER THAN EVER (7" INSTRUMENTAL)
7. BETTER THAN EVER (ORIGINAL INSTRUMENTAL)
CD 4: COUNTING EVERY MINUTE
1. COUNTING EVERY MINUTE
2. EVERYBODY KNOWS
3. COUNTING EVERY MINUTE (THE DON MIGUEL MIX)
4. COUNTING EVERY MINUTE (TICK-TOCK REMIX)
5. COUNTING EVERY MINUTE (THE KING'S COUNTING HOUSE MIX)
6. COUNTING EVERY MINUTE (INSTRUMENTAL)
7. EVERYBODY KNOWS (INSTRUMENTAL)
CD 5:  YOU'VE GOT A FRIEND
(BIG FUN & SONIA FEATURING GARY BARNACLE)
1. YOU'VE GOT A FRIEND
2. YOU'VE GOT A FRIEND (COVER VERSION)
3. YOU'VE GOT A FRIEND (EXTENDED VERSION)
4. YOU'VE GOT A FRIEND (7" INSTRUMENTAL)
5. YOU'VE GOT A FRIEND (12" INSTRUMENTAL)
CD 6: END OF THE WORLD
1. END OF THE WORLD
2. CAN'T HELP THE WAY THAT I FEEL
3. END OF THE WORLD (EXTENDED VERSION)
4. END OF THE WORLD (ALTERNATIVE MIX)
5. MEGAMIX
6. MEGAMIX (HITMAN ROADSHOW VERSION)
7. END OF THE WORLD (7" INSTRUMENTAL)
8. END OF THE WORLD (ALTERNATIVE INSTRUMENTAL)
9. CAN'T HELP THE WAY THAT I FEEL (INSTRUMENTAL)