 News
Status Quo / Ain't Complaining 3CD set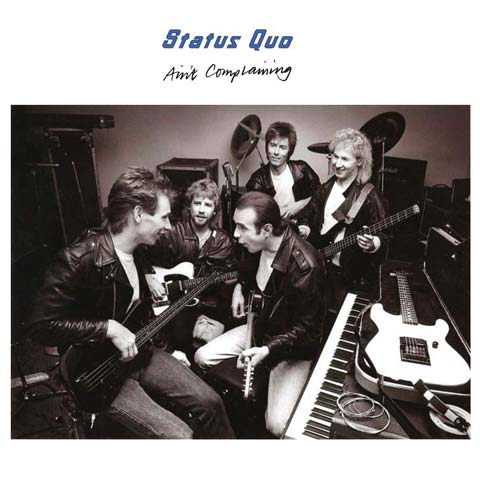 Next month, Universal Music will issue a three-CD deluxe edition of Status Quo's 1988 album Ain't Complaining.

The band's 18th studio album delivered three UK top 40 hits –  Burning Bridges, the title track and Who Gets The Love – and non-album charity single Running All Over The World reached number 17 shortly after.
This new triple-CD deluxe delivers a bonus disc of B-sides and extended versions (including the single and 12-inch version of Running All Over The World) and a CD of tracks performed Live at Wembley in July '88.
All the discs have been remastered by Andy Pearce ("from original tapes where available") and Dave Ling contributes sleeve notes (with band interviews).
Ain't Complaining will be released on 28 September 2018.
Compare prices and pre-order
Status Quo
Ain't Complaining
CD 1
1 Ain't Complaining
2 Every time I Think of You
3 One for The Money
4 Another Shipwreck
5 Don't Mind If I Do
6 I Know You're Leaving
7 Cross That Bridge
8 Cream of The Crop
9 The Loving Game
10 Who Gets the Love?
11 Burning Bridges
12 Magic
CD 2
1 That's Alright – B-Side – 12″ version of Ain't Complaining
2 Lean Machine – B-Side – 12″ version of Ain't Complaining
3 Halloween – B-Side – 12″ version of Who Gets the Love?
4 The Reason for Goodbye – B-Side – 12″ version of Who Gets the Love?
5 The Greatest Fighter – Outtake
6 Running All Over the World – Single
7 Ain't Complaining – Extended
8 Who Gets the Love – Extended
9 Rockin All Over the World – 1988 Re- Recording
10 Burning Bridges – Extended
11 Running All Over the World – Extended
12 The Fighter – Stand Up and Fight remix
13 The Fighter – Army Remix
CD 3 – WEMBLEY – 07/07/1988
1 Whatever You Want
2 Little Lady
3 Roll Over Lay Down
4 Cream of The Crop
5 Who Gets the Love
6 Hold You Back
7 Don't Drive My Car
8 Dirty Water
9 In the Army Now
10 Rockin All Over the World
11 Don't Waste My Time
12 Bye Bye Johnny