 News
That Petrol Emotion / Every Beginning Has A Future: An Anthology 1984-1994
First ever anthology for the band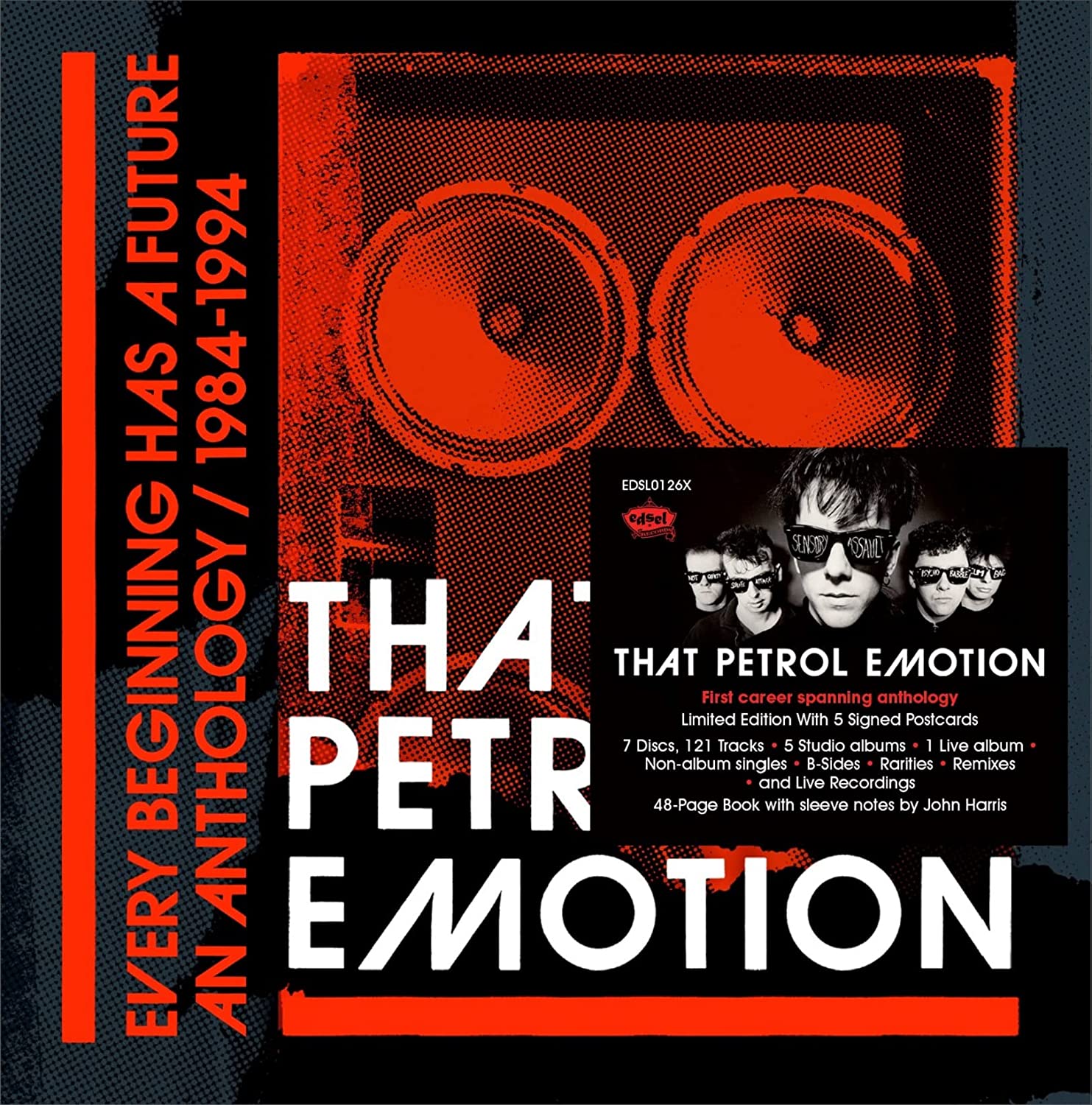 Edsel will release Every Beginning Has A Future in November, a 7CD band-curated Anthology that bookends the decade in the spotlight of That Petrol Emotion.
The band were London based but originally from Northern Ireland and had an American singer in Steve Mack. They never quite had any hit singles (1987's 'Big Decision' came closest stalling at #42) but their second album Babble was criticallly acclaimed at reached number 30 in the UK album charts.
This new 7CD set features all five albums (Manic Pop Thrill (1986), Babble (1987), End of the Millennium Psychosis Blues (1988), Chemicrazy (1990) and Fireproof (1993)).
There's a bonus disc devoted to Chemicrazy and the other albums offer extra tracks in the form of non-album B-sides, bonus tracks, remixes, live recordings and fan club only releases. A live album at the end completes the seven-disc set which in total delivers 121 tracks.
This comes with a 52-page book with sleeve notes by John Harris and rare images and photographed memorabilia supplied by the band. An Amazon UK exclusive SIGNED edition comes with five postcards signed by the original band members.
Every Beginning Has A Future: An Anthology 1984-1994 will be released on 25 November 2022, via Edsel.
Compare prices and pre-order
That Petrol Emotion
Every Beginning Has A Future - 7CD signed edition
Compare prices and pre-order
That Petrol Emotion
Every Beginning Has A Future An Anthology - 7CD standard edition
Tracklisting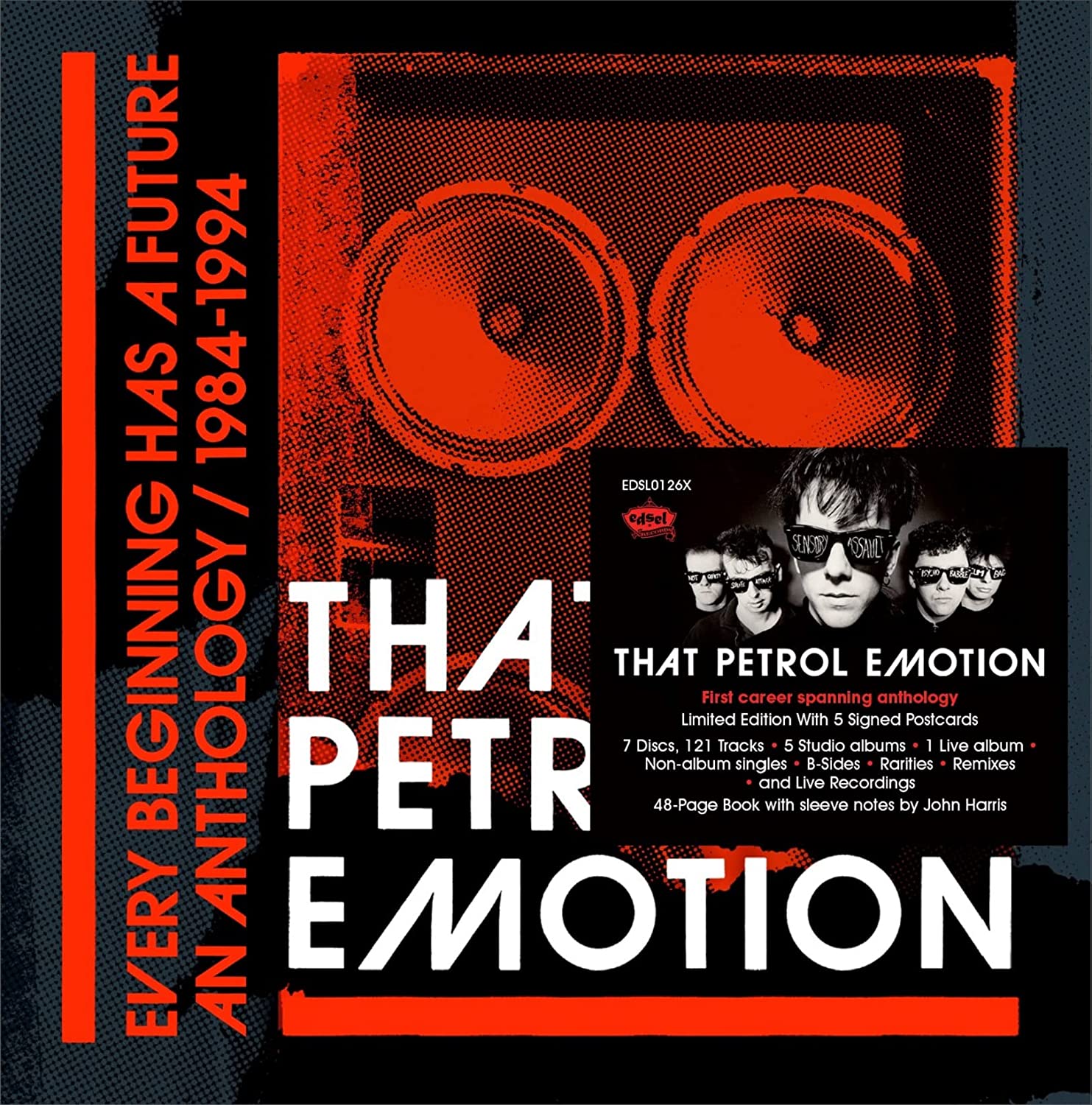 Every Beginning Has A Future: An Anthology That Petrol Emotion
/
CD 1: Manic Pop Thrill (1985 – 86)

Fleshprint 
Can't Stop 
Lifeblood 
Natural Kind Of Joy 
It's A Good Thing 
Circusville 
Mouth Crazy 
Tightlipped 
A Million Miles Away 
Lettuce 

Cheapskate

 

Blindspot

Keen

 

Zig-Zag Wanderer

 
V2 
The Deadbeat 
Mine 
Jesus Says 
Non-Alignment Pact (Live at The Electric Ballroom, May 22nd 1986)

CD 2: Babble (1987)

Swamp 
Spin Cycle 
For What It's Worth 
Big Decision 
Static 6. Split! 
Belly Bugs 
In The Playpen 
Inside 
Chester Burnette 
Creeping To The Cross 
Big Decision (Extended Version) 
Soul Deep 
Big Decision (Jet Fuel Mix) 
Swamp (Extended Remix) 
Creeping To The Cross (Shorter & Better) 
Dance Your Ass Off 
Swamp (Live, May 1987)   
Me And Baby Brother (Live, May 1987) 
20. Creeping To The Cross (Live, May 1987) 
Genius Move 
Party Games

CD 3: End Of The Millennium Psychosis Blues (1988-89)

Sooner Or Later 
Every Little Bit 
Cellophane 
Candy Love Satellite 
Here It Is…Take It! 
The Price Of My Soul 
Groove Check 
The Bottom Line 
Tension 
Tired Shattered Man 
Goggle Box 
Under The Sky 
Think Of A Woman 
Hot Head 
Groove Check (10″ Mix) 
Chemicrazy 
Under The Sky (Live) 
Genius Move (Live) 
Mother Sky (Live)

CD 4: Chemicrazy (Part 1 – 1990)

Hey Venus 
Blue To Black 
Mess Of Words 
Sensitize 
Another Day 
Gnaw Mark 
Scum Surfin' 
Compulsion 
Tingle 
Head Staggered 
Abandon 
Sweet Shiver Burn 
Jewel 
Abandon (Boy's Own Mix) 
Fat Mouth Creed

CD 4B: Chemicrazy (Part 2 1990 – 91)

Chemicrazy (Revitalized) 
Cinnamon Girl 
Groove Check (Check This Groove Out) 
Hey Venus (Mad Thatcher Disease Mix) Long Version 
Light & Shade 
Tingle (Hard Boppin' Mix) 
Hey Bulldog (Live) 
Head Staggered  (Live At The Whiskey L.A.) 
Scum Surfin' (Live At The Whiskey L.A.) 
Everybody's Goin' Triple Bad Acid Yeah! 
Stories of the Street

CD 5: Fireproof (1993)

Detonate My Dreams 
Catch A Fire 
Last Of The True Believers 
Too Late Blues 
7th Wave 
Infinite Thrill 
Speed Of Light 
Shangri-La 
Heartbeat Mosaic 
Metal Mystery 
Everlasting Breath (Demo) 
Last Of The True Believers  (Alternative Version) 
Detonate My Dreams  (Alternative Version) 
Blue To Black (Franz Treichler Remix) 
Big Human Thing (Demo) 
Fun Time 
Little Big Man 
Chrome

CD 6: Final Flame (Fire, Detonation & Sublime Chaos) (1994)

Catch A Fire (Live, May 1994) 
Infinite Thrill (Live, May 1994) 
Shangri-La (Live, May 1994) 
Genius Move (Live, May 1994) 
It's A Good Thing (Live, May 1994) 
Hey Venus (Live, May 1994) 
Sensitize (Live, May 1994) 
Tingle (Live, May 1994) 
Head Staggered (Live, May 1994) 
Detonate My Dreams (Live, May 1994) 
Mouth Crazy (Live, May 1994) 
Big Decision (Live, May 1994) 
Sweet Shiver Burn (Live, May 1994) 
Abandon (Live, May 1994) 
Chemicrazy (Live, May 1994) 
Blue To Black (Live, May 1994) 
Scum Surfin' (Live, May 1994)