 News
The Allman Brothers Band and Commodores 'Collected' coloured vinyl
Limited coloured vinyl compilations • 2LP sets with rarities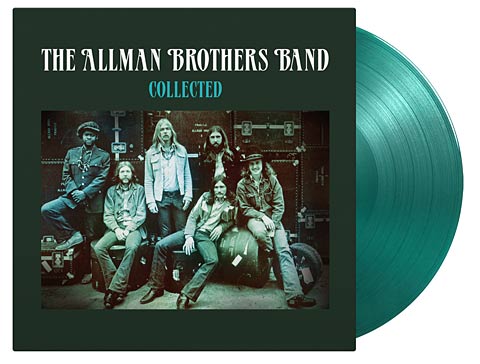 SDE has in the past described Universal Music Netherlands' Collected career summaries as one of the best kept secrets in pop/rock compilations. The triple-CD sets are normally very, very good indeed and while Music On Vinyl's double vinyl editions can't quite match the track quantity and depth of their CD cousins, they are still worth picking up, especially in limited edition coloured vinyl guise. Two new titles come to double vinyl later this month, The Allman Brothers Band and the Commodores.

The Allman Brothers Band set is a 2LP vinyl package with three sides of classics like 'Jessica'; 'Ramblin' Man'; 'Win, Lose or Draw' and 'In Memory of Elizabeth Reed' with a fourth side of rarities including cuts from pre-ABB days via The Allman Joys and Hour Glass and some solo work from Duane and Greg.



The first pressing of this Allman Brothers Band Collected is on individually numbered, double transparent green vinyl and limited to 3,500 units worldwide, with about 700 of those allocated for the UK.
Commodores 'Collected' first pressing is on 2LP gold/red vinyl

The Commodores set follows a similar pattern, with hits from the massively successful Lionel Richie era such as 'Easy', 'Brick House', 'Three Times A Lady' and 'Still'. Later albums issued after Richie's departure are also covered, with tracks like 'Nightshift', 'Animal Instinct' and 'United in Love'. A rare bonus song at the end of side four is the Commodores version of Diana Ross & The Supremes' 'Forever Came Today', which was originally issued on 1983 compilation album Motown Superstars Sing Motown Superstars.



The first pressing of this 2LP set is limited to 2,500 units worldwide with 600 allocated for the UK. These are pressed on gold/red vinyl as shown above.

The Collected vinyl sets are always really well packaged. They are gatefold, come with a decent quality outer PVC sleeve and of course the limited coloured variants are quite desirable. Both of these limited coloured vinyl sets are now listed on the SDE shop (for worldwide shipping). You can also use the buttons below to purchase. These will ship on 30 November 2018 – the date of release.
<![CDATA[
/**/
]]>
The Allman Brothers Band
Collected
2LP vinyl
SIDE A
1. Dreams
2. Revival
3. Midnight Rider
4. In Memory Of Elizabeth Reed
5. Statesboro Blues
SIDE B
1. Melissa
2. One Way Out
3. Ramblin' Man
4. Jessica
5. Win, Lose Or Draw
SIDE C
1. Crazy Love
2. Just Ain't Easy
3. Angeline
4. Straight From The Heart
5. Good Clean Fun
6. All Night Train
SIDE D
1. The Allman Joys – Crossroads
2. The Hour Glass – Ain't No Good To Cry
3. Duane Allman – Goin Down Slow
4. Gregg Allman – These Days
5. Gregg Allman – The Dark End Of The Street
Commodores
Collected
2LP vinyl
SIDE A
1. Rise Up
2. Machine Gun
3. The Zoo (The Human Zoo)
4. Slippery When Wet
5. Sweet Love
6. Just To Be Close To You
7. Easy
SIDE B
1. Brick House
2. Too Hot Ta Trot
3. Three Times A Lady
4. Flying High
5. Sail On
6. Still
7. Old-Fashion Love
SIDE C
1. Lady (You Bring Me Up)
2. Oh No
3. Painted Picture
4. Only You
5. Nightshift
6. Animal Instinct
SIDE D
1. Goin' To The Bank
2. United In Love
3. Solitaire
4. Grrip
5. Everything Reminds Me Of You
6. Forever Came Today (bonus Track from 'Motown Superstars Sing Motown Superstars')