 News
The Cult / Sonic Temple 30th anniversary expanded sets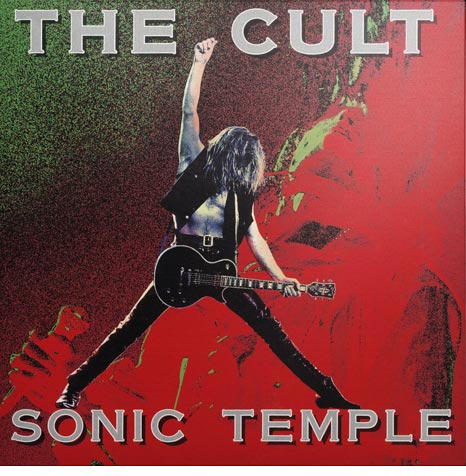 The Cult's 1989 album Sonic Temple is getting the 30th reissue treatment in September with a series of expanded physical sets.

Their fourth album, Sonic Temple was produced by Bob Rock and delivered three top 40 hits in the UK ('Fire Woman', 'Edie (Ciao Baby)', 'Sun King') and sold over 1.5 million copies in the US alone.
Beggars Arkive will reissue this album in three physical variations including a 5CD super deluxe box set with the album, B-sides, remixes demos and live tracks and a 3LP+cassette box set which covers similar ground. An expanded 2LP vinyl edition (featuring six B-sides) is also available.
The box sets feature enhanced, rebooted artwork and the 5CD set comes in book form. The 3LP vinyl package with the cassette is limited to 3,000 units and comes with a host of facsimile memorabilia including replica of original laminate, backstage pass, original press releases, and the like. The label have confirmed to SDE that there is no download code with either of the vinyl sets.
These will be released on 13 September 2019 and are available to pre-order via the SDE shop by clicking on this link or using the buttons below.
Sonic Temple 30 / 5CD super deluxe
CD 1
1 Sun King
2 Fire Woman
3 American Horse
4 Edie (Ciao Baby)
5 Sweet Soul Sister
6 Soul Asylum
7 New York City
8 Automatic Blues
9 Soldier Blue
10 Wake Up Time For Freedom
CD 2
1 Sonic Temple Radio Promo
2 Fire Woman (Edit)
3 Messin' Up The Blues (from the Fire Woman single)
4 Medicine Train (From the Edie (Ciao Baby) single)
5 Fire Woman (NYC Rock Mix) (from the Fire Woman CD EP)
6 Edie (Ciao Baby) (Edit)
7 Bleeding Heart Graffiti (from the Edie (Ciao Baby) CD EP)
8 Sun King (Edit)
9 Sweet Soul Sister (Edit)
10 The River (From the Sweet Soul Sister single)
11 Soldier Blue (Werman Extended Version)
12 Fire Woman (LA Rock Mix)
13 Sweet Soul Sister (Rock's Mix)
14 Edie (Ciao Baby) (Acoustic) (From The Heart Of Soul CD single)
CD 3
1 Medicine Train (demo)
2 New York City (demo)
3 American Horse (demo)
4 Sun King (demo)
5 Automatic Blues (demo)
6 Yes Man (demo)
7 Fire (demo)
8 Wake Up Time For Freedom (demo)
9 Citadel (demo)
10 The River (demo)
CD 4
1 The Crystal Ocean (demo)
2 Cashmere (demo)
3 Edie (Ciao Baby) (demo)
4 Bleeding Hearts Revival
5 My Love (demo)
6 Star Child (demo)
7 Medicine Train (Rock Demo)
8 New York City (Rock Demo)
9 Fire (rock Demo)
10 Spanish Gold (jam Demo)
CD 5
1 New York City (live) *previously unreleased)
2 Automatic Blues (live) *previously unreleased)
3 American Horse (live) (from the Sweet Soul Sister single)
4 Sun King (live) *previously unreleased
5 Soul Asylum (live) (from the Sweet Soul Sister single)
6 Rain (live) *previously unreleased
7 Sweet Soul Sister (live) (from the Sweet Soul Sister single)
8 She Sells Sanctuary (live) *previously unreleased
9 Fire Woman (live) *previously unreleased
Sonic Temple 30 / 3LP + Cassette box set (with memorabilia)
LP 1
A1 Sun King
A2 Fire Woman
A3 American HorseA4 Edie (Ciao Baby)
B1 Sweet Soul Sister
B2 Soul Asylum
B3 New York City
B4 Automatic Blues
LP 2
C1 Soldier Blue
C2 Wake Up Time For Freedom
C3 Medicine Train (From the Edie (Ciao Baby) single)
C4 The River (From the Sweet Soul Sister single)
D1 Bleeding Heart Graffitti (from the Edie (Ciao Baby) single)
D2 Messin' Up The Blues (from the Fire Woman single)
D3 Fire Woman (NYC Rock Mix) (from the Fire Woman CD EP)
D4 Edie (Ciao Baby) (Acoustic) (From The Heart Of Soul CD single)
LP3
E1 New York City (live) *previously unreleased)
E2 Automatic Blues (live) *previously unreleased)
E3 American Horse (live) (from the Sweet Soul Sister single)
E4 Sun King (live) *previously unreleased
F1 Soul Asylum (live) (from the Sweet Soul Sister single)
F2 Sweet Soul Sister (live) (from the Sweet Soul Sister single)
F3 Fire Woman (live) *previously unreleased
Cassette
Side 1
1 Sonic Temple Radio Promo
2 New York City (demo)
3 American Horse (demo)
4 Sun King (demo)
5 Automatic Blues (demo)
6 Yes Man (demo)
7 Wake Up Time For Freedom (demo)
8 Citadel (demo)
9 The River (demo)
Side 2
1 The Crystal Ocean (demo)
2 Cashmere (demo)
3 Edie (Ciao Baby) (demo)
4 Bleeding Hearts Revival
5 Star Child (demo)
6 Medicine Train (Rock Demo)
7 New York City (Rock Demo)
8 Fire (Rock Demo)
9 Fire Woman (live) *previously unreleased
The Cult Sonic Temple 30 / 2LP vinyl
LP 1
A1 Sun King
A2 Fire Woman
A3 American HorseA4 Edie (Ciao Baby)
B1 Sweet Soul Sister
B2 Soul Asylum
B3 New York City
B4 Automatic Blues
LP 2
C1 Soldier Blue
C2 Wake Up Time For Freedom
C3 Medicine Train (From the Edie (Ciao Baby) single)
C4 The River (From the Sweet Soul Sister single)
D1 Bleeding Heart Graffitti (from the Edie (Ciao Baby) single)
D2 Messin' Up The Blues (from the Fire Woman single)
D3 Fire Woman (NYC Rock Mix) (from the Fire Woman CD EP)
D4 Edie (Ciao Baby) (Acoustic) (From The Heart Of Soul CD single)