 News
The Divine Comedy venture into 'Office Politics' with new album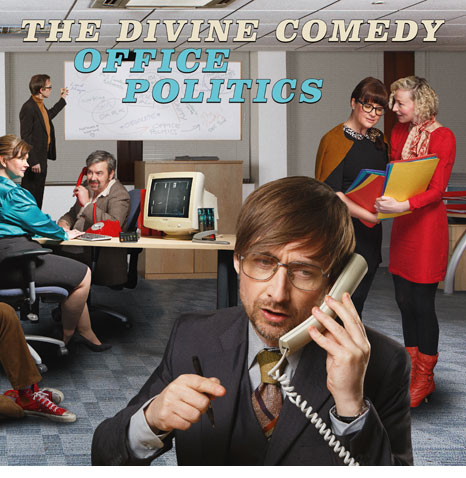 2CD deluxe with demos •  2LP coloured vinyl 
Enniskillen's foremost chamber pop band The Divine Comedy have announced details of a brand new album. The follow-up to 2016's top ten Foreverland, Office Politics is due in June.

The album is released across a variety of formats, with two double 180g vinyl sets (one coloured, one not) and two CD versions, one concerned with just the 16-track album (it's technically a double), the other, a two-CD deluxe featuring an additional a bonus CD of Neil's piano demos for the stage musical Swallows and Amazons, which are previously unreleased.
The album was written, produced and arranged by Neil and recorded in Ireland and London. Additional guest vocals come courtesy of Chris Difford, Cathy Davey and Pete Ruotolo.
Speaking about Office Politics, Neil Hannon says "It has synthesisers. And songs about synthesisers, but don't panic. It also has guitars, orchestras, accordions, and songs about love and greed. I do try to make normal records, but it always seems to wander off into odd territories."
Office Politics is released on 7 June 2019. There are some bundles available via the official store which also stocks the black vinyl and a cassette edition.
Compare prices and pre-order
The Divine Comedy
office politics - 2CD deluxe
Compare prices and pre-order
The Divine Comedy
office politics - 2LP coloured vinyl
Office Politics 2CD
CD1
Queuejumper
Office Politics
Norman And Norma
Absolutely Obsolete
Infernal Machines
You'll Never Work In This Town Again
Psychological Evaluation
The Synthesiser Service Centre Super Summer Sale
The Life And Soul Of The Party
A Feather In Your Cap
I'm A Stanger Here
Dark Days Are Here Again
Philip And  Steve's Furniture Removal Company
Opportunity' Knox
After The Lord Mayor's Show
When The Working Day Is Done
CD2 (Swallows and Amazons – The Original Piano Demos)
Whistle For A Wind
The Swallow
The Conquering Heroes
Fighting Swallow
The Amazon Pirates
The Parley
Better Drowned Than Duffers
Let's Make The Best Of It
Navy Stroke
Like Robinson Crusoe
Titty's Dream
The Conquering Heroes, Victory Chorus
The Black Spot
The Parley – Flint's Apology
Swallows And Amazons Forever
Office Politics 2LP vinyl
Queuejumper
Office Politics
Norman And Norma
Absolutely Obsolete
Infernal Machines
You'll Never Work In This Town Again
Psychological Evaluation
The Synthesiser Service Centre Super Summer Sale
The Life And Soul Of The Party
A Feather In Your Cap
I'm A Stanger Here
Dark Days Are Here Again
Philip And  Steve's Furniture Removal Company
Opportunity' Knox
After The Lord Mayor's Show
When The Working Day Is Done