 News
The Hitchhiker's Guide to the Galaxy / Secondary Phase 3LP coloured vinyl
First time on vinyl • Luxury presentation • 500 signed sets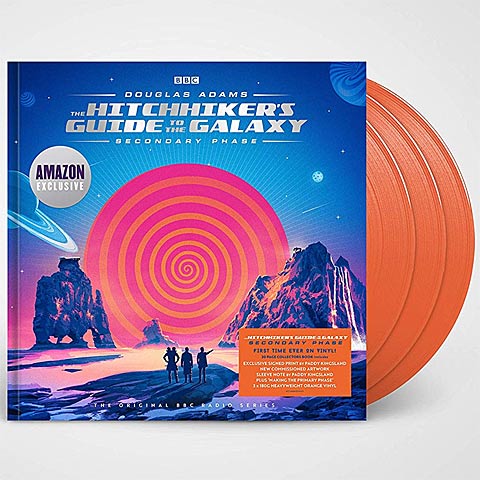 Demon Record will issue Secondary Phase a new 3LP coloured vinyl deluxe set that features the second series of Douglas Adams' classic comedy science fiction radio show The Hitchhiker's Guide To The Galaxy.

Like the previous set, this presented on triple 180g coloured vinyl (orange this time) and housed in a 12″ x 12″ hardcover book. This limited edition of Secondary Phase comes with a 12″ x 12″ print signed by Paddy Kingsland, the BBC radiophonic workshop composer who worked on this very series of The Hitchhiker's Guide To The Galaxy (as well as the TV adaptation).




This set features the audio from episodes 7 to 12 where we follow Zaphod Beeblebrox as he journeys into a totally weird new dimension, and intrepid Earthman Arthur Dent as he tries to escape the Prehistoric era with his friend Ford Prefect. Plug into a seance between Zaphod and his great-grandfather, and join Arthur as he meets the Bird People of Brontitall (who worship a 15 mile-high statue of, well, Arthur).




These radio series really did boast an excellent cast. They starred Peter Jones as The Book, with Simon Jones as Arthur Dent, Geoffrey McGivern as Ford Prefect, Mark Wing-Davey as Zaphod Beeblebrox, and Stephen Moore as Marvin the Paranoid Android, with a guest support from the likes of Bill Paterson, John Le Mesurier, Ken Campbell, Valentine Dyall, Rula Lenska, Bill Wallis, Alan Ford and Jonathan Pryce.

As you can see from the images above, this set continues with the stunning design. Each coloured vinyl record comes in an illustrated wallet inside a 20-page hardcover book. Last time out Neil Gaiman wrote the sleeve notes but for this volume aforementioned Radiophonic Workshop composer contributes along with Jem Roberts, Douglas Adams's official biographer.

500 copies of the The Hitchhiker's Guide To The Galaxy: Secondary Phase limited SIGNED edition are available to pre-order now. These signed exclusives are only available via Amazon UK and will be released on 12 October 2018.


Compare prices and pre-order
Douglas Adams
THE HITCHHIKERS GUIDE TO THE GALAXY - SECONDARY PHASE SIGNED 3LP vinyl - 500 only
Vinyl Record 1
Side A: Episode One – Fit The Seventh
Side B: Episode Two – Fit The Eighth
Vinyl Record 2
Side A: Episode One – Fit The Ninth
Side B: Episode Two – Fit The Tenth
Vinyl Record 3
Side A: Episode One – Fit The Eleventh
Side B: Episode Two – Fit The Twelfth