 News
The Kinks Are The Village Green Preservation Society super deluxe box
Enormous 11-disc super deluxe edition • 2018 remasters • 174 tracks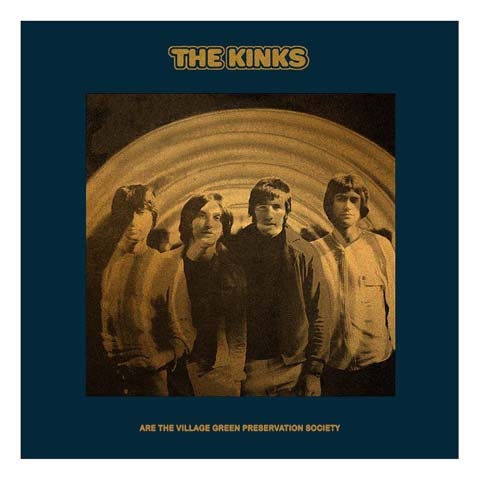 BMG will issue a 50th anniversary edition of The Kinks' 1968 album The Kinks Are The Village Green Preservation Society in October. 

The band's sixth studio album was originally issued in November '68 and would be the last album by the original line-up (bass player Pete Quaife departed in early 1969). Describin the album today, Davies says it's about "the ending of a time personally for me in my life. In my imaginary village. It's the end of our innocence, our youth. Some people are quite old but in the Village Green, you're never allowed to grow up. I feel the project itself as part of a life cycle."

The super deluxe edition is a eleven-disc set, no less. It contains a double vinyl LP with stereo and mono versions (both 2018 remasters) and a 12-track 'Continental' (Swedish) version on vinyl.

In addition there are five CDs of content as described below:
CD1:
2018 Stereo Remaster, from the original HD tape transfers + bonus tracks of singles, B sides and original album related tracks

CD2:
2018 Mono Remaster, from the original HD tape transfers + bonus tracks of singles, B sides and original album related tracks

CD3:
Village Green Sessions – Including alternate versions, mixes and backing tracks, many previously unreleased

CD4:
Village Green At The BBC – TV performance track audio and band interviews, many previously unreleased

CD5:
Preservation, Sessions, Live & Demos – including mid 70s recordings, previously unreleased home demos, Ray Davies live in Denmark 2010 and unreleased track 'Time Song'.

The three remaining discs are a trio of replica seven-inch singles, reproduced in picture sleeves. They are:
Days / She's Got Everything (1968)

Starstruck / Picture Book (1968)

The Village Green Preservation Society / Do You Remember Walter? (1969)


There are 174 tracks in total (see full track listing at the bottom of this post) with "many previously unreleased tracks and versions", including the previously unreleased track 'Time Song' which was performed by The Kinks at the Theatre Royal, Drury Lane in January 1973. This track was Davies' commentary on the UK joining what was then called The Common Market. Ray says "This song was recorded a few weeks later but never made the final cut on the Preservation Act I album. Oddly enough, the song seems quite poignant and appropriate to release at this time in British history, and like Europe itself the track is a rough mix which still has to be finessed." This track features in the box set and the 2CD edition.



The box set comes with a 52-page hardcover book with extensive sleeve notes and new band interviews and includes essays by Pete Townshend and other writers. It boasts "special packaging" with debossed box cover, foil & metallic text, linen cloth finish and a 'bespoke accessories holder'.

It also comes with what we like to call 'stuff'… broadly categorised as 'memorabilia'. This includes a poster of Village Green LP inner gatefold; Empire Liverpool 1968 tour poster; glossy 10" x 8" photos from Hampstead Heath 1968 photoshoot; colour press photo with reproduced band signatures; Bournemouth 1968 gig ticket; PYE Records promo card; 'Days' sheet music etc.

The other three physical editions are a 2CD deluxe 'art of the album' which features the stereo and mono remasters and bonus tracks (49 tracks in total), plus single disc vinyl and CD versions with just the stereo remaster.

The Kinks Are The Village Green Preservation Society 50th anniversary editions are out on 26 October 2018. The UK box set price of £94 seems pretty good for all that content and with VAT deducted US fans can import this from the UK for almost exactly $100 + shipping (it's not listed in the US at the moment).


Compare prices and pre-order
The Kinks
...Are The Village Green Preservation Society - super deluxe box
Compare prices and pre-order
The Kinks
...Are The Village Green Preservation Society - 2CD deluxe
Compare prices and pre-order
The Kinks
...Are The Village Green Preservation Society - vinyl LP
In the super deluxe edition box set:

The Kinks Are The Village Green Preservation Society stereo vinyl LP

Side 1
1. The Village Green Preservation Society (2018 Stereo Remaster)
2. Do You Remember Walter? (2018 Stereo Remaster)
3. Picture Book (2018 Stereo Remaster)
4. Johnny Thunder (2018 Stereo Remaster)
5. Last of the Steam-Powered Trains (2018 Stereo Remaster)
6. Big Sky (2018 Stereo Remaster)
7. Sitting By the Riverside (2018 Stereo Remaster)

Side 2
1. Animal Farm (2018 Stereo Remaster)
2. Village Green (2018 Stereo Remaster)
3. Starstruck (2018 Stereo Remaster)
4. Phenomenal Cat (2018 Stereo Remaster)
5. All of My Friends Were There (2018 Stereo Remaster)
6. Wicked Annabella (2018 Stereo Remaster)
7. Monica (2018 Stereo Remaster)
8. People Take Pictures of Each Other (2018 Stereo Remaster)

The Kinks Are The Village Green Preservation Society mono vinyl LP

Side 1
1. The Village Green Preservation Society (2018 Mono Remaster)
2. Do You Remember Walter? (2018 Mono Remaster)
3. Picture Book (2018 Mono Remaster)
4. Johnny Thunder (2018 Mono Remaster)
5. Last of the Steam-Powered Trains (2018 Mono Remaster)
6. Big Sky (2018 Mono Remaster)
7. Sitting By the Riverside (2018 Mono Remaster)

Side 2
1. Animal Farm (2018 Mono Remaster)
2. Village Green (2018 Mono Remaster)
3. Starstruck (2018 Mono Remaster)
4. Phenomenal Cat (2018 Mono Remaster)
5. All of My Friends Were There (2018 Mono Remaster)
6. Wicked Annabella (2018 Mono Remaster)
7. Monica (2018 Mono Remaster)
8. People Take Pictures of Each Other (2018 Mono Remaster)

The Kinks Are The Village Green Preservation Society Swedish vinyl LP

Side 1
1. The Village Green Preservation Society (Swedish Version; 2018 Stereo Remaster)
2. Do You Remember Walter? (Swedish Version; 2018 Stereo Remaster)
3. Picture Book (Swedish Version; 2018 Stereo Remaster)
4. Johnny Thunder (Swedish Version; 2018 Stereo Remaster)
5. Monica (Swedish Version; 2018 Stereo Remaster)
6. Days (Swedish Version; 2018 Stereo Remaster)

Side 2
1. Village Green (Swedish Version; 2018 Stereo Remaster)
2. Mr. Songbird (Swedish Version; 2018 Stereo Remaster)
3. Wicked Annabella (Swedish Version; 2018 Stereo Remaster)
4. Starstruck (Swedish Version; 2018 Stereo Remaster)
5. Phenomenal Cat (Swedish Version; 2018 Stereo Remaster)
6. People Take Pictures of Each Other (Swedish Version; 2018 Stereo Remaster)

CD 1 –  The Kinks Are The Village Green Preservation Society 2018 Stereo Remaster + bonus tracks
1. The Village Green Preservation Society (2018 Stereo Remaster
2. Do You Remember Walter? (2018 Stereo Remaster)
3. Picture Book (2018 Stereo Remaster)
4. Johnny Thunder (2018 Stereo Remaster)
5. Last of the Steam-Powered Trains (2018 Stereo Remaster)
6. Big Sky (2018 Stereo Remaster)
7. Sitting By the Riverside (2018 Stereo Remaster)
8. Animal Farm (2018 Stereo Remaster)
9. Village Green (2018 Stereo Remaster)
10. Starstruck (2018 Stereo Remaster)
11. Phenomenal Cat (2018 Stereo Remaster)
12. All of My Friends Were There (2018 Stereo Remaster)
13. Wicked Annabella (2018 Stereo Remaster)
14. Monica (2018 Stereo Remaster)
15. People Take Pictures of Each Other (2018 Stereo Remaster)

Bonus tracks
16. Days (Stereo Mix) [2018 Remastered Version]
17. She's Got Everything (Stereo Mix) [2018 Remaster]
18. Mr. Songbird (Stereo Mix) [2018 Remaster]
19. Wonderboy (Stereo Mix) [2018 Remastered Version]
20. Polly (Stereo Mix) [2018 Remastered Version]
21. Berkeley Mews (Stereo Mix) [2018 Remastered Version]
22. Rosemary Rose (Stereo Mix) [2018 Remastered Version]
23. Misty Water (Stereo Mix) [2018 Remastered Version]
24. Did You See His Name? (Stereo Mix) [2018 Remaster]
25. Do You Remember Walter? (European Stereo Mix Without Tambourine) [2018 Remastered Version]
26. Animal Farm (Alternate Stereo Mix) [2018 Remastered Version]
27. People Take Pictures of Each Other (European Stereo Mix With Big Band Coda) [2018 Remastered Version]

CD 2 – The Kinks Are The Village Green Preservation Society 2018 Mono Remaster + bonus tracks
1. The Village Green Preservation Society (2018 Mono Remaster)
2. Do You Remember Walter? (2018 Mono Remaster)
3. Picture Book (2018 Mono Remaster)
4. Johnny Thunder (2018 Mono Remaster)
5. Last of the Steam-Powered Trains (2018 Mono Remaster)
6. Big Sky (2018 Mono Remaster)
7. Sitting By the Riverside (2018 Mono Remaster)
8. Animal Farm (2018 Mono Remaster)
9. Village Green (2018 Mono Remaster)
10. Starstruck (2018 Mono Remaster)
11. Phenomenal Cat (2018 Mono Remaster)
12. All of My Friends Were There (2018 Mono Remaster)
13. Wicked Annabella (2018 Mono Remaster)
14. Monica (2018 Mono Remaster)
15. People Take Pictures of Each Other (2018 Mono Remaster)

Bonus tracks

16. Days (Mono Single Mix) [2018 Remastered Version]
17. She's Got Everything (Single Mix) [2018 Mono Remaster]
18. Mr. Songbird (2018 Mono Remaster)
19. Wonderboy (Mono Single Mix) [2018 Remastered Version]
20. Polly (Single Mix) [2018 Mono Remaster]
21. Till Death Us Do Part (Mono Mix) [2018 Remastered Versio]
22. Berkeley Mews (Single Mix) [2018 Mono Remaster]
23. Village Green (Alternate Vocal) [2018 Mono Remaster]
24. Lavender Hill (Mono Mix) [2018 Remastered Version]
25. Rosemary Rose (Mono Mix) [2018 Remastered Version]
26. Pictures in the Sand (Mono Mix) [2018 Remastered Version]
27. Misty Water (Mono Mix) [2018 Remaster]
28. Did You See His Name? (2018 Mono Remaster)
29. Last of the Steam-Powered Trains (With Alternate Ending) [2018 – Remaster]

CD 3 – Village Green Sessions
1. The Village Green Preservation Society (Alternate Mix With Session Chat)
2. Do You Remember Walter? (Backing Track)
3. Picture Book (Alternate Mix With Session Chat)
4. Johnny Thunder (Alternate Mix With Session Chat) [2018 Stereo Remaster]
5. Last of the Steam-Powered Trains (Alternate Mix With Session Chat)
6. Big Sky (Alternate Mix With Session Chat)
7. Animal Farm (Takes 16 & 17 With Session Chat)
8. Village Green (Unissued Mix from Acetate)
9. Starstruck (Alternate Mix With Session Chat)
10. Phenomenal Cat (Alternate Mix With Session Chat) [2018 Stereo Remaster]
11. Monica (Alternate Mix With Session Chat)
12. People Take Pictures of Each Other (Alternate Mix With Session Chat)
13. Egg Stained Pyjamas (Backing Track)
14. Days (Alternate Mix With Session Chat)
15. She's Got Everything (Alternate Mix With Session Chat)
16. Misty Water (Alternate Stereo Mix)
17. Mr. Songbird (Alternate Mix)
18. Pictures in the Sand (Backing Track – Stereo Mix)
19. Berkeley Mews (Alternate Mix With Session Chat)
20. Easy Come, There You Went (Backing Track) [Alternate Mix Stereo] [2018 Remaster]
21. Did You See His Name? (Alternate Mix With Session Chat)
22. Mick Avory's Underpants (Backing Track – Mono Mix; 2018 Remastered Version)
23. Spotty Grotty Anna (Stereo Backing Track; 2018 Remastered Version)
24. Lavender Hill (Stereo Backing Track)
25. Village Green (Backing Track – Stereo Mix; 2018 Remastered Version)

CD 4 – Village Green at the BBC
1. Interview: Ray talks about working (Recorded July 1968; 2018 Mono Remaster)
2. Days (Top Gear, Recorded 1st July 1968; 2018 Remastered Version)
3. Waterloo Sunset (Top Gear, Recorded 1st July 1968; 2018 Mono Remaster)
4. Interview: Ray Talks About Solo Records (Recorded July 1968; 2018 Mono Remaster)
5. Love Me Till the Sun Shines (Top Gear, Recorded 1 July 1968; 2018 Mono Remaster)
6. Monica (Top Gear, Recorded 1st July 1968; 2018 Mono Remaster)
7. Interview: Ray talks about Village Green (Recorded November 1968; 2018 Mono Remaster)
8. The Village Green Preservation Society (Saturday Club, Recorded 26th November 1968; 2018 Mono Remaster)
9. Animal Farm (Live at the BBC, Saturday Club, 26th November 1968) [2018 Mono Remaster]
10. Interview: Ray & Dave Talk About Last of the Steam-Powered Trains, (Saturday Club, Broadcast 18th January 1969; Mono)
11. Last of the Steam-Powered Trains (Live at Julie Felix Show, 7 January 1969) [Mono]
12. Picture Book (Live Vocals) [Julie Felix Show, Recorded 7 January 1969; Mono]
13. Do You Remember Walter? (BBC Mix) [Symonds On Sunday, Recorded 2 April 1968; 2018 Mono Remaster]
14. Medley: Dedicated Follower of Fashion / A Well Respected Man / Death of a Clown (TV Pre-Mix Of Uniquely Recorded Medley – Mono; Colour Me Pop, Recorded 22 July 1968)
15. Sunny Afternoon (TV Pre-Mix Minus Melodica; Colour Me Pop, Recorded 22 July 1968)
16. Picture Book (Live TV Pre-Mix) [Colour Me Pop, Recorded 22 July 1968]
17. Days (TV Pre-Mix) [TV Pre-Mix; Colour Me Pop, Recorded 22 July 1968]
18. Lazy Old Sun (TV Pre-Mix; Colour Me Pop, Recorded 22 July 1968)
19. Two Sisters (TV Pre-Mix; Colour Me Pop, Recorded 22 July 1968)
20. Monica (TV Pre-Mix) [TV Pre-Mix; Colour Me Pop, Recorded 22 July 1968]
21. Lincoln County (TV Pre-Mix Minus Strings Overdub; Colour Me Pop, Recorded 22 July 1968; 2018 Mono Remaster)
22. Where Did My Spring Go? (Where Was Spring?, Recorded 1969) [2018 Mono Remaster]
23. When I Turn Off the Living Room Light (Where Was Spring?, Recorded 1969) [2018 Mono Remaster]

CD 5 – Preservation, Sessions, Live & Demos
1. Home Demos Medley
2. Days (Acoustic Version)
3. Mr. Songbird (Alternate Mix; Stereo)
4. The Village Green Preservation Society (Alternate Mix; Stereo)
5. Johnny Thunder (Backing Track; Stereo Mix)
6. Big Sky (Alternate Mix) [Stereo]
7. Phenomenal Cat (Backing Track; 2018 Remastered Version)
8. Picture Book (Vocals and Guitar; Stereo Mix)
9. Animal Farm (Backing Track; Stereo Mix)
10. Time Song (Monitor Mix – Stereo)
11. The Village Green Preservation Society (Preservation Version – Stereo)
12. Medley: Picture Book / People Take Pictures Of Each Other (Preservation Version – Stereo)
13. Village Green Overture (Preservation Version) [Stereo]
14. Days (with The DR Symphony & The DR Vocal Ensemble) [Live] – Ray Davies
15. Village Green Suite: Ray Davies Spoken Intro
16. Village Green Suite: Village Green (with The DR Symphony & Vocal Ensemble) – Ray Davies
17. Village Green Suite: Picture Book (with The DR Symphony & The DR Vocal Ensemble) [Live] – Ray Davies
18. Village Green Suite: Big Sky (with The DR Symphony & Vocal Ensemble) – Ray Davies
19. Village Green Suite: Do You Remember Walter? (with The DR Symphony & Vocal Ensemble) – Ray Davies
20. Village Green Suite: Johnny Thunder (with The DR Symphony & Vocal Ensemble) – Ray Davies
21. Village Green Suite: The Village Green Preservation Society (with The DR Symphony & The DR Vocal Ensemble) [Live] – Ray Davies
22. The Way Love Used To Be (with The DR Symphony & Vocal Ensemble) – Ray Davies

7″ single #1
1. Days (Mono Single Mix) [2018 Remastered Version]
2. Starstruck (2018 Mono Remaster)

7″ single #2
1. Starstruck (2018 Mono Remaster)
2. Picture Book (2018 Mono Remaster)

7″ single #3
1. The Village Green Preservation Society (2018 Stereo Remaster)
2. Do You Remember Walter? (2018 Stereo Remaster)