 News
The Kinks / The Journey: Part 1
60th anniversary campaign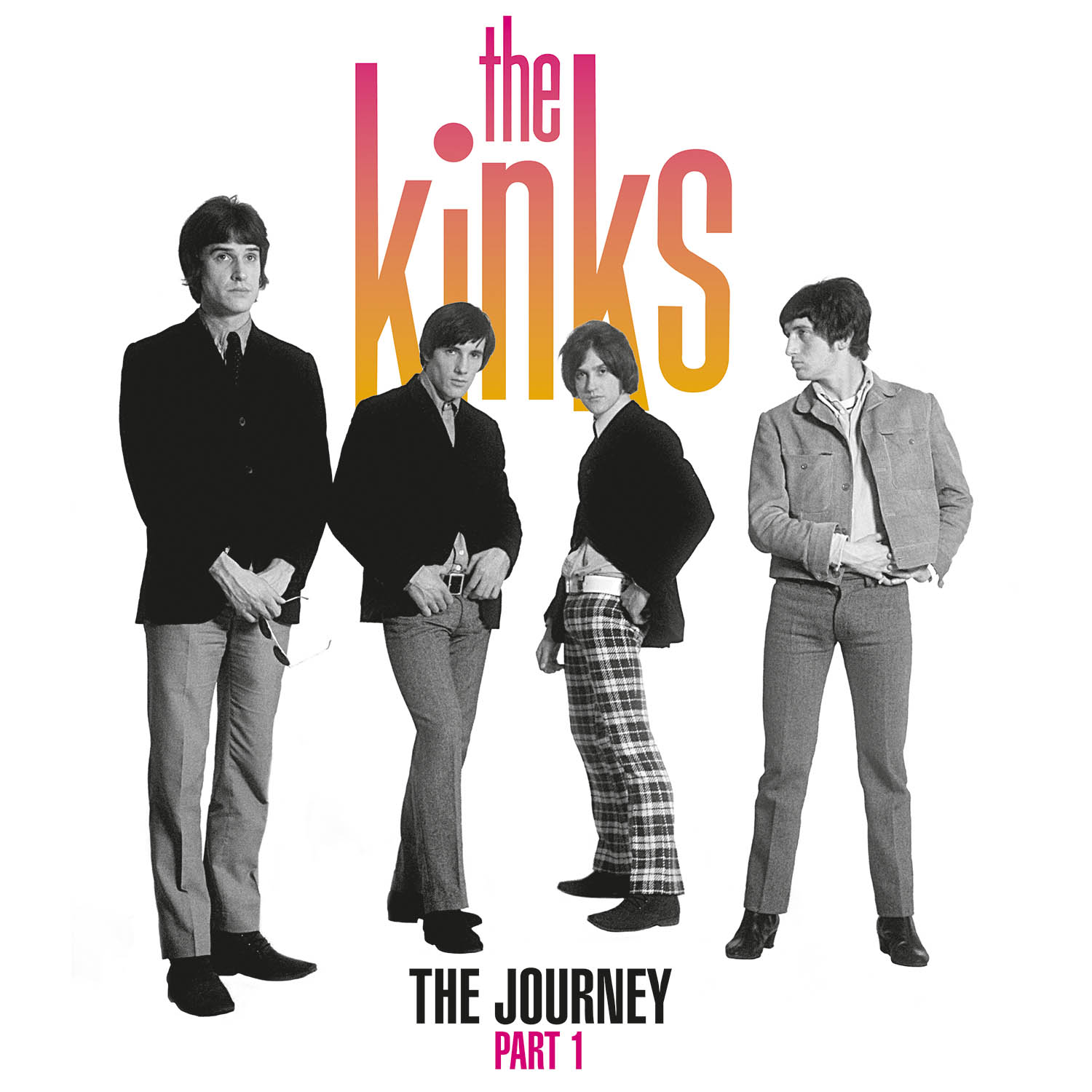 To mark their 60th anniversary The Kinks have collected tracks in a themed compilation called The Journey: Part 1.
The songs included are supposed to "reflect the trials and tribulations of their journey through life together as a band since 1963" and are split into four sections. These tracks included hits, key album tracks, band favourites and B-sides.
The Journey: Part 1 is available as a 30-track 2LP vinyl set (with each side one of the four themes) or as a 36-track 2CD edition, with two themes per CD. These are of course the original band recordings and these have been "remastered from the original sources".
Both formats are widely available but if you pre-order from The Kinks official store then you get an exclusve double-sided poster with the vinyl and three art cards with the 2CD set.
The Journey Part 1 will be released on 24 March 2023.
Compare prices and pre-order
The Kinks
The Journey Part 1 - 2LP vinyl
Compare prices and pre-order
The Kinks
The Journey Part 1 - 2CD set
Tracklisting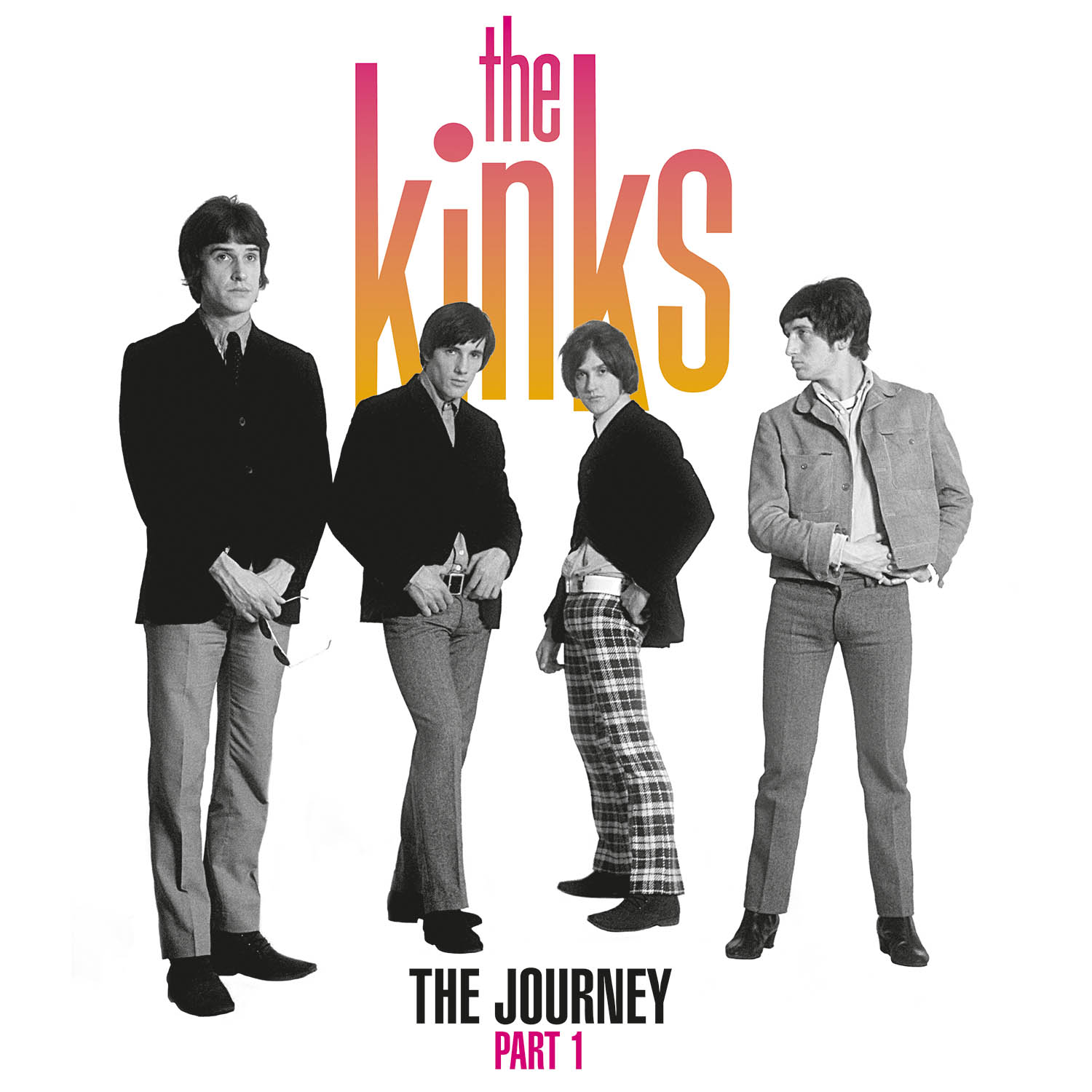 The Journey Part 1 The Kinks
/
LP 1

SIDE 1: SONGS ABOUT BECOMING A MAN, THE SEARCH FOR ADVENTURE, FINDING AN IDENTITY AND A GIRL:

YOU REALLY GOT ME (UK#1, 1964)
ALL DAY AND ALL OF THE NIGHT (UK#2, 1964)
IT'S ALL RIGHT (1964)
WHO'LL BE THE NEXT IN LINE (1965)
TIRED OF WAITING FOR YOU (UK#1, 1965)
SHE'S GOT EVERYTHING (1968)
JUST CAN'T GO TO SLEEP (1964)
STOP YOUR SOBBING (1964)
WAIT TILL THE SUMMER COMES ALONG (1965)
SO LONG (1965)

SIDE 2: SONGS OF AMBITION ACHIEVED, BITTER TASTE OF SUCCESS, LOSS OF FRIENDS, THE PAST COMES BACK AND BITES YOU IN THE BACK-SIDE:

DEAD END STREET (UK#5, 1966)
SCHOOLDAYS (1975)
THE HARD WAY (1975)
MINDLESS CHILD OF MOTHERHOOD (1969)
SUPERSONIC ROCKET SHIP (UK#2, 1972)
I'M IN DISGRACE (1975)
DO YOU REMEMBER WALTER? (1968)

LP 2

SIDE 3: DAYS AND NIGHTS OF A LOST SOUL, SONGS OF REGRET AND REFLECTION OF HAPPIER TIMES:

TOO MUCH ON MY MIND (1966)
NOTHIN' IN THE WORLD CAN STOP ME WORRYIN' 'BOUT THAT GIRL (1965)
DAYS (UK#2, 1968)
WHERE HAVE ALL THE GOOD TIMES GONE (1965)
STRANGERS (1970)
IT'S TOO LATE (1965)
SITTING IN THE MIDDAY SUN (1973)

SIDE 4: A NEW START, A NEW LOVE, BUT HAVE YOU REALLY CHANGED? STILL HAUNTED BY THE QUEST AND THE GIRL:

WATERLOO SUNSET (UK#2, 1967)
NO MORE LOOKING BACK (1975)
DEATH OF A CLOWN (UK#3, 1967)
CELLULOID HEROES (1972)
ACT NICE AND GENTLE (1967)
THIS IS WHERE I BELONG (1967)

CD 1

SONGS ABOUT BECOMING A MAN, THE SEARCH FOR ADVENTURE, FINDING AN IDENTITY AND A GIRL:

YOU REALLY GOT ME (UK#1, 1964)
ALL DAY AND ALL OF THE NIGHT (UK#2, 1964)
IT'S ALL RIGHT (1964)
WHO'LL BE THE NEXT IN LINE (1965)
TIRED OF WAITING FOR YOU (UK#1, 1965)
DANDY (GERMANY#1, 1966)
SHE'S GOT EVERYTHING (1968)
JUST CAN'T GO TO SLEEP (1964)
STOP YOUR SOBBING (1964)
WAIT TILL THE SUMMER COMES ALONG (1965)
SO LONG (1965)
I'M NOT LIKE EVERYBODY ELSE (1966)

SONGS OF AMBITION ACHIEVED, BITTER TASTE OF SUCCESS, LOSS OF FRIENDS, THE PAST COMES BACK AND BITES YOU IN THE BACK-SIDE:

DEAD END STREET (UK#5, 1966)
WONDERBOY (1968)
SCHOOLDAYS (1975)
THE HARD WAY (1975)
MINDLESS CHILD OF MOTHERHOOD (1969)
SUPERSONIC ROCKET SHIP (UK#2, 1972)
I'M IN DISGRACE (1975)
DO YOU REMEMBER WALTER? (1968)

CD 2

DAYS AND NIGHTS OF A LOST SOUL, SONGS OF REGRET AND REFLECTION OF HAPPIER TIMES:

TOO MUCH ON MY MIND (1966)
NOTHIN' IN THE WORLD CAN STOP ME WORRYIN' 'BOUT THAT GIRL (1965)
DAYS (UK#2, 1968)
LAST OF THE STEAM-POWERED TRAINS (1968)
WHERE HAVE ALL THE GOOD TIMES GONE (1965)
STRANGERS (1970)
IT'S TOO LATE (1965)
SITTING IN THE MIDDAY SUN (1973)

A NEW START, A NEW LOVE, BUT HAVE YOU REALLY CHANGED? STILL HAUNTED BY THE QUEST AND THE GIRL:

WATERLOO SUNSET (UK#2, 1967)
AUSTRALIA (1969)
NO MORE LOOKING BACK (1975)
DEATH OF A CLOWN (UK#3, 1967)
CELLULOID HEROES (1972)
ACT NICE AND GENTLE (1967)
THIS IS WHERE I BELONG (1967)
SHANGRI-LA (1969)