 News
Toyah Solo 7CD+DVD box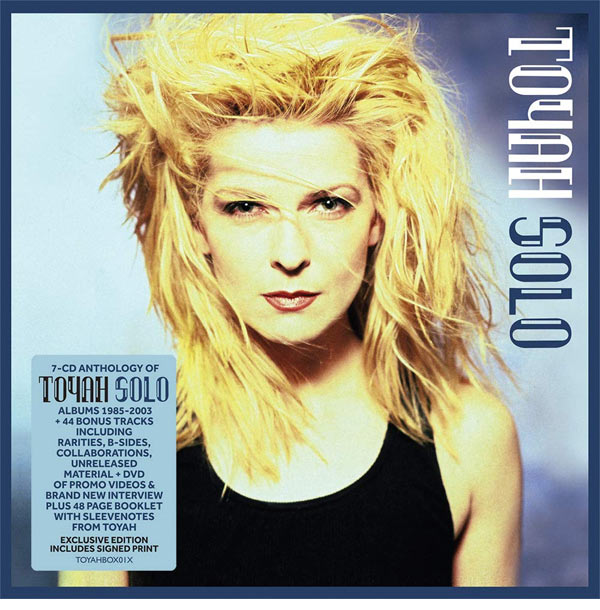 A new box celebrating Toyah's career is on its way • Signed set sold out
Toyah's solo career is to be celebrated in a new box set due next month from Demon.
Toyah Solo mops up the era from 1985 onwards when Willcox signed as a solo turn to Sony's Portrait Records and then subsequent EG releases, and comprises of seven CDs and a DVD plus a 48 page book. (If you're a cursory fan and a bit confused and wondering 'hang on, wasn't she always solo?' it transpires that up until then, Toyah was the name of the band she fronted.)

The box charts the Birmingham post-punk lungsmith's progression from chart star – with hits such as 'Soul Passing Through Soul' and her cover of 'Echo Beach' – to increasingly experimental artist and back again, and features the six albums Minx (released 1985) Desire (1987), Prostitute (1988), Ophelia's Shadow (1991), Take The Leap! and Velvet Lined Shell (both 1994) alongside Remixed, Revisited & Rare 1992-98  which contains updates on some of her biggest hits.
There are 44 bonus tracks, including rarities, B sides and collaborations as well as several unreleased tracks. There is also a DVD of promo videos and a bonus new interview from 2019.
Among the extra treats, Toyah has written sleevenotes for each album and there's an essay about this period penned by Toyah archivist and box-compiler Craig Astley. And the really good news is that Amazon UK have an exclusive edition, limited to 500 units, that comes with a print signed by Toyah (already sold out!).
Toyah Solo will be released 28 February 2020 
Compare prices and pre-order
Toyah
Toyah Solo 7CD+DVD standard edition
CD1: MINX
Soldier Of Fortune, Terrorist Of Love
Don't Fall In Love (I Said)
Soul Passing Through Soul
Sympathy
I'll Serve You Well
Over Twenty One
All In A Rage
Space Between The Sounds
School's Out
World In Action
America For Beginners
Vigilante
Bonus tracks:
Snow Covers The Kiss
Kiss The Devil
Don't Fall in Love (I Said) [Extended Mix]
Soul Passing Through Soul [Extended Mix]
World In Action [Extended Mix]
World in Action [Action Mix]
CD2: DESIRE
Echo Beach
Moonlight Dancing
Revive The World
The View
Moon Migration
Love's Unkind
Dear Diary
Deadly As A Woman
Goodbye Baby
When A Woman Cries
Desire
Bonus tracks:
Echo Beach [12" mix]
Plenty
Sun Up
ReEntry Into Dance
Mesmerised
Lion of Symmetry – Tony Banks and Toyah
CD3: PROSTITUTE
Hello
Prostitute
Wife
The Show
Dream House
Homecraft
Obsession
Let the Power Bleed
Restless
Falling to Earth
Jazz Singers in the Trees
Vale of Evesham
Ghosts In The Universe
CD4: OPHELIA'S SHADOW
Ophelia's Shadow
The Shaman Says
Brilliant Day
Prospect
Turning Tide
Take What You Will
Ghost Light
The Woman Who Had An Affair With Herself
Homeward
Lords of the Never Known
Bonus tracks:
Harlequin (Holy Day) with Kiss Of Reality
Broken Special (The Island) with Kiss Of Reality
Face The Space (Vocal Version) with Kiss Of Reality
Symbiotic with Trey Gunn
CD5: TAKE THE LEAP!
Now I'm Running
Lust for Love
Invisible Love
Name of Love
Winter in Wonderland
God Ceases to Dream
Ieya (Revisited)
Waiting (Revisited)
Neon Womb (Revisited)
Elusive Stranger (Revisited)
Our Movie (Revisited)
Thunder in the Mountains (Revisited)
I Wanna Be Free (Revisited)
It's a Mystery (Revisited)
Bonus tracks:
Requite Me (Demo)
Invisible Love (Demo)
Waiting (Alternate Mix)
It's a Mystery (Weybridge Mix)
CD6: REMIXED, REVISITED & RARE 1992 -98
Tears For Ellie (Demo)
God Ceases To Dream (Remix)
Poland (One Day On Earth) (Demo)
Now I'm Running (Remix)
It's a Mystery (Whispered Elixir Mix)
Lust For Love (Demo)
Angel (Demo)
Rebel Run (Revisited)
Good Morning Universe (Revisited)
Be Proud, Be Loud (Be Heard) (Revisited)
Desire (Revisited)
Obsolete (Revisited)
Danced (Revisited)
We Are (Revisited)
Angel & Me (Revisited)
Believe In You (Demo)
CD7: VELVET LINED SHELL
Every Scar Has A Silver Lining
Velvet Lined Shell
Little Tears Of Love
You're A Miracle
Mother
Troublesome Thing
Bonus tracks:
Experience
Killing Made Easy (with Family Of Noise)
In Estonia (with This Fragile Moment)
Fallen (with Yomanda)
Drinking From The Gun (with Dodson & Fogg)
Nine Hours (with Peter)
America For Beginners (Nocturne Blue Redux)
Toyah Step Into The New World [from Invasion Planet Earth]
DVD
PROMO VIDEOS
Don't Fall In Love (I Said)
Soul Passing Through Soul
Echo Beach
Fallen
Sensational
Toyah talks about her solo albums