 News
Toyah / The Changeling reissue
1982 album remastered & expanded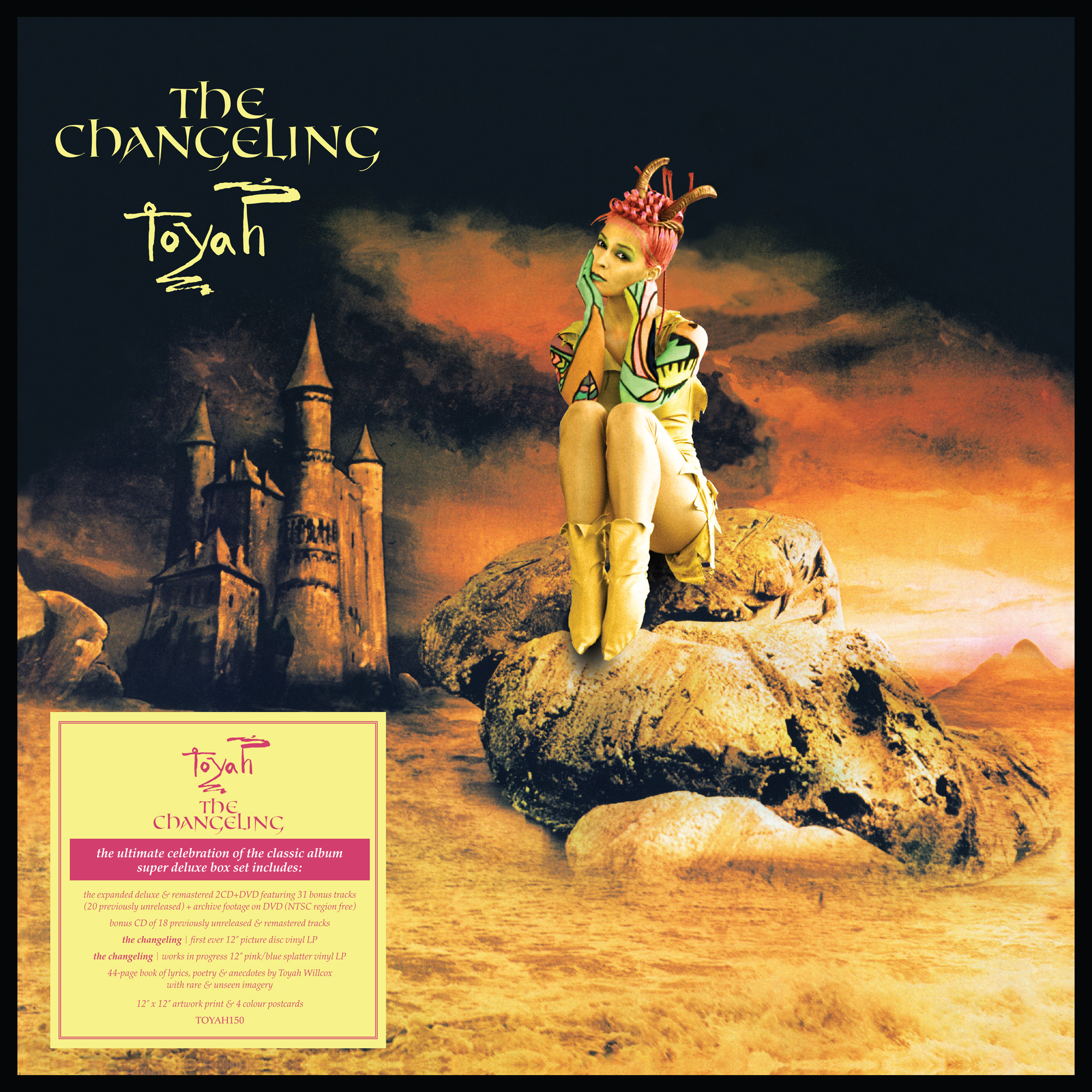 Cherry Red continue to work through Toyah's Safari Records output and, in September, will reissue the band's 1982 album, The Changeling, across a number of formats.
The album was produced by Steve Lillywhite and featured just the one single, 'Brave New World', which peaked at No 21 in the UK. The album has been newly remastered for this archive release.
Like Anthem, The Changeling is being made available as a big super deluxe edition box set, in addition to a 2CD+DVD package and a coloured vinyl LP version.
The 2CD+DVD version probably offers the best bang for your buck, with a whopping 31 bonus tracks including work-in-progress mixes, instrumental outtakes and demos. 20 of these are previously unreleased and three are new-to-CD. The NTSC, region-free DVD offers a 2023 interview with Toyah Willcox and her track-by-track commentary along with loads of TV appearances from back in the day.
The box set edition includes the above 2CD+DVD but adds a further bonus CD of 18 previously unreleased tracks. The super deluxe also includes a 12-inch vinyl picture disc version of the album, a 12-inch pink/blue splatter coloured vinyl record with more work-in-progress audio, a 44-page book, a 12-inch artwork print and postcards. It's worth pointing out that the splatter vinyl simply repeats rare tracks already on CD2, so measured in pure audio terms you are getting those 18 extra tracks for the £100 premium over the 2CD+DVD.
Finally, the album is available on a limited-edition neon pink coloured vinyl. This comes with a new printed inner sleeve and a facsimile of the original four-page insert with lyrics and poetry.
The Changeling will be reissued on 29 September 2023, via Cherry Red.
Compare prices and pre-order
TOYAH
The Changeling - super deluxe box
Compare prices and pre-order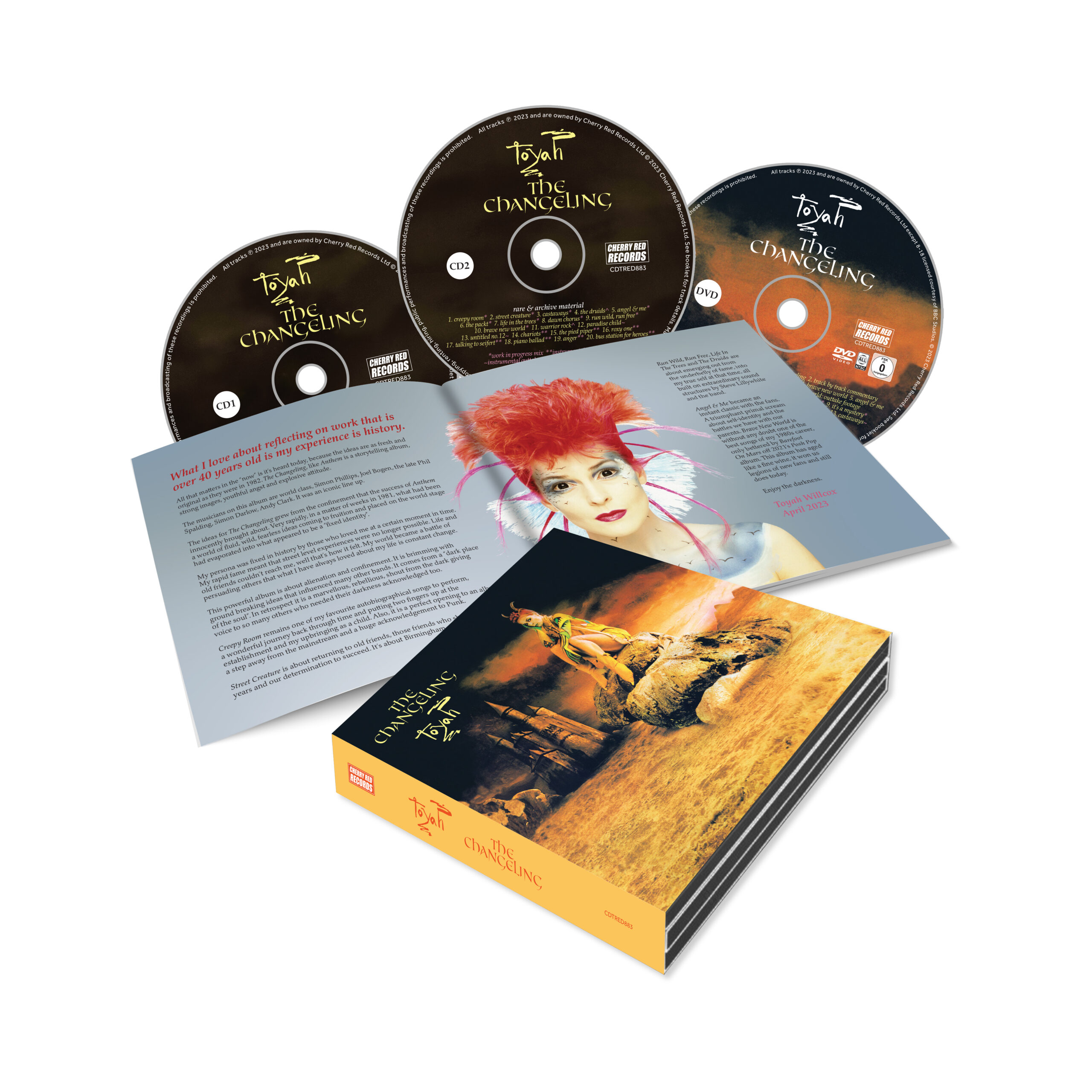 TOYAH
The Changeling 2CD+DVD
Compare prices and pre-order
TOYAH
The Changeling - pink vinyl LP
Tracklisting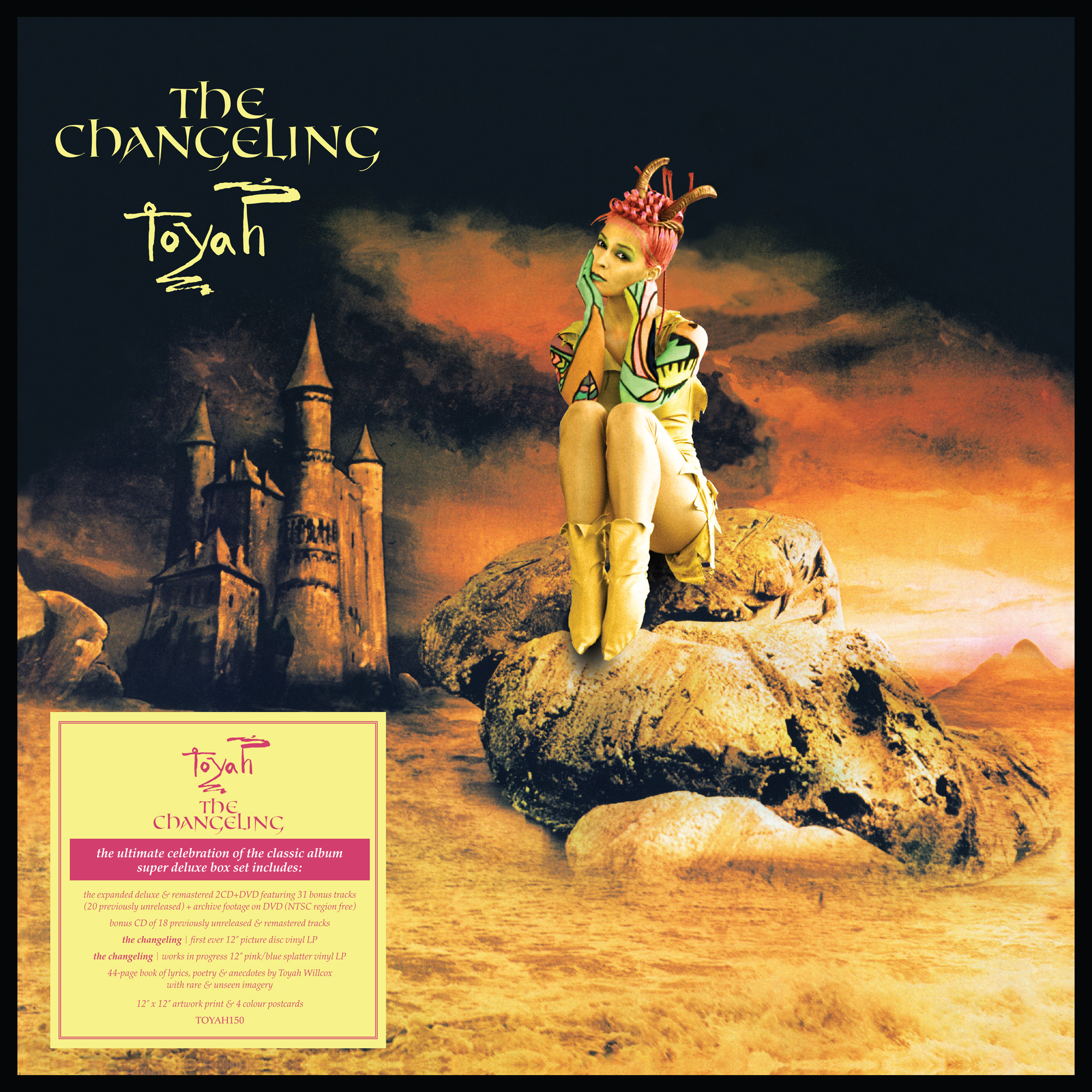 The Changeling Toyah
/
Super Deluxe Edition
CD 1: The Changeling

CREEPY ROOM
STREET CREATURE
CASTAWAYS
THE DRUIDS
ANGEL & ME
THE PACKT
LIFE IN THE TREES
DAWN CHORUS
RUN WILD, RUN FREE
BRAVE NEW WORLD

BONUS TRACKS

WARRIOR ROCK
PARADISE CHILD
GOOD MORNING UNIVERSE
URBAN TRIBESMEN
IN THE FAIRGROUND
THE FURIOUS FUTURES
GO BERSERK (TOUR INTRO)^
STAND PROUD
CLAPHAM JUNCTION
I WANT TO BE FREE (ROUNDHOUSE SESSION)^
DAWN CHORUS (6.55 SPECIAL VERSION)^

^ Previously unreleased on CD

CD 2: RARE & ARCHIVE MATERIAL*

CREEPY ROOM (WORK IN PROGRESS MIX)
STREET CREATURE (WORK IN PROGRESS MIX)
CASTAWAYS (WORK IN PROGRESS MIX)
THE DRUIDS (WORK IN PROGRESS INSTRUMENTAL)
ANGEL & ME (WORK IN PROGRESS MIX)
THE PACKT (WORK IN PROGRESS MIX)
LIFE IN THE TREES (WORK IN PROGRESS MIX)
DAWN CHORUS (WORK IN PROGRESS MIX)
RUN WILD, RUN FREE (WORK IN PROGRESS MIX)
BRAVE NEW WORLD (WORK IN PROGRESS MIX)
WARRIOR ROCK (WORK IN PROGRESS INSTRUMENTAL)
PARADISE CHILD (INSTRUMENTAL OUTTAKE)
UNTITLED NO.12 (INSTRUMENTAL OUTTAKE)
CHARIOTS (INSTRUMENTAL HOME DEMO)
THE PIED PIPER (INSTRUMENTAL HOME DEMO)
ROXY ONE (INSTRUMENTAL HOME DEMO)
TALKING TO SEIFERT (INSTRUMENTAL HOME DEMO)
PIANO BALLAD (INSTRUMENTAL HOME DEMO)
ANGER (INSTRUMENTAL HOME DEMO)
BUS STATION FOR HEROES (INSTRUMENTAL HOME DEMO)

*All 20 tracks previously unreleased

DVD: RARE & ARCHIVE FOOTAGE

CREATING THE CHANGELING: TOYAH INTERVIEW 2023
TRACK BY TRACK COMMENTARY: TOYAH INTERVIEW 2023
GOOD MORNING UNIVERSE: LIVE & UNPLUGGED 2018
BRAVE NEW WORLD: LIVE & UNPLUGGED 2018
ANGEL & ME: LIVE & UNPLUGGED 2018
BRAVE NEW WORLD: PROMO VIDEO
BRAVE NEW WORLD: PROMO VIDEO OUTTAKE FOOTAGE
GOOD MORNING: UNIVERSE TOP OF THE POPS
IT'S A MYSTERY: TOP OF THE POPS XMAS PARTY
I WANT TO BE FREE: BRITISH ROCK & POP AWARDS 1981
BRAVE NEW WORLD: GET SET FOR SUMMER
STREET CREATURE: GET SET FOR SUMMER
CASTAWAYS: GET SET FOR SUMMER
BRAVE NEW WORLD: CHEGGERS PLAYS POP
DAWN CHORUS (TOUR CLIPS): NATIONWIDE
DAWN CHORUS: PEBBLE MILL 6.55 SPECIAL
IEYA 1982: PEBBLE MILL 6.55 SPECIAL (UNCUT ENDING)
STREET CREATURE: THREE OF A KIND

CD 3: THE CHANGELING/MORE RARE & ARCHIVE MATERIAL*

CASTAWAYS (WORK IN PROGRESS ROUGH)
PARADISE CHILD (WORK IN PROGRESS MIX)
BRAVE NEW WORLD (WORK IN PROGRESS ROUGH)
ANGEL & ME (WORK IN PROGRESS ROUGH)
RUN WILD, RUN FREE (WORK IN PROGRESS LATER MIX)
CREEPY ROOM (WORK IN PROGRESS INSTRUMENTAL)
STREET CREATURE (WORK IN PROGRESS INSTRUMENTAL)
CASTAWAYS (WORK IN PROGRESS INSTRUMENTAL)
THE DRUIDS (WORK IN PROGRESS LATER INSTRUMENTAL)
ANGEL & ME (WORK IN PROGRESS INSTRUMENTAL)
THE PACKT (WORK IN PROGRESS INSTRUMENTAL)
LIFE IN THE TREES (WORK IN PROGRESS INSTRUMENTAL)
DAWN CHORUS (WORK IN PROGRESS INSTRUMENTAL)
WARNINGS (INSTRUMENTAL HOME DEMO)
ATMOSPHERICS PT.III (INSTRUMENTAL HOME DEMO)
PANIC FOR TRACKS (INSTRUMENTAL HOME DEMO)
HIGH TIMES (INSTRUMENTAL HOME DEMO)
SQUASH CORONARY (INSTRUMENTAL HOME DEMO)

*All 18 tracks previously unreleased

Vinyl Picture Disc: The Changeling

SIDE ONE

CREEPY ROOM
STREET CREATURE
CASTAWAYS
THE DRUIDS
ANGEL & ME

SIDE TWO

THE PACKT
LIFE IN THE TREES
DAWN CHORUS
RUN WILD, RUN FREE
BRAVE NEW WORLD

SPLATTER VINYL LP – THE CHANGELING: WORK IN PROGRESS

SIDE ONE

CREEPY ROOM (WORK IN PROGRESS MIX)
STREET CREATURE (WORK IN PROGRESS MIX)
CASTAWAYS (WORK IN PROGRESS MIX)
THE DRUIDS (WORK IN PROGRESS LATER INSTRUMENTAL)
ANGEL & ME ((WORK IN PROGRESS MIX)

SIDE TWO

THE PACKT (WORK IN PROGRESS MIX)
LIFE IN THE TREES (WORK IN PROGRESS INSTRUMENTAL)
DAWN CHORUS (WORK IN PROGRESS INSTRUMENTAL)
RUN WILD, RUN FREE (WORK IN PROGRESS MIX)
BRAVE NEW WORLD (WORK IN PROGRESS MIX)
Tracklisting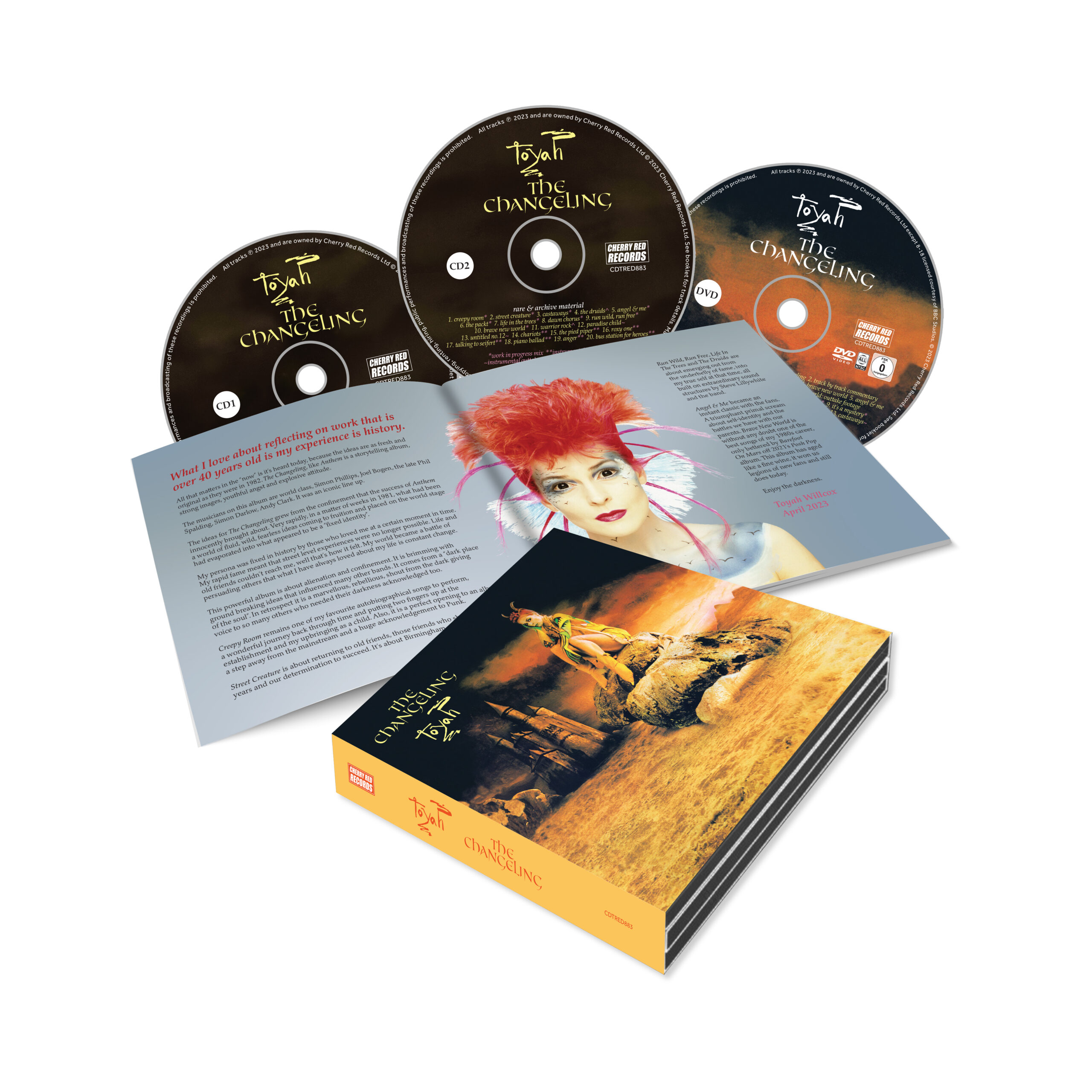 The Changeling Toyah
/
2CD+DVD
CD 1: The Changeling

CREEPY ROOM
STREET CREATURE
CASTAWAYS
THE DRUIDS
ANGEL & ME
THE PACKT
LIFE IN THE TREES
DAWN CHORUS
RUN WILD, RUN FREE
BRAVE NEW WORLD

BONUS TRACKS

WARRIOR ROCK
PARADISE CHILD
GOOD MORNING UNIVERSE
URBAN TRIBESMEN
IN THE FAIRGROUND
THE FURIOUS FUTURES
GO BERSERK (TOUR INTRO)^
STAND PROUD
CLAPHAM JUNCTION
I WANT TO BE FREE (ROUNDHOUSE SESSION)^
DAWN CHORUS (6.55 SPECIAL VERSION)^

^ Previously unreleased on CD

CD 2: RARE & ARCHIVE MATERIAL*

CREEPY ROOM (WORK IN PROGRESS MIX)
STREET CREATURE (WORK IN PROGRESS MIX)
CASTAWAYS (WORK IN PROGRESS MIX)
THE DRUIDS (WORK IN PROGRESS INSTRUMENTAL)
ANGEL & ME (WORK IN PROGRESS MIX)
THE PACKT (WORK IN PROGRESS MIX)
LIFE IN THE TREES (WORK IN PROGRESS MIX)
DAWN CHORUS (WORK IN PROGRESS MIX)
RUN WILD, RUN FREE (WORK IN PROGRESS MIX)
BRAVE NEW WORLD (WORK IN PROGRESS MIX)
WARRIOR ROCK (WORK IN PROGRESS INSTRUMENTAL)
PARADISE CHILD (INSTRUMENTAL OUTTAKE)
UNTITLED NO.12 (INSTRUMENTAL OUTTAKE)
CHARIOTS (INSTRUMENTAL HOME DEMO)
THE PIED PIPER (INSTRUMENTAL HOME DEMO)
ROXY ONE (INSTRUMENTAL HOME DEMO)
TALKING TO SEIFERT (INSTRUMENTAL HOME DEMO)
PIANO BALLAD (INSTRUMENTAL HOME DEMO)
ANGER (INSTRUMENTAL HOME DEMO)
BUS STATION FOR HEROES (INSTRUMENTAL HOME DEMO)

*All 20 tracks previously unreleased

DVD: RARE & ARCHIVE FOOTAGE

CREATING THE CHANGELING: TOYAH INTERVIEW 2023
TRACK BY TRACK COMMENTARY: TOYAH INTERVIEW 2023
GOOD MORNING UNIVERSE: LIVE & UNPLUGGED 2018
BRAVE NEW WORLD: LIVE & UNPLUGGED 2018
ANGEL & ME: LIVE & UNPLUGGED 2018
BRAVE NEW WORLD: PROMO VIDEO
BRAVE NEW WORLD: PROMO VIDEO OUTTAKE FOOTAGE
GOOD MORNING: UNIVERSE TOP OF THE POPS
IT'S A MYSTERY: TOP OF THE POPS XMAS PARTY
I WANT TO BE FREE: BRITISH ROCK & POP AWARDS 1981
BRAVE NEW WORLD: GET SET FOR SUMMER
STREET CREATURE: GET SET FOR SUMMER
CASTAWAYS: GET SET FOR SUMMER
BRAVE NEW WORLD: CHEGGERS PLAYS POP
DAWN CHORUS (TOUR CLIPS): NATIONWIDE
DAWN CHORUS: PEBBLE MILL 6.55 SPECIAL
IEYA 1982: PEBBLE MILL 6.55 SPECIAL (UNCUT ENDING)
STREET CREATURE: THREE OF A KIND
Tracklisting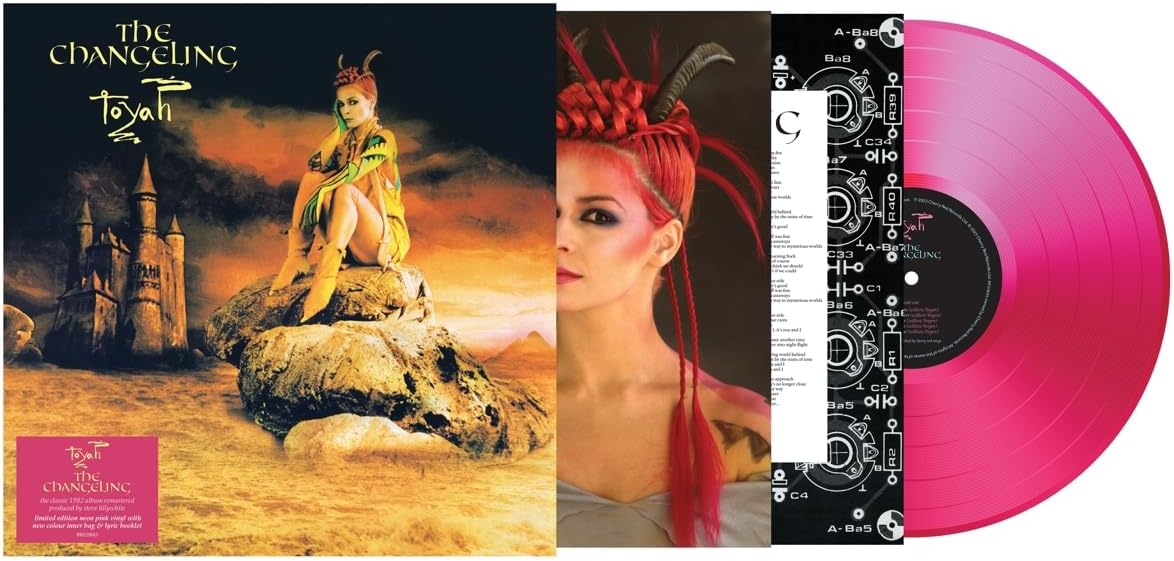 The Changeling Toyah
/
Coloured vinyl
SIDE ONE

CREEPY ROOM
STREET CREATURE
CASTAWAYS
THE DRUIDS
ANGEL & ME

SIDE TWO

THE PACKT
LIFE IN THE TREES
DAWN CHORUS
RUN WILD, RUN FREE
BRAVE NEW WORLD