 News
Transvision Vamp / I Want Your Love 6CD+DVD deluxe set with signed print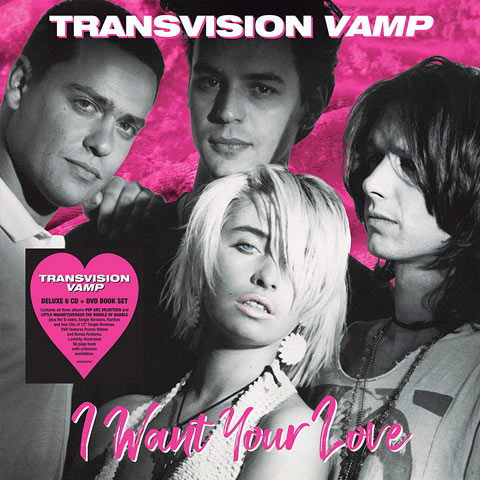 Limited edition signed by Wendy James • Trio of albums on CD with three further discs of remixes • Promo videos on DVD for the first time
In October Edsel will issue I Want Your Love a new 6CD+DVD deluxe Transvision Vamp box set that is available with a signed Wendy James print for early pre-orderers.

This set pulls together all three albums from the pop-punk wannabies: Pop Art (1988), Velveteen (1989) and Little Magnets Versus The Bubble of Babble (1991). The last of those three is still unreleased in the UK on CD, so this is its debut on the format over here.
Each long-player here comes with non-album bonus tracks and then three further CDs offer a wealth of seven-inch versions and extended remixes.
Also, the band's promo videos are finally freed from the shackles of VHS and are available on the DVD included with this new package (which includes some bonus features, such as a Wendy James interview).
I Want Your Love comes with a print SIGNED by Wendy James. This is exclusive to Amazon UK and is limited to 1,000 copies. The discs come packaged within a 56-page book with notes from Alan Robinson based on new interviews with Wendy James and Nick Christian Sayer.
I Want Your Love will be released on 1 November 2019 (was 18 October).
Compare prices and pre-order
TRANSVISION VAMP
I Want Your Love - Amazon exclusive with signed print
Compare prices and pre-order
Transvision Vamp
I Want Your Love - 6CD+DVD standard edition
CD 1: Pop Art
1. Trash City
2. I Want Your Love
3. Sister Moon
4. Psychosonic Cindy
5. Revolution Baby
6. Tell That Girl To Shut Up
7. Wild Star
8. Hanging Out With Halo Jones
9. Andy Warhol's Dead
10. Sex Kick
11. Vid Kid Vamp [Bonus Track]
12. No It U Lover [Bonus Track]
13. God Save the Royalties [Bonus Track]
14. Sweet Thing [edit] [Bonus Track]
15. Evolution Evie [acoustic version] [Bonus Track]
16. Honey Honey [Bonus Track]
17. Long Lonely Weekend [Bonus Track]
18. Oh Yeah [Bonus Track]
19. Walk On By [Bonus Track]
CD 2: Velveteen
1. Baby I Don't Care
2. The Only One
3. Landslide Of Love
4. Falling For A Goldmine
5. Down On You
6. Song To The Stars
7. Kiss Their Sons 4:19
8. Born To Be Sold
9. Pay The Ghosts
10. Bad Valentine
11. Velveteen
12. Time For Change [Bonus Track]
13. Strings Of My Heart [Bonus Track]
14. The Mystery Song [Bonus Track]
15. Love Me [Bonus Track]
16. Hardtime [Bonus Track]
17. He's The Only One For Me [Bonus Track]
18. W11 Blues [Bonus Track]
19. Kiss Me [Bonus Track]"
CD 3: Little Magnets Versus The Bubble of Babble
1. (I Just Wanna) B With U
2. Ain't No Rules
3. If Looks Could Kill
4. Every Little Thing
5. Twangy Wigout
6. Don't Believe The Type
7. Pressure Times
8. Crawl Out Your Window
9. You Put A Spell On Me
10. Back On My Knees Again
11. Swamp Thang [Bonus Track]
12. Straight Thru Your Head [Bonus Track]
13. Punky Says [Bonus Track]
14. My Friend The Tom Cat [Bonus Track]
15. Puppy Dogs' Tails [Bonus Track]"
CD 4
A-sides
1. Revolution Baby [7″ version]
2. I Want Your Love [7″ version]
3. Revolution Baby [Zeus B. Held Mix]
4. Sister Moon [7″ single edit/version]
5. Baby I Don't Care [7″ edit]
6. The Only One [7″ edit]
7. (I Just Wanna) B with U [alternative single mix]
8. Twangy Wigout [7″ mix]
B-sides & Rarities
9. Child Of The Age
10. Vid Kid Vamp [1988 remix]
11. Sex Kick [demo version]
12. Saturn 5 [demo version]
CD 5
1. Revolution Baby [Electra-Glide mix]
2. Tell That Girl to Shut Up [extended mix]
3. I Want Your Love [I Don't Want Your Money mix]
4. Sweet Thing [full length]
5. Evolution Evie [electric version]
6. Sister Moon (Groove On)
7. Sex Kick (Ciao Portobello)
8. Baby I Don't Care [Abigail's Party mix]
9. The Only One [extended mix]
10. Landslide of Love [extended version]
11. Tell That Girl to Shut Up [Knuckle Duster mix]
CD 6
1. (I Just Wanna) B with U [The Nightripper mix]
2. If Looks Could Kill [2 Go Mad In E.3 mix]
3. Twangy Wigout [12″ mix]
4. (I Just Wanna) B with U [Sunsonic edit]
5. If Looks Could Kill [Voodoo Hipster mix]
6. Twangy Wigout [extended version]
7. (I Just Wanna) B with U [alternative 12″ mix]
8. If Looks Could Kill [12″ remix]
9. (I Just Wanna) B with U [Club mix]
10. If Looks Could Kill [12″ remix instrumental]
11. (I Just Wanna) B with U [Dub mix]
DVD
1. Tell That Girl To Shut Up [Promo Video]
2. I Want Your Love [Promo Video]
3. Revolution Baby [7″ remix] [Promo Video]
4. Sister Moon [Promo Video]
5. Baby I Don't Care [Promo Video]
6. The Only One [Promo Video]
7. Landslide Of Love [Promo Video]
8. Born To Be Sold [Promo Video]
9. (I Just Wanna) B With U [Promo Video]
10. If Looks Could Kill [Promo Video]
11. The Velveteen Singles: Behind The Scenes [Video]
12. If Looks Could Kill: Wendy James interview [Video]