 News
True Romance soundtrack / 25th anniversary edition white splatter vinyl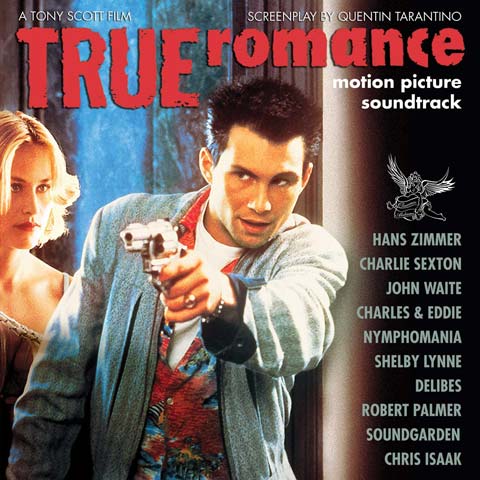 The soundtrack to Tony Scott's True Romance – one of the best films of the 1990s – is being reissued (again) as a special coloured vinyl pressing.

The music to the Quentin Tarantino scripted movie is a memorable mix of Hans Zimmer score and pop songs from the likes of Chris Isaaks, Soundgarden and Robert Palmer.
The soundtrack was issued in 2017 in the USA with new cover art and various coloured vinyl editions available (and a rather overpriced box set). These ended up being quite expensive imports for those in the UK and Europe, but Real Gone Music are now putting out a 25th anniversary new 'white splatter vinyl' edition limited to 1700 copies, that is reasonably priced. It's clear vinyl with white 'splatter'. The cover also reverts to the 'classic' artwork.
This vinyl edition of True Romance will be issued on 7 September 2018.
Compare prices and pre-order
O.S.T.
True Romance - clear vinyl with white splatter
You might also like…
Compare prices and pre-order
Hans Zimmer
True Romance - original score on vinyl
Side 1
1. You're So Cool – Hans Zimmer – Hans Zimmer
2. Graceland – Charlie Sexton – Charlie Sexton
3. In Dreams – John Waite – John Waite
4. Wounded Bird – Charles & Eddie – Charles & Eddie
5. I Want Your Body – Nymphomania
6. Stars at Dawn – Hans Zimmer – Hans Zimmer
Side 2
1. I Need a Heart to Come Home to – Shelby Lynne
2. Viens Mallika Sous le Dome Edais – from "Lakme" Delibes
3. (Love Is) The Tender Trap – Robert Palmer
4. Outshined – Soundgarden
5. Amid the Chaos of the Day – Hans Zimmer
6. Two Hearts – Chris Isaak