 News
Songs from the Cool World / new 2LP coloured vinyl pressing on the way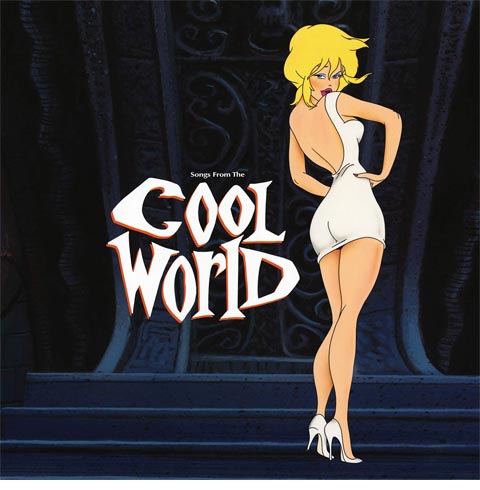 'Flesh' coloured vinyl • Full 15-song soundtrack • Etched side four
Warners will release a special 2LP vinyl edition of the soundtrack to 1992 live-action/animated film Cool World in December.

The film, which starred Gabriel Byrne and Brad Pitt, is long forgotten but the Songs from the Cool World soundtrack ("music from and inspired by the motion picture) is probably best remembered for featuring a new David Bowie solo recording – his first since Never Let Me Down five years earlier. That track, Real Cool World came from sessions with Nile Rodgers which would deliver the Black Tie White Noise album a year later. The song shares the same 'sound' as that the other songs on that album, but wasn't actually included, which may or may not be related to the fact that it's chart performance was lacklustre – it stalled at number 53 in the UK (yes, there was a time when the world simply shrugged its shoulders at David Bowie).
The album also features cuts from Electronic, The Cult, The Thompson Twins, Moby and Brian Eno.
Songs from the Cool World only ever got a very limited vinyl release, in a few territories, and even only featured 10 of the CD's 15 tracks on the single vinyl record. The full running order is restored this time around, since this is a 2LP package, although side four features an etching! The whole thing is pressed on 'flesh' coloured vinyl.
Songs from the Cool World will be released on 6 December 2019.
Compare prices and pre-order
David Bowie
Songs from the Cool World - 2LP coloured vinyl
Side 1
1. Real Cool World – By David Bowie
2. Play with Me (Club/Anarchy Mix A.K.A. "Strage Jane") – By Thompson Twins
3. Disappointed – By Electronic
4. Papua New Guinea – By The Future Sound Of London
5. N.W.O. – By Ministry
Side 2
1. The Witch – By The Cult
2. Sex On Wheelz (Glamour Dyke Mix) – By My Life With The Thrill Kill Kult
3. Ah-Ah (Mix 1) – By Moby
4. Mindless – By Mindless
5. Next Is the E (Long Arms Mix) – By Moby
Side 3
1. Do That Thang (Polite Mix) – By Da Juice
2. Her Sassy Kiss – By My Life With The Thrill Kill Kult
3. Greedy – By Pure
4. Under – By Brian Eno
5. Industry and Seduction – By Tom Bailey
Side 4
Etched.