 News
Ultravox / Quartet deluxe edition
1982 album expanded to seven discs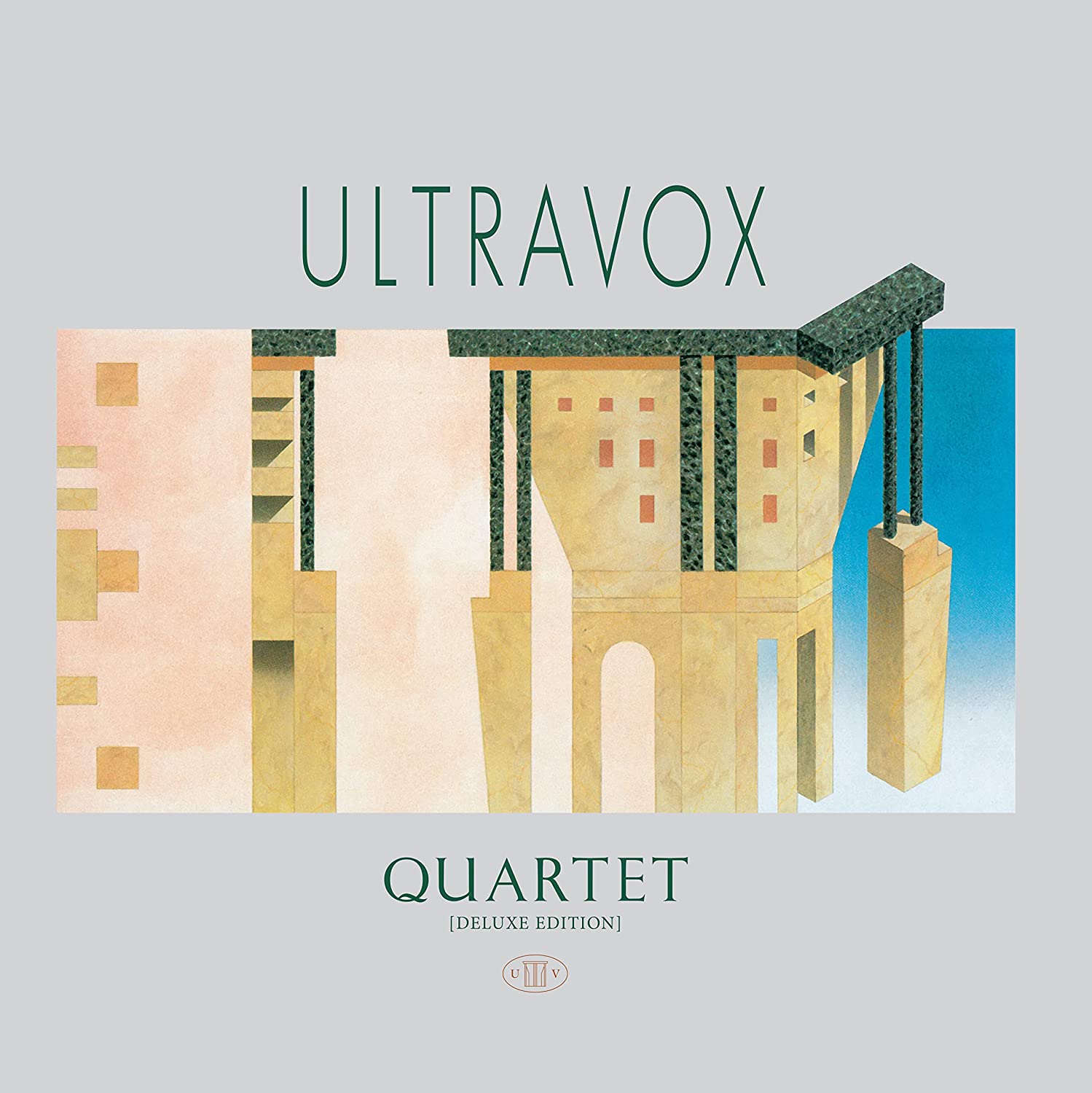 Ultravox's 1982 album Quartet will be reissued in July in multi-disc CD and vinyl deluxe box sets.
Having worked with Conny Plank on Vienna and Rage, the band's third album with Midge Ure, Quartet was produced by George Martin in AIR studios in both London and Montserrat, with Geoff Emerick engineering.
The album delivered four UK Top 20 singles, 'Reap The Wild Wind', 'We Came To Dance', 'Visions In Blue' and 'Hymn' and, as with the band's previous two albums, Quartet features Peter Saville artwork.
The reissue is available as a massive 6CD+DVD large format box set. It features the original 1982 version of the album, a brand new Steven Wilson Stereo Remix, a CD of B-sides and rarities, 'work in progress' cassette rehearsals and two CDs of a newly mixed concert recorded at Hammersmith Odeon in December 1982. The DVD features Steven Wilson's 5.1 surround mix of Quartet and the album's B-sides. The new mixes and original mixes are also available in hi-res stereo. In total, there's 70 tracks, with 47 of them previously unreleased recordings. This box comes with a 20-page booklet and a reproduction of the Quartet tour programme.
The 4LP vinyl edition is pressed on clear vinyl and offers 36 tracks, with 17 of them previously unreleased. It offers the full Hammersmith show, a truncated selection of B-sides and rarities and the original version of the album.
The 2LP version is pressed at half-speed and features the original 1982 mix and a specially curated second LP of A-sides, B-sides and live tracks. Finally there is a special vinyl picture disc edition which is only available via the band's official shop.
Quartet is released on 7 July 2023, via Chrysalis.
Compare prices and pre-order
Ultravox
Quartet - 6CD+DVD box set
Compare prices and pre-order
Ultravox
Quartet - 4LP clear vinyl box set
Compare prices and pre-order
Ultravox
Quartet - 2LP half-speed master
Tracklisting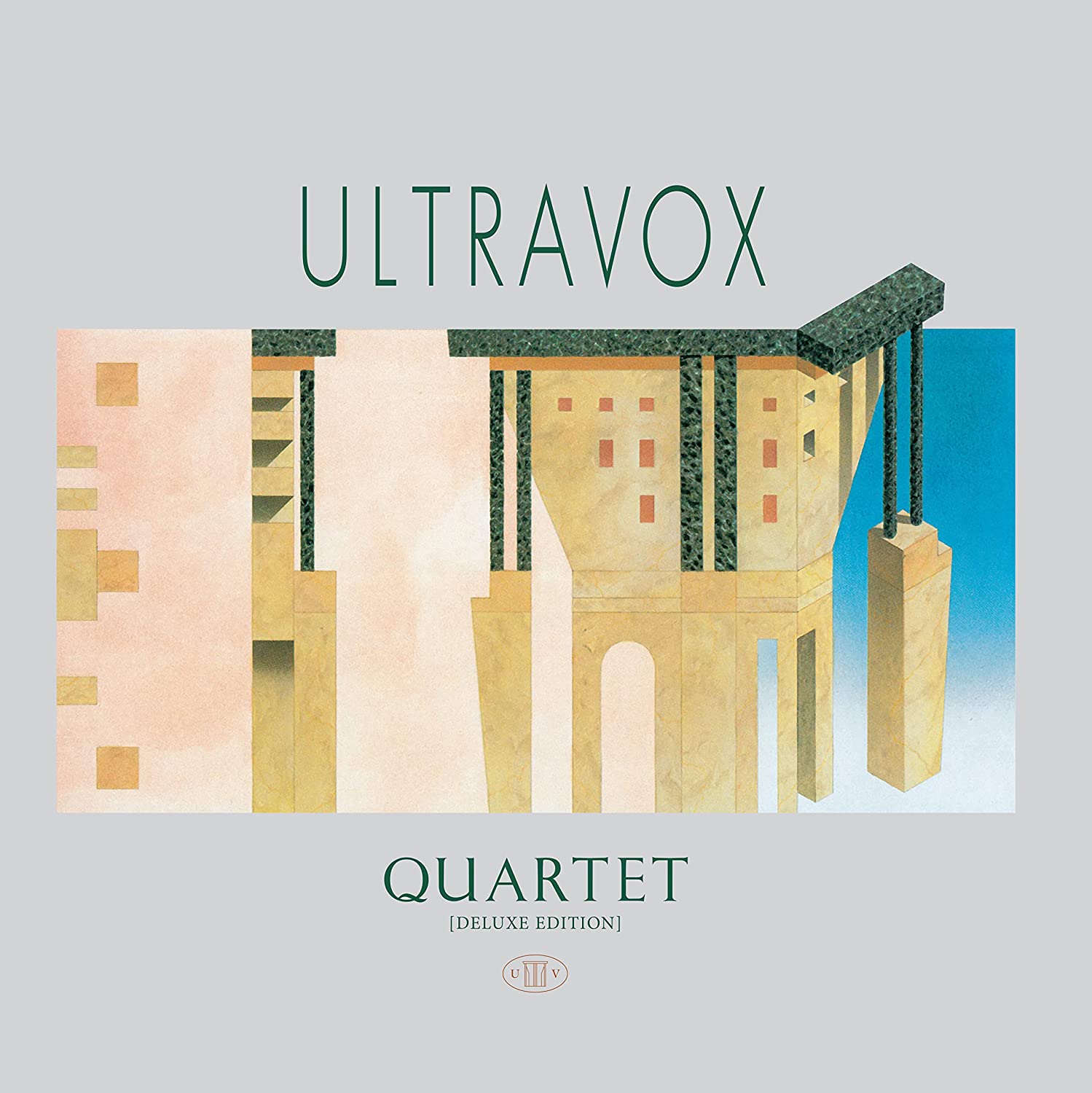 Quartet Ultravox
/
CD 1: QUARTET: ORIGINAL 1982 ANALOG MASTER 

REAP THE WILD WIND [3:49]
SERENADE [5:06]
MINE FOR LIFE [4:47]
HYMN [5:55]
VISIONS IN BLUE [4:41]
WHEN THE SCREAM SUBSIDES [4:18]
WE CAME TO DANCE [4:15]
CUT AND RUN [4:19]
THE SONG (WE GO) [3:57]

CD 2: QUARTET: STEVEN WILSON STEREO MIX  

REAP THE WILD WIND [3:50]
SERENADE [5:05]
MINE FOR LIFE [4:44]
HYMN [5:51]
VISIONS IN BLUE [4:40]
WHEN THE SCREAM SUBSIDES [4:17]
WE CAME TO DANCE [4:28]
CUT AND RUN [4:20]
THE SONG (WE GO) [3:59]

       B-Sides

HOSANNA (IN EXCELSIS DEO) [3:23]
MONUMENT
BREAK MY BACK [3:26]
OVERLOOK [4:11]

All tracks previously unreleased

CD 3: SINGLES | B-SIDES | RARITIES 

REAP THE WILD WIND [Extended Version] [4:45]
HOSANNA (IN EXCELSIS DEO) [3:23]
HYMN [Single Version] [4:25]
MONUMENT [3:18]
THE THIN WALL [Live at Hammersmith Odeon, Oct 1981] [5:58]
VISIONS IN BLUE [Single Version] [4:17]
BREAK YOUR BACK [3:29]
REAP THE WILD WIND [Live at Hammersmith Odeon, Dec 1982] [3:57]
WE CAME TO DANCE [Single Version] [4:10]
OVERLOOK [4:05]
WE CAME TO DANCE [Extended Version] [7:38]
SERENADE [Single Version] [4:28] ** 
SERENADE [Special Re-Mix] [6:03]  
THE VOICE [Live at Hammersmith Odeon, Dec 1982] [4:23]

** Previously Unreleased 

CD 4: WORK IN PROGRESS

REAP THE WILD WIND [Cassette Rehearsals] [3:18]
SERENADE [Cassette Rehearsals] [7:40]
MINE FOR LIFE [Cassette Rehearsals] [3:37]
HYMN [Cassette Rehearsals] [5:08]
VISIONS IN BLUE [Cassette Rehearsals] [2:39]
WHEN THE SCREAM SUBSIDES [Cassette Rehearsals] [3:19]
WE CAME TO DANCE [Cassette Rehearsals] [4:42]
CUT AND RUN [Cassette Rehearsals] [4:39]
THE SONG (WE GO) [Cassette Rehearsals] [5:56]
REAP THE WILD WIND [Monitor Mix] [3.38]
VISIONS IN BLUE [Monitor Mix] [4.21]
CUT & RUN [Monitor Mix] [4.35]
MINE FOR LIFE [Monitor Mix] [5.08]
HYMN [Monitor Mix] [6.14]
SERENADE [Monitor Mix] [4.56]
WE CAME TO DANCE [Monitor Mix] [5.00]

All tracks previously unreleased

CD 5: LIVE AT HAMMERSMITH ODEON 1982 [Part One]

REAP THE WILD WIND [4:33]
WHEN THE SCREAM SUBSIDES [4:17]
THE THIN WALL [5:40]
NEW EUROPEANS [4:13]
WE STAND ALONE [5:34]
I REMEMBER (Death In the Afternoon) [5:30]
VISIONS IN BLUE [4.40]
Mr. X [5:43]
SLEEPWALK [4.12]

All tracks previously unreleased

CD 6:  LIVE AT HAMMERSMITH ODEON 1982 [Part Two]

THE VOICE [6:53]
VIENNA [5:34]
ASTRADYNE [5:07]
ALL STOOD STILL [4:23]
PASSING STRANGERS [5:18]
MINE FOR LIFE [5:51]
HYMN [6:53]
THE SONG (We Go) [5:19]

All tracks previously unreleased

DVD [Audio only]

Quartet Album & B-Sides: Steven Wilson Stereo & 5.1 Surround Mixes [Previously Unreleased]
Original 1982 Album & B-Sides [96/24 LPCM Stereo Mix].

Region 0 [all], Video Format: NTSC

LP 1: QUARTET: ORIGINAL 1982 ANALOG MASTER 

REAP THE WILD WIND [3:49]
SERENADE [5:06]
MINE FOR LIFE [4:47]
HYMN [5:55]
VISIONS IN BLUE [4:41]
WHEN THE SCREAM SUBSIDES [4:18]
WE CAME TO DANCE [4:15]
CUT AND RUN [4:19]
THE SONG (WE GO) [3:57]

LP 2: SINGLES | B-SIDES | RARITIES

REAP THE WILD WIND [Single Version] [3:49]
HOSANNA (IN EXCELSIS DEO) [3:23]
HYMN [Single Version] [4:25]
MONUMENT [3:18]
THE THIN WALL [Live at Hammersmith Odeon, Oct 1981] [5:58]
VISIONS IN BLUE [Single Version] [4:17]
BREAK YOUR BACK [3:29]
REAP THE WILD WIND [Live at Hammersmith Odeon, Dec 1982] [3:57]
WE CAME TO DANCE [Single Version] [4:10]
OVERLOOK [4:05]

LP 3: LIVE AT HAMMERSMITH ODEON 1982 [Part One]

REAP THE WILD WIND [4:33]
WHEN THE SCREAM SUBSIDES [4:17]
THE THIN WALL [5:40]
NEW EUROPEANS [4:13]
WE STAND ALONE [5:34]
I REMEMBER (Death In the Afternoon) [5:30]
VISIONS IN BLUE [4.40]
Mr. X [5:43]
SLEEPWALK [4.12]

LP 4: LP FOUR:  LIVE AT HAMMERSMITH ODEON 1982 [Part Two]

THE VOICE [6:53]
VIENNA [5:34]
ASTRADYNE [5:07]
ALL STOOD STILL [4:23]
PASSING STRANGERS [5:18]
MINE FOR LIFE [5:51]
HYMN [6:53]
THE SING (We Go) [5:19]

LP: QUARTET: ORIGINAL 1982 ANALOG MASTER 

REAP THE WILD WIND [3:49]
SERENADE [5:06]
MINE FOR LIFE [4:47]
HYMN [5:55]
VISIONS IN BLUE [4:41]
WHEN THE SCREAM SUBSIDES [4:18]
WE CAME TO DANCE [4:15]
CUT AND RUN [4:19]
THE SONG (WE GO) [3:57]