 News
Yello issue a Dolby Atmos Edition of their latest album Point on blu-ray
Standalone surround sound blu-ray now available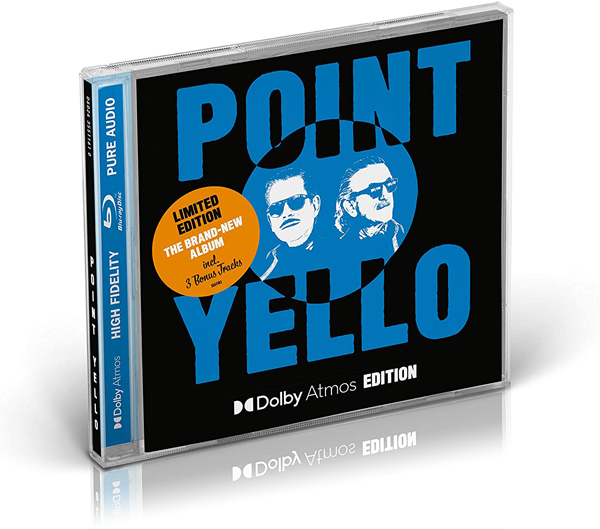 The latest album from Swiss electronic duo Yello has been issued as a standalone blu-ray edition, featuring a Dolby Atmos surround mix of the entire album and three bonus tracks.

Point was issued back in August and great though the now sold out box set version was, it didn't contain a surround mix of the album. But fans can now get hold of this via a new standalone blu-ray with a Dolby Atmos Mix of the album. Interesting to see that the 'Pure Audio – High Fidelity' brand has been exhumed  for this release!
This edition appears to have a 24/96 hi-res LPCM stereo mix and the Dolby Atmos mix. There are three bonus tracks but it's not entirely clear what they are at this stage.
There's no separate 5.1 mix, although, in theory, it shouldn't matter and an Dolby Atmos mix should 'downmix' to standard 5.1, but it has to be said that artists like The Beatles and Steven Wilson have recently offered both with their blu-rays and have not left the Atmos Mix to do two jobs.
Nevertheless, the standalone blu-ray audio with surround mix is a relatively rare beast these days, so this release is certainly welcome. The Dolby Atmos blu-ray of Point is out now.
Compare prices and pre-order
Yello
Point - blu-ray with Dolby Atmos Mix
01. Waba Duba
02. The Vanishing Of Peter Strong
03. Way Down
04. Out Of Sight
05. Arthur Spark
06. Big Boy's Blues
07. Basic Avenue
08. Core Shift
09. Spinning My Mind
10. Hot Pan
11. Rush For Joe
12. Siren Singing
Plus three bonus tracks