Picture Gallery: Pink Floyd / Wish You Were Here SACD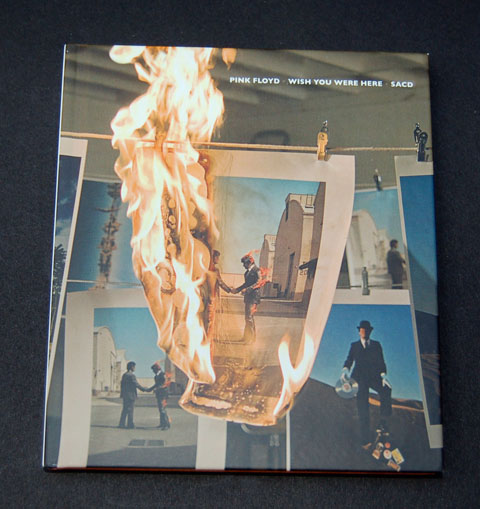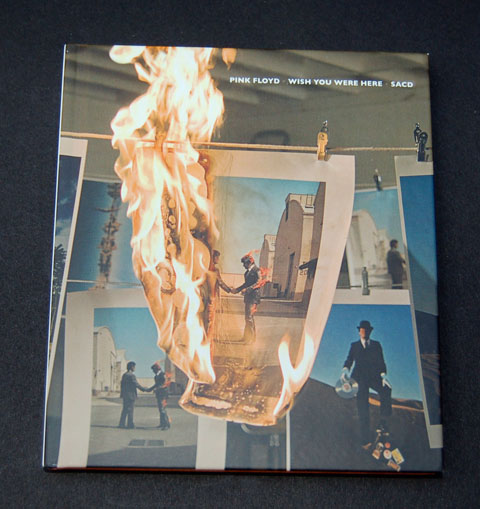 After the marbles, scarves and general excesses of the Immersion box sets, there is something rather classy about the new Super Audio CD (SACD) of Pink Floyd's Wish You Were Here.
Not fancying it themselves, EMI licensed out the production of the SACD to Acoustic Sounds, and in conjunction with StormStudios, this audiophile specialist have come up with something really desirable, that also fits nicely on the shelf.
The package is a small book-style affair, which includes six high quality postcards reproducing many of the familiar Hipgnosis Wish You Were Here images from 1975 (Burning Man, The Diver, Desert Man etc). A simple 8-page booklet covers lyrics, credits and some in-the-studio photographs, while the disc itself sits in a transparent digipak-style tray bonded to the inside back cover. One nice touch, is a small picture of the late Richard Wright set within the artwork of the rear of the booklet.
Of course the music within is what's really important, and even though the purpose of this post is not to review and compare this SACD version with, for instance, the Blu-ray within the Immersion Box, Pink Floyd engineer James Guthrie himself, has recently stated "The SACD is absolutely the best way to hear the new 5.1 mix". From the horse's mouth, so to speak.
To those not familiar with the SACD format, it offers high resolution stereo audio, and can also deliver lossless 5.1 surround sound. A compatible SACD player is required, as is the appropriate speaker/amplifier set-up for surround sound. This Pink Floyd disc is actually a Hybrid-SACD which will also play the standard stereo mix of Wish You Were Here on any CD player.
As you will see from the photos below, it is described as a 'special limited edition' so you might have to be quick to get you hands on a copy at a reasonable price.
[nggallery id=49]