Duran Duran's Future Past: track-by-track
Detailed review of the new album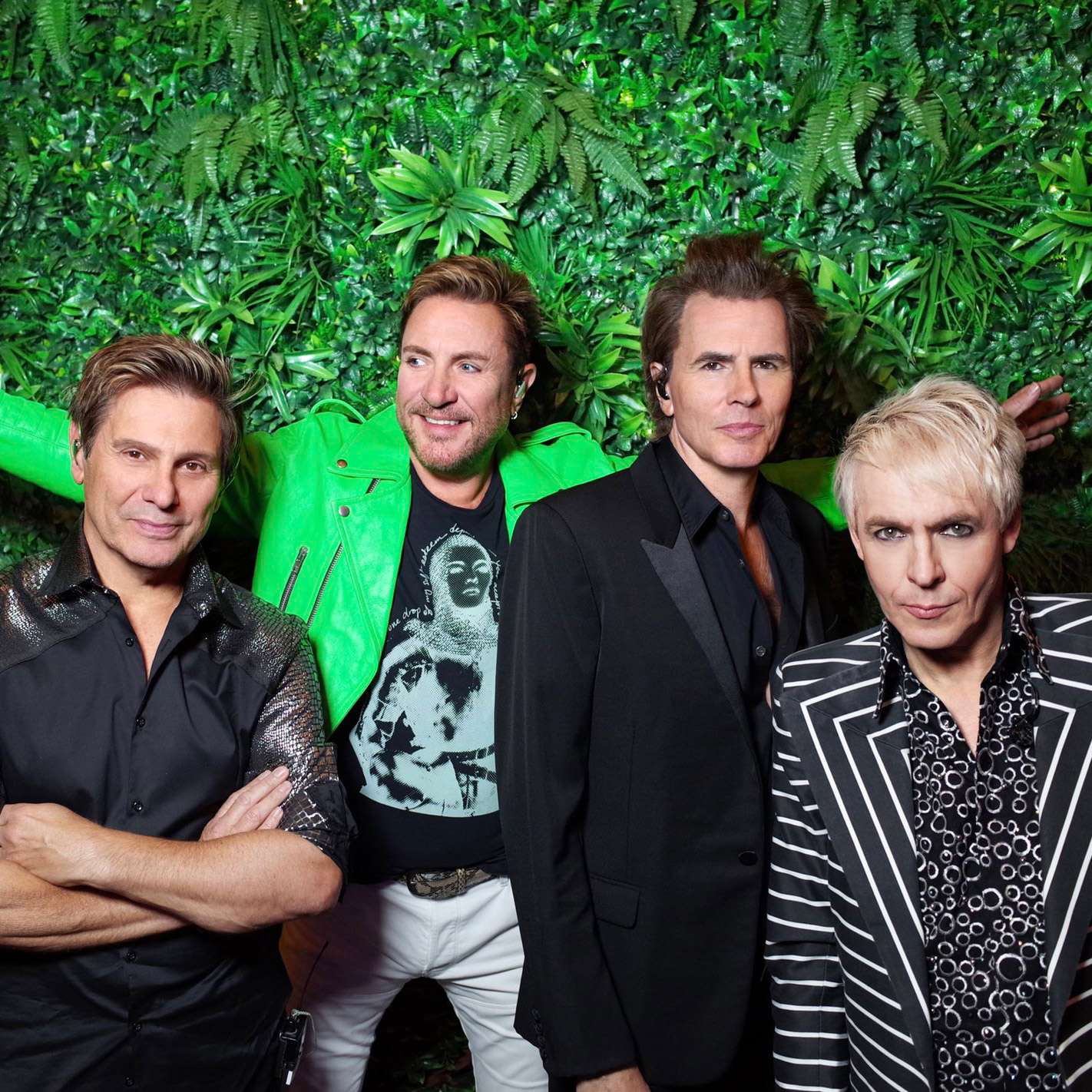 A new Duran Duran album is always of interest to SDE and we've been lucky enough to enjoy an early preview of the band's forthcoming album Future Past. Can the band improve on the disappointing Paper Gods? Is Blur's Graham Coxon on guitar going to change the dynamic? Are the songs that 'feature' other artists going to cut the mustard? These and other questions will be answered as we step through the standard 12-song version of Future Past, track-by-track.
---
1. Invisible
Composed by Duran Duran and Erol Alkan
Historically, every Duran Duran album was preceded by a fairly 'big'-sounding single. That was until 1990's Liberty, when for some reason the lacklustre 'Violence of Summer (Love's Taking Over)' was selected to promote that particular long-player. Since then, only 'The Wedding Album's 'Ordinary World' and probably Astronaut's '(Reach Up For The) Sunrise' have had first singles with any sort of wow factor (the less said about Pop Trash's 'Someone Else Not Me', the better) although 'Pressure Off' from Paper Gods wasn't bad, in all honesty.
The jury is out on 'Invisible', which is a certainly a pretty good Duran Duran song, but rather failed to deliver goods as a lead single. It should be grabbing you by the balls and shouting "get me Duran Duran". Also, the band seem to have lost the knack for catchy intros, so 'Invisible' just slopes into the room in a rather lacklustre manner, with only the breathy female vocalists hissing 'Invisible' to keep things a little spicy. However, the music does have a satisfying crunch to it and, best of all, feels seamless. The verses slide into that wonderful pre-chorus break section ["When you can't even SAY, MY NAME…"] which leads into the chorus. By the time we get to the "Or have I become Invisible" pay-off line, most of the heavy lifting has been done. It's a remarkably short song, clocking in at a little over three minutes, but it's all about the strength of the Simon's vocal melody, the decent lyrics and a certain grit that makes this work.
4/5
---
2. All Of You
Composed by Duran Duran and Graham Coxon
I can't believe this incredible song wasn't spotlighted as part of the album pre-order campaign. John Taylor kicks things off with some funky solo bass before Roger comes in with the drums and Nick does the honours with a rather hypnotic and looping keyboard phrase. It's sparse and funky and has real bounce as Simon delivers a very strong verse vocal melody. The best is yet to come though, as out of nowhere there's a gloriously rich and catchy disco chorus, as the sound fattens up with piano chords and some underlying strings, and Simon sings "I want everything, all of what you do / Every night, every day, I want all of you". Cut to some slightly Fripp-esque post-chorus guitar that evokes Bowie-in-Berlin. And 'All Of You' just gets better with Simon on playful form, channeling Carly Simon as he sings lines like "so much more to this song's meaning / I don't have time to say" before a great, funky middle-eight which morphs into sultry 'take it down' female spoken word section. Just for the fun of it, Simon introduces a whole new vocal melody towards the end before the song finishes strongly with that great chorus. This is the Duran Duran fans know and love.
5/5
---
3. Give It All Up (feat. Tove Lo)
Composed by Duran Duran, Graham Coxon, Erol Alkan and Tove Lo
The whole 'featuring' obsession is out of control these days in modern pop, but don't let the fact that Swedish singer-songwriter Tove Lo contributes to 'Give It All Up' put you off – it's quite possibly the best song on the album! It's starts with a crackle of Duran Duran synth circa 1981 and this mid-paced track introduces a reflective Simon Le Bon singing lines like "Standing on the edge of something greater than us all / Into the heart of universes we fall". 'Give It All Up' takes its time to build into a more punchy chorus but a dark undertone of regret lingers over the whole thing. It sounds fantastic and is a Brundlefly fusion of 'classic' and modern Duran Duran. Tove Lo takes over lead vocals for the second section of the song and there's some great EDM-style synth work from Nick throughout this track, including some cheeky references to past glories, such as 'Rio'.
5/5
---
4. Anniversary
Composed by Duran Duran, Graham Coxon and Erol Alkan
It's such a pleasure to hear that rhythm section. Fat bass from John Taylor and great percussion from Roger adorn the intro of 'Anniversary'. This is what we were denied on Paper Gods. 'Anniversary' is effectively Duran Duran singing 'Happy Birthday' to themselves, since 2021 is the 40th anniversary of their debut album. "Come celebrate this union" sings Simon before acknowledging that being 'in' Duran Duran hasn't always been plain sailing as he sings the line "How do you know? Stay or Go? Keep riding on the train?". I wasn't too sure about this song at first – the chorus really is just Simon singing "ANNIVERSARY!" quite loudly with a few "oh, ohs…" beforehand – but hey, I'm not going to be a party pooper, because everything else about it is excellent, and I can detect more than a little pride as the band play together celebrating their (snake-less) union. It probably outstays its welcome towards the end (which really just consists of two minutes of Simon shouting "ANNIVERSARY!" but this song went down surprisingly well when they played it at the Birmingham Institute in September.
3.5/5
---
5. Future Past
Composed by Duran Duran, Graham Coxon and Erol Alkan
The title track of the album is a strong ballad. It's not in the league of an 'Ordinary World' but we're in that kind of ballpark. At first listen, you wonder where Simon's going with the verse melody which feels a little uncertain in places as he stretches towards the top of his range, but when this song tips into its tremendously strong, lighters-in-the-air, chorus with big drums and bubbly keyboards, you can't not be seduced. Most importantly, unlike, say, Paper Gods' dull 'What Are The Chances?' it also has a wonderful lyrical conceit, which is the idea that what we do today is a 'future past', so you can never lose 'the moment'. "So don't you cry, for what will never last / Each moment created in time, it's all a future past / that we are living now", Simon sings. These thoughtful ruminations on the human condition means that 'Future Past' is a song that connects on an emotional level – you feel something. That's priceless and what great music is all about.
4/5
---
6. Beautiful Lies
Composed by Duran Duran and Giorgio Moroder
Written with Giorgio Moroder, 'Beautiful Lies' features the disco legend's signature pulsating keyboard sound and he also plays on this. If you think that's a guarantee of quality, this turns out not to be the case and 'Beautiful Lies' feels rather average during the initial verses. The chorus section is better and builds to a crescendo on the other side of which is nothing much – the verses just start again. I do like the sound of this song and there's some great keyboard work from Messrs Moroder and Rhodes, but the song itself is the weak link and while it's by no means awful, this is the first subpar outing on the record.
3/5
---
7. Tonight United
Composed by Duran Duran and Giorgio Moroder
Like 'Anniversary', the second and final song written with Giorgio Moroder was debuted live in Birmingham last month. The disco ball is out once more, but somehow there's more conviction with 'Tonight United' when compared to 'Beautiful Lies'. It's not easy to pull off these kind of 'C'mon People'-type anthems but Simon actually does a really good job and it helps that the track doesn't hang around and just gets straight on with the job. It's also a hook-fest with TWO choruses. Bonus points for the 'You Can Call Me Al'-style bass solo break.
4/5
---
8. Wing
Composed by Duran Duran, Graham Coxon and Mark Ronson
Blur guitarist Graham Coxon plays on this album and receives a co-writing credit for many tracks, so it's good to hear some slinky electric guitar at the beginning of 'Wing', although since Mark Ronson also contributes guitar on this song, we can't be totally sure who's playing what. Simon's vocal intro sounds like a Bond-theme and he takes his time on this mid-paced number. Drums are introduced on the second verse and like 'Future Past' the band deliver another big and melodic chorus which is quite busy (possibly too busy) with lots of layers of keyboards. These drop away and we're back to that slinky guitar for more verses. The longest track on the album (5.19) 'Wing' has a well-crafted cinematic drama to it.
4/5
---
9. Nothing Less
Composed by Duran Duran and Erol Alkan
So far, so good with Future Past and 'Nothing Less' is another cracker. It starts almost hymn-like with ethereal synths and a beating heart pulse, but this mid-paced number's greatest asset is a fantastically addictive chorus, with call-and- response vocals, strange synths and syncopated rhythms that all blend to deliver something superb. As the song develops, accented guitars come into the verses and then at the 2′ 30" mark Graham Coxon goes full Gilmour which is a lot of fun. There's a fantastic tone to Simon's voice and for me a definite Big Thing vibe, although the production isn't as 'clean' as on that album, especially on the choruses. I have no idea what this song is about, all I know is I love listening to it.
5/5
---
10. Hammerhead (feat. Ivorian Doll)
Composed by Duran Duran, Erol Alkan, Vanessa Mahi, Lei Jennings, Christopher Layton
It's quite a strange song, but Hammerhead is another excellent track on Future Past. It has a catchy chant-like chorus with a very swampy bass and boasts some fine melodies and lyrics from Le Bon. Unfortunately, this song is home to the one misstep on Future Past, and it's a big one: it features a RAP by 'internet personality' Ivorian Doll (aka Vanessa Mahi). How and why this happened, I have no idea, but in the unlikely event you think a rap in the middle of a Duran Duran song is a good idea, let me tell you this particular one is awful. Sample lyric: "The pain is immeasurable / you're going to pay the toll / when all is said and done my name is written on your soul". It's borderline parody. I admire the curious nature that led Duran Duran to give this collaboration a go, but cannot comprehend how anyone thought it was good enough to make the final cut of the album. Cringeworthy and, frankly, embarrassing.
Song: 4/5 Rap 1/5.
---
11. More Joy! (feat. CHAI)
Composed by Duran Duran, Graham Coxon and Erol Alkan
The third of four 'featuring' tracks on Future Past, this collaboration with Japanese girl band CHAI is a lot of fun, from the computer-game rhythm sequences to the post-chorus weirdness. CHAI's vocals add a brilliant texture to this song and unlike that rap on 'Hammerhead' the whole thing feels very Duran Duran and is beautifully executed.
4/5
---
12. Falling (feat. Mike Garson)
Composed by Duran Duran
The only song on the album written solely by the four members of the band (Simon Le Bon, Nick Rhodes, John Taylor and Roger Taylor), 'Falling' is a beautiful and wistful album closer that features Bowie keyboard player Mike Garson doing his signature 'Aladdin Sane' flourishes throughout the track. In terms of mood, think 'Still Breathing' from Astronaut. This has a bit of a Hall and Oates 'I Can't Go For That (No Can Do)' rhythm to it, which is no bad thing. Garson goes for it in the last 90 seconds or so and 'Falling' is a classy end to the record. Mike's piano is so un-Duran Duran and so closely associated with David Bowie I can't quite decide whether this is a genius idea or fanboy folly, but I think they just about get away with it.
4/5
---
Summary
I'm not quite sure why Future Past has turned out so well and I'd wager the band couldn't tell you, either. The band are famously variable, blowing hot and cold from album-to-album, but I guess inconsistency works both ways – you're going to be good some of the time. This is the first Duran Duran album since 2004's Astronaut that I truly enjoy all the way through. It's much better than Paper Gods and Red Carpet Massacre and is also superior to what the somewhat overrated All You Need Is Now. I'd go as far as to say that Future Past is the band's best album since 1993's Duran Duran (aka The Wedding Album).
Future Past has no truly bad songs, just many very good ones and trio of exceptional numbers (none of which were chosen as 'singles'!). A special word for Simon Le Bon who is on top form. His singing, his lyrics and his melodies on Future Past are a vast improvement on Paper Gods and are a significant factor in the album's success. Heart and soul are back. But you can properly hear Nick, John and Roger and Duran Duran really do sound like Duran Duran again. There's a real quirkiness and charm to some of the mid-paced album tracks like 'Nothing Less' and 'Give It All Up'.
Future Past presents what you might call a more 'organic' version of Duran Duran – you accept the occasional imperfection (like a 'comedy' carrot with rude, nobbly bits) because this is a vast improvement to the processed pierce-film-and-microwave-for-3-minutes version that was delivered via Paper Gods. I wasn't convinced Duran Duran had it in them to make another good album. They haven't done that; they've made a great one. Album rating: 4/5
Future Past is out on Friday, 22 October 2021.
Browse all formats on the official Duran Duran store