Duran Duran's 'Thank You' covers album, 25 years on. Is it really that bad?
The ill-fated covers album is 25 years old today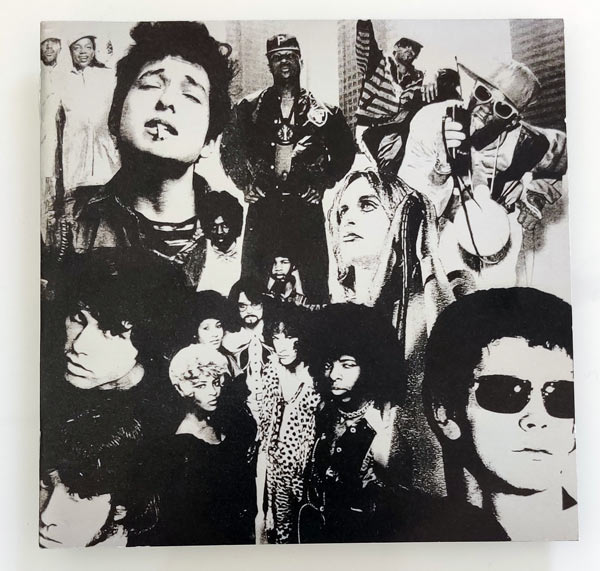 Duran Duran fans could really enjoy 1993 and 1994. We walked around with self-satisfied smiles as non-fans grudgingly said things like "fair play, 'Ordinary World' is a pretty good song". Just to prove it wasn't a one-off, 'Come Undone' was another significant hit (particularly in America). Yes! Duran Duran were successful again; no longer just an 'eighties' band. While it would probably be a stretch to say it was 'cool' to like DD at this point in time (as Suede, Blur were putting in the ground work for what would become the Britpop era), it wasn't something shameful that you had to hide –  put it that way. Then in 1995 they released the covers album Thank You…

First things first. There's nothing fundamentally wrong with recording a covers album, lots of artists do them, but the timing was bad. Duran Duran had just reminded the world that they could be fairly good, when they put their mind to it. Such was the lack of impact of 1990 flop album Liberty there wasn't so much as a footprint left on the snowy landscape of pop to remind people it had happened. This would work in their favour. If you are going to 'come back' you need to have been away for a while and to the lay person it felt like at least four or five years since Duran Duran had released anything (not true of course).

Anyway, the band had enjoyed big hit singles, a proper hit album (The Wedding Album), one that actually hung around for a bit and climbed back into the top 10 when 'Come Undone' was released and while the campaign fizzled out earlier than expected (the third and final single 'Too Much Information' stalled at number 35), the general feeling was of a job well done. All they had to do was not lose momentum…

Let's be honest, covers albums are generally a bit of a self-indulgence. For artists that don't write their own material (TV soap stars, etc.) they make sense, but for an established act it rather shouts 'the creative tank is empty'. "We have no songs, the label is demanding a new record, I've got an idea…" It really is the last thing Duran Duran should have been contemplating; they needed to get back into the studio and return with some more great songs, build on the good work and exploit the new younger fanbase that had come on board in 1992 and 1993.

The other problem with Thank You is that the plan wasn't to sneak it out as an indulgence and quickly move on. No, there was going to be a big promotional campaign, singles, videos, a tour. If you are going to shine a spotlight that bright on something you better be sure it's going to connect with your fans or at least garner some critical acclaim. Thank You ended up doing neither. In the space of a few short years, Duran Duran went from being acclaimed as under appreciated purveyors of classic pop tunes, to a bit of a joke. Such was the fallout with EMI, the label refused to release the next album in the UK (1997's Medazzaland) making Thank You the final studio album after 14 years together.

But let's put all of the above to one side and take a close listen to Thank You. Is it really that bad? Here's SDE's track-by-track guide:


White Lines (Don't Don't Do It)

The Melle Mel classic opens the album and it's really not a great start. The production is horrible and apart from 'I Wanna Take You Higher Again' which ends this album, they can't blame anyone else since the whole thing is self-produced. Warren Cuccurullo is a great guitarist, but left to his own devices he goes into LA rawk mode very easily, and that's what he does here. The backing vocals are provided by Grandmaster Flash and the Furious Five who pointlessly shout things like "Come On! Say Rock!" during the chorus. Simon Le Bon is in 'shouty' vocal mode and it's hard to find anything endearing about it at all. Truly awful, but somehow chosen as the second single and even more bemusing, it's still a regular in DD's set lists to this day.



---
I Wanna Take You Higher

Tony Thompson drums on this cover of the Sly & The Family Stone classic, which is one good thing about it, and there is quite a nice semi-funky breakdown around the 2.40 mark, but other than that it's just rocky bombast once more and the sound, the style and the attitude is just so far from what Duran Duran are about, it's ridiculous. The female spoken word bit just adds to the cringe-factor.

---
Perfect Day

This cover of the Lou Reed's Perfect Day was the first single and is one of the more palatable outings on Thank You. Le Bon's vocals sound good and are well produced. It's light and dreamy take on the song. Notably, original drummer Roger Taylor plays on this track which reached number 28 in the UK charts.

---
Watching The Detectives 

I've actually always really liked this version of Elvis Costello's Watching The Detectives. It's quite a creative and well-produced arrangement, with its dubby leanings and crucially, it does sound like Duran Duran. Simon does a decent job of the vocal and the catchy guitar riff in the chorus is satisfying. There's loads of nice touches, like the piano figure after "but he can't be wounded 'cause he's got no heart" line. The ending is great as well, when the harmonica comes in.



---
Lay Lady Lay

The beginning of this sounds just like 'Come Undone', which isn't a bad thing, but it's a strange choice of Bob Dylan song to cover. I've never been a massive fan of the original version of 'Lay Lady Lay' so a somewhat innocuous cover by Duran doesn't provide cause to revise that opinion. Paul McCartney's longtime drummer Abe Laborial Jr plays on this (and 'I Wanna Take You Higher Again').

---
911 Is A Joke

Yes, Duran Duran covering Public Enemy is a bit silly, but I actual like this. The acoustic guitar sounds good and what the hell, it introduces Public Enemy (and the message) to a wider audience. The mistake DD made was not putting the superior 'Alternate Version' of this track from the Perfect Day CD single on the album. It's a much better.

---
Success

Terry Bozzio, Warren's bandmate from Missing Persons, drums on this Iggy Pop cover. It's raucous, the drums are very loud and it really does connect at all. Pointless, really.

---
Crystal Ship

With 'Success' out of the way, thankfully we're back to something that sounds good. The timbre of Simon's voice works excellently on this Doors cover and unlike elsewhere on this record the arrangement has some restraint and isn't overblown.

---
Ball of Confusion

The restraint doesn't last though and this version of The Temptations' 'Ball of Confusion' is another loud, annoying misstep. As a Duran Duran fan I really don't want to listen to this, so who else is going to want to?



---
Thank You

The first song to be issued from these sessions, this Led Zeppelin cover appeared (in demo form) on the soundtrack to the forgotten 1994 film With Honors. Not bad.

---
Drive By

Amusingly the band include one of their own songs on the album. Drive By is actually Rio's 'The Chauffeur' in disguise and is one long big extended build up and then a very satisfying conclusion. One of the highlights of Thank You which rather proves the whole covers thing hasn't really worked.

---
I Wanna Take You Higher Again

One presumes there were internal arguments about which version of 'I Wanna Take You Higher' to include on Thank You – the 'rocky one' or the more synth-pop dance version? "Oh sod, it let's put them both on there!" This version is a million times better than track two and the fact they couldn't see this at the time illustrates the bad decision making that led to releasing this album in the first place! This is the only recording on the album co-produced with John Jones, who worked with the band on The Wedding Album.

---


Bonus tracks:

The Needle And The Damage Done

This was a bonus track on the 'Perfect Day' single. A rather sweet and accurate cover of the Neil Young's famous song from Harvest. Simon handles the vocal well and this is much better than many things on the album.

---
Diamond Dogs

On CD 2 of the Japanese edition. Quite an interesting version of the title track of David Bowie's 1974 album. Fairly experimental and they don't rock out as much as they do on some of the other tracks. Again, curious that they ultimately omitted this from the final selection.

---
Summary

If you are being generous I'd say only about half of Thank You is any good. It's saddled down by workmanlike arrangements, big clunky rock outings and Simon Le Bon at his most charmless, vocally. A classic case of the band sounding like their having fun, but what about the audience? Despite that, it has its moments. 'Watching The Detectives' is very good, as is the second ('again') version of 'I Wanna Take You Higher'. Despite the sheer ludicrousness of the undertaking, '911 Is A Joke' is much more fun to listen to than the Iggy or the Dylan cover and including 'Drive By' showed that Duran Duran could still poke fun at themselves, a little bit.

Nevertheless, despite a top twenty hit in the UK ('White Lines', remarkably) the album proved damaging. The band fragmented (John Taylor would soon leave), the band moved from the classic-pop AOR sound of 'Ordinary World' to the more abrasive art-pop found on Medazzaland (Electric Barbarella) the mainstream audience disappeared once more. Wilderness years beckoned and it would be the best part of another decade before the general public embraced Duran Duran once more with the reformation and the Astronaut album.