Saturday Deluxe / 13 July 2019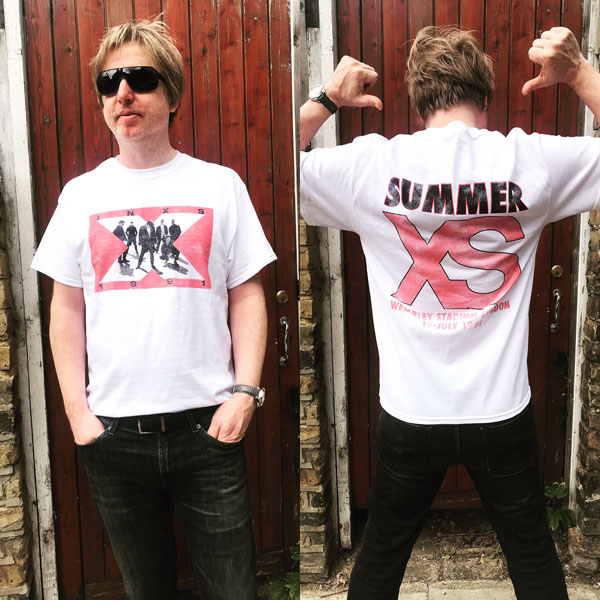 28 years ago today INXS played Wembley Stadium as part of their 'Summer XS Tour'.
It was captured on film by David Mallet, who used 16 cameras (all 35mm) – including one in a helicopter – to capture the scale of the event and the band at the peak of their powers. It was issued on VHS at the time (and later DVD) along with the Live Baby Live album, although the latter used audio taken from various concerts from the tour.

This footage has recently been rescanned and restored to allow for a 4K presentation and there should be a short theatrical run later this year with Dolby Atmos surround sound. I saw a preview this week and was blown away by both the quality of the audio and visuals and the enormous stage presence of Michael Hutchence.
With the excellent Mystify: A Musical Journey With Michael Hutchence recently released on CD (vinyl coming in August) it feels like INXS activity is (finally) starting to crank up again, after 2017's fine KICK 30 reissue. I spoke with the band's manager Chris Murphy yesterday about the Mystify documentary (which isn't yet released) and the companion album – don't call it a soundtrack! – and of course I asked him about the reissue campaign and a certain Max Q. This interview will be published in the near future.
Six years earlier, on the very same day in 1985 – and in the same place – London hosted the UK leg of Live Aid, Bob Geldolf and Midge Ure's benefit event which, of course, also took place in Philadelphia in America.
The event rather neatly divides the 1980s into a 'post' and 'pre' Live Aid periods, with the first half of the decade generally regarded as the more interesting and inventive five years, despite some great music from the likes of Pet Shop Boys and a-ha (to name a couple) happening afterwards.
Live Aid has never been issued physically on any audio format, although in 2005 highlights were issued on a four-DVD set to mark the 20th anniversary. In October last year, the audio did turn up on streaming services and you can buy the whole thing (not actually the 'whole' thing…) as high quality FLAC files for under a tenner!
The day is remembered for as much for the cock-ups as anything else… Paul McCartney's mic not working, the TV transmission going down during The Who, Simon Le Bon singing *that* note during 'A View To A Kill', Led Zeppelin's rather lacklustre performance (blamed rather unfairly on Phil Collins) and Bob Geldof saying 'fuck' on live TV in the middle of the day!
Nik Kershaw told me he was "absolutely terrified" on the day, while Gary Kemp from Spandau Ballet bemoaned the decision to perform a brand new song ('Virgin') on that Saturday in 1985, when I spoke to him back in 2017. "That was a real mistake, of course it was. Total mistake… I mean I can't believe we did it!" he said.
If you've ever wondered why Tears For Fears didn't appear at Live Aid, I asked Roland Orzabal that very question a few years back when I was interviewing him for the sleeve notes of the Songs From The Big Chair reissue. His hitherto unpublished response was as follows:
Roland Orzabal: When it came to Live Aid, we'd been on the road for a long time. When Bob [Geldolf] initially started asking people to do Live Aid he hadn't asked us, because we hadn't broken big then. We weren't the first people he called. It only became an issue when we'd broken America. And then we had to make a decision because we'd already scheduled the tour. But at the end of the day, if you look at the bands who rose to the surface and showed how great they were live, like Queen and U2, I think we would have been a footnote. One of the lost acts, really. So I don't really think it was that important. I don't regret not being part of it. Not at all.
I was 15 at the time of Live Aid and probably just a bit too young to consider going on my own or with some friends. I have no older siblings so couldn't tag along with them and even though my Dad was only 38 at the time, he showed no interest at all (other than watching it on telly!). Still, I remember the great vibe of the day resonating through the nation's TV screens. Music was still at the centre of it all in 1985.