Saturday Deluxe / 23 November 2019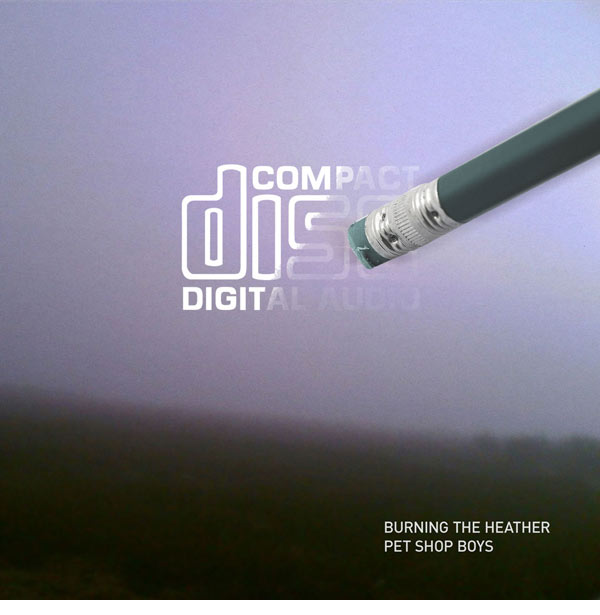 Pet Shop Boys to call time on CD singles?
Yesterday the Pet Shop Boys announced another single from their forthcoming album, Hotspot. 'Burning The Heather' features Bernard Butler on guitar and had already been made available on YouTube etc. but it will be coming out as a 'proper' single on 13 December. So far so good, but the unfunny joke in this Christmas cracker is that the 'single packages,' as they described them, do not include a CD single.

This is significant because since Neil, Chris and Parlophone first got on board with CD singles (with 1987's 'It's A Sin') ALL of their singles that were released physically in some shape or form have come out on CD. The boys have been remarkably loyal to the format and fans and collectors – myself included – have looked forward to adding to the large collection that has grown over the past 32 years.
It has been an interesting journey, where in the early days the CD single normally repeated the track listing of the first UK 12-inch vinyl, and more often than not came in a simple card sleeve. 'Always On My Mind' was the first CD single that – for some reason – was offered in the thin plastic 'mini-jewel' case although with 'Heart' – the final single from 1987's Actually – they reverted back to the card sleeve format and stayed with it for quite a while. The CD for 'Left to My Own Devices' (like the cassette, seven-inch and 12-inch) came double-sleeved with that yellow outer wallet and by 1993 and 'I Wouldn't Normally Do This Kind Of Thing' the record company was releasing TWO CDs for every single, and IWNDTKOT came in that very lavish double plastic wallet.
This was the start of an era where one CD would be 'mixes' – for dance fans – while the other would contain the seven-inch version of the song, one or two new tracks and maybe the odd rarity. In the case of IWNDTKOT the brilliant 'Violence (Haçienda Version)' was included on CD2 along with the equally good Sasha Remix of 'West End Girls'. The 1990s continued like this, although at some point the card sleeves were ditched and mini-jewel cases became the norm.
Into the new Millennium and things changed again (probably due to chart rules). Two CDs were still being issued but with songs like 'Miracles' and 'I'm With Stupid', one disc would now replicate the seven-inch single (boring!) while the other CD would be what our friends in America like to call a 'maxi' single which would likely contain at least one remix and B-side or two. The odd DVD single make an appearance as well. Incidentally, 'Integral' from 2006's Fundamental was a rare 'download-only' affair, with no physical format issued.
The popularity of downloads started threatened the CD single (and all physical formats for singles) but after their move from EMI to 'label services' company Kobalt the Pet Shop Boys continued to release CD singles.
Two CDs were now long gone, but by this point, they'd all but given up on having a 'hit' and so chart rules were rather irrelevant, allowing them the freedom to issue massive 9-track CD singles for songs like 2013's 'Vocal' and 'Love Is A Bourgeois Construct' – although they did attempt to penetrate the singles chart with 'Thursday' which is why that CD of that release included the radio edit of the song and less than 20 minutes of music in total. The strategy didn't work, and the single peaked at 61 in the UK.
With the last album Super, the lines were blurred, to a degree, with regards to what constitutes a full Pet Shop Boys single release. 'Inner Sanctum' did get a 12-inch vinyl but it really felt like a promo but 'The Pop Kids', 'Twenty-Something' and 'Say It To Me' all came out on CD and in the case of 'Twenty-Something' the CD was the ONLY physical format! 'Undertow' sneaked out under the radar as a freebie if you bought the 2017 edition of the Annually book.
This year's 'Agenda EP' was issued on compact disc, as was last month's Dreamland, so all seemed good for the CD buying Pet Shop Boys fan, until yesterday's announcement. There are only two 'formats' for the single packages and they are as follows:
Digital
1. Burning the heather (radio edit)
2. Decide
3. Decide (CYA remix)
7-inch vinyl
1. Burning the heather (radio edit)
2. Decide
It's great to have a new B-side, but this will be the first time a PSB B-side hasn't been available on CD at the time of release. Surely the 3-track digital bundle would have made a perfectly satisfactory CD single so it's hard to understand the logic. CDs are incredibly cheap to produce (especially in simple card sleeve packaging) so this is a worrying development.
Perhaps the next single with have mixes galore, two new songs and the format will return, but it's sad that they've felt the need to not bother with the CD for 'Burning The Heather'. The Pet Shop Boys have seemingly flown the flag proudly for physical product for so long, why would they bother to ditch it so late into a brilliant career? What are your thoughts? Leave a comment.
---
Wham!'s Last Christmas to be issued on white vinyl seven-inch
While the new George Michael song apparently isn't considered good enough to be worthy of a physical single release, that's not stopping Sony reaching for the file marked 'predictable' and deciding to put out Wham!'s festive classic 'Last Christmas' as a seven-inch single on white vinyl.
This is all designed to support the promotion for the Last Christmas movie and soundtrack, which is fair enough, but in true Scrooge-like fashion Sony and George Michael's team can't be bothered to put anything new on the single, which contains just the familiar seven-inch version of 'Last Christmas' and the edit/remix of 'Everything She Wants' on the B-side. If you are going to appeal to collectors, at least give 'em something a bit extra to make the effort and expense worthwhile. Nearly two million people have bought the single already in the UK!
At least back in 2015, when 'Last Christmas' got a coloured vinyl 12-inch reissue for RSD/Black Friday it included an unreleased instrumental version, which while not earth-shattering, showed that someone tried to do something a bit extra. This time, there's nothing much of interest.
And it's only available online via the Last Christmas D2C (direct-to-consumer) store. The minimum shipping you will pay in the UK for this £8 seven-inch single is £5.46 for First Class post. Tracked and Signed is £8.13 while 'courier' is £10. Blimey.
Of course it would be nice to see 'Last Christmas' get to number one (finally) but I seem to remember Andrew Ridgeley being actively against that campaign not too long ago, but now the film is out and he has a book to promote, maybe that's all changed!