SDE Reissue Preview for 2016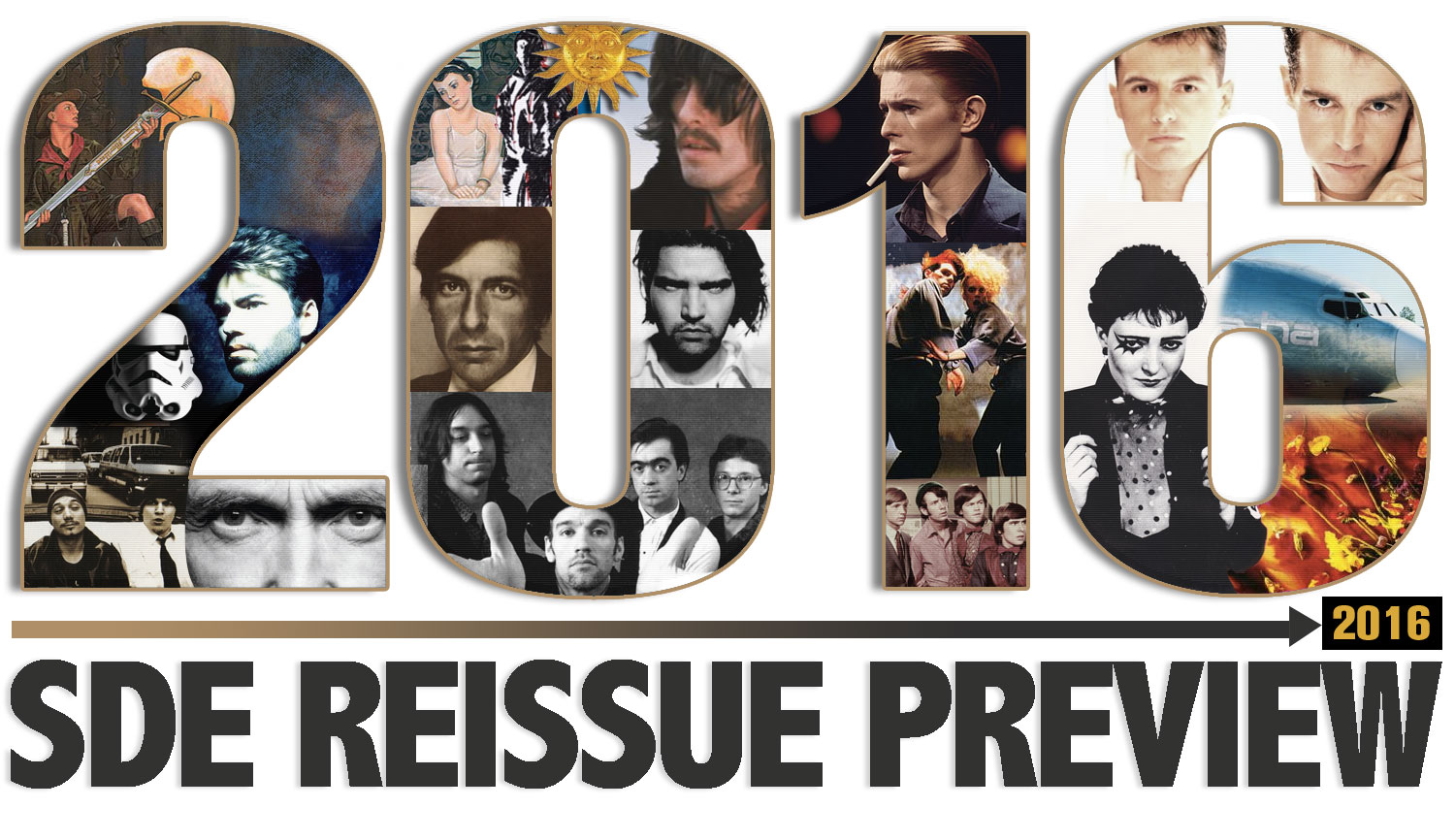 Another year over and a new one just begun... 2015 brought us some fantastic reissues and box sets, but for those who enjoy their glasses half empty, it also failed to deliver some hoped-for product (hello, Kate Bush, Prince and Pet Shop Boys).
This year should be good though and I'm sure we will see a 30th anniversary edition of the PSB's debut Please. Hopefully, after the big announcement last month, Concord Bicycle Music Company will be using pedal power to deliver R.E.M. fans an Out Of Time 25th deluxe too.

We know (thanks to those 'coming soon' cards in the recent reissues) that Paul McCartney is skipping forward to 1989 and selecting Flowers in the Dirt for his next Archive Collection deluxe releases, it's just a question of whether he'll opt for a May/June release or whether we'll have to wait until Sep/Oct for it.
JANUARY
No messing around as we ease into 2016 with the small matter of a new David Bowie album at the end of next week! Mike Oldfield follows not long after and continues his intelligent and stylish reissue campaign with not only Discovery and The Killing Fields but a new collection called The 1984 Suite. Hopefully, Phil Collins' back is better and his delayed reissues can be promoted at the end of January. Finally, Star Wars fans should get their pre-orders in for the 11-disc Ultimate Soundtrack Collection which is great value at less than £40!
Reissues/albums of interest in January include:
---
FEBRUARY
Elton John returns with Wonderful Crazy Night, his 32nd studio album, which like 2013's The Diving Board comes as a super deluxe edition box set. The Fun Lovin' Criminals are back with a tour and a 6-disc deluxe of their debut, and David Bowie is on the release schedules again, this time with a 4LP box set of his Bowie at the Beeb set.
Reissues/albums of interest in February include:
---
MARCH
Primal Scream return with the dubiously titled Chaosmosis. Judging by the comments when we posted about this last month, the artwork is as unpopular as the title. James have a new album out, as does Tanita Tikaram. Sony (for some reason) will reissue Sade's Best Of on vinyl, as the wait for a Diamond Life deluxe continues.
Reissues/albums of interest in March include:
---
APRIL & Beyond
Confirmed reissues:
Rumoured / likely-to-happen reissues:
I think it's safe to say that – amazingly – we are likely to see a George Michael reissue, given all the recent activity (including the Freedom! '90 picture disc) around the 25th anniversary of his best album, Listen Without Prejudice, vol 1. Whether George will open up the archives and include unreleased material (he didn't with Faith) remains to be seen.
We know that Tears For Fears now have no choice but to deliver their new album before the summer, since they've already lined up their first UK gigs in over 10 years to support it. Meanwhile, the the reissue campaign started in 2013 with The Hurting, will continue, with a Q4 re-release of The Seeds of Love highly probable.
Neil Tennant talked about a 'forthcoming reissue project' for the Pet Shop Boys almost a year ago. We were hoping for something in 2015 but clearly 'issues' have slowed things down. No matter, 2016 is the 30th anniversary of Please, so we will either get an all-singing and all-dancing deluxe of their debut or some kind of ambitious Blur Box-style career retrospective that spans many years. Our money is on the former.
R.E.M.'s Out of Time is another album celebrating an anniversary (25 years) and as mentioned at the top of this post, it is highly likely to be reissued this year because the band have walked away from Warners and inked a deal with Concord Bicycle Music Company specifically to 'leverage' the Warner-era back catalogue.
Deep Purple's delayed Made in Europe box set should see the light of day in 2016, and I'll deploy some reverse psychology here and say that Kate Bush's Before The Dawn definitely WON'T come out as a multi-disc CD/Blu-ray/DVD package before the year is out.
Paul Waaktaar from a-ha mentioned in a fan chat that a deluxe reissue of the band's 'comeback' album from 2000, Minor Earth Major Sky, is being worked on, so we may see that before the year is out and we know that Parlophone are working on a 'series' of David Bowie boxes, so a follow-up to Five Years is close to a certainty in 2016 (SDE money is on it being called Golden Years).
Last year, on the eve of his six-disc Collected Recordings set, we asked Lloyd Cole about working on box sets. He told us "I'm not against it, but I wouldn't want to be devoting the majority of my time [to it]". Despite this, he has already enthusiastically poured some energy into researching a solo albums box. It sounds like early days, so perhaps this is a project that may not see the light of day until 2017.
Finally, this wouldn't be a reissue preview without lamenting the lack of the any Prince deluxe editions. It was March 2014 when Warners told the world that their new agreement with the Purple One would "see the release of long-awaited, previously unheard material". Well, where is it then? Maybe they meant it would be a 'long wait' rather than 'long awaited'. Almost two years down the line they appear to have be duped. Prince continues to do whatever he wants (issue new material, 'hit and run' tours etc.) and doesn't appear to be doing ANYTHING Warners (or fans) want – i.e. enabling them to get on with creating some deluxe reissues. At least there is no evidence that anything is happening and only a fool would predict any reissues for 2016.
---
Thanks for stopping by and checking out this preview. The list isn't meant to be totally exhaustive, so if you know of something not featured why not leave a comment and let us and fellow SDE readers know! Happy New Year!