SDE Reissue Preview for 2021
Welcome to SDE's now traditional peek into the future as far as physical music reissues and box sets are concerned.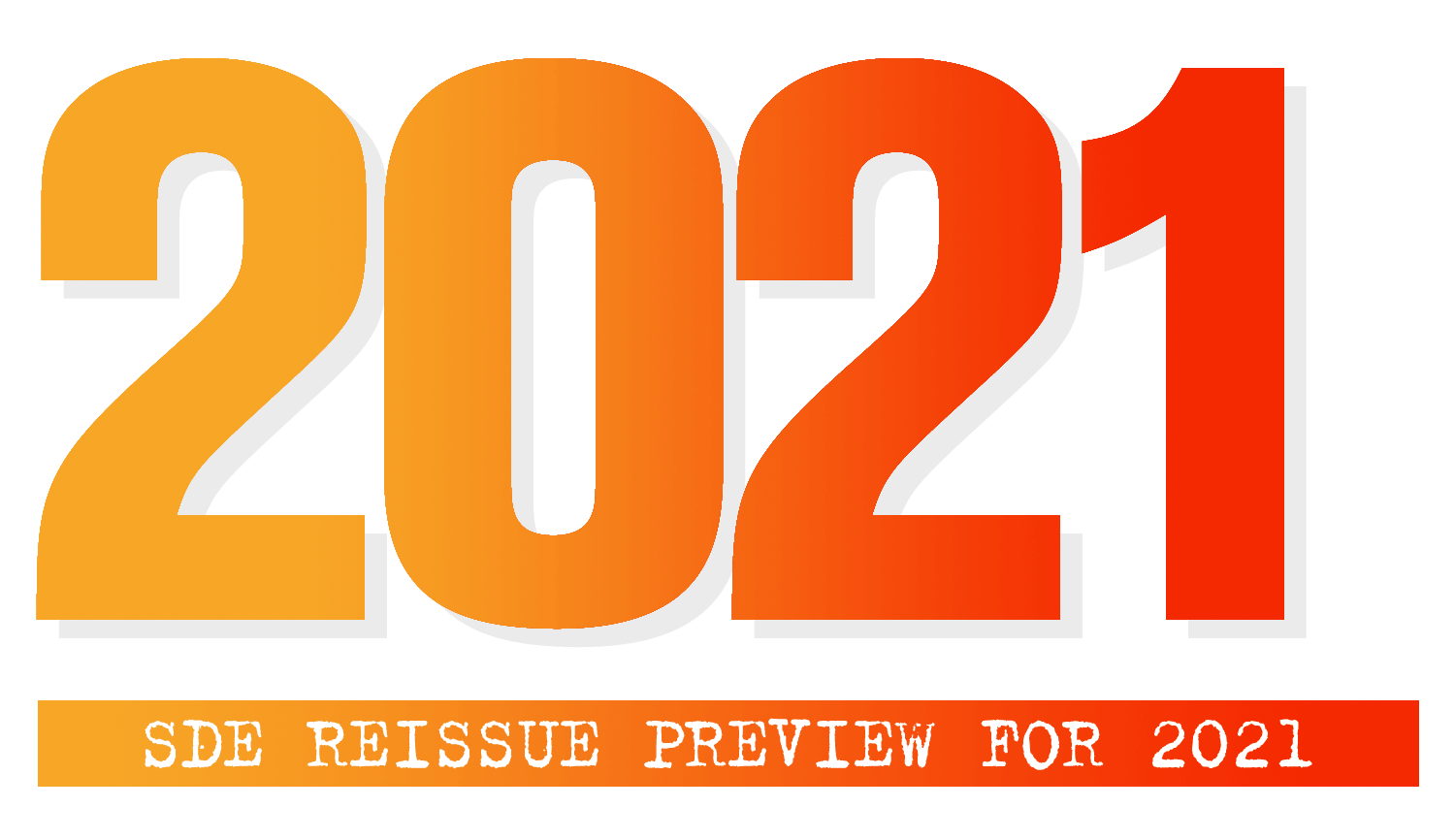 The usual provisos apply. This post will start off with things we know about – confirmed releases for the early part of 2021 – and then morph slowly into a smorgasbord of educated guesses, speculation, conjecture, near certainties and perhaps even a bit of wishful thinking. Enjoy!


I guess the first thing to say is that compared to previous years, this January is looking fairly quiet in terms of already announced projects. This time in 2020, we had fifteen or sixteen reissues or box sets in the list and as you can see below, there's significantly less than that right now. This is undoubtedly down to the COVID19 pandemic, with projects being pushed back due to uncertainties around lead times for vinyl (for example). There's still some good things to look forward to though, including Steven Wilson's The Future Bites finally coming out and the massive John Mayall box set which looks tremendous.
Reissues, box sets and albums of interest in January include:

February is a bit more like it, with Level 42, Black Sabbath and The Band box sets all on the schedule. The Bob Dylan 1970 'Copyright Collection' is also one to look forward to, as is the continuation of PJ Harvey's reissue campaign.
Reissues, box sets and albums of interest in February include:
A few months after the CD was released, Reprise Records issue their £100 vinyl album –  a 50th anniversary reissue of Neil Young's After The Goldrush. If you're a fan and you've also ordered the Archives II box, then it will be an expensive month. Make that an expensive year, because Young is planning a series of six official 'bootleg' albums for 2021. In his words, this will be a "mass release" of classic bootleg albums from his original masters, which will start with Carnegie Hall 1970. The five others will be "real close" behind. He's releasing them like this because "there are many more things waiting in the wings". Of course, we know to take anything Neil Young says with a cupful of salt. Sting's delayed Duets probably won't be worth the wait, but the Al Stewart box sounds very promising.
Reissues, box sets and albums of interest in March include:
APRIL 2021 & BEYOND
The John Lennon/Plastic Ono Band album will be released as an 'Ultimate Mixes' box set, with an enormous amount of outtakes and  George Harrison's All Things Must Pass has been remixed and will be reissued this spring.
While on the subject of former Beatles, with McCartney III out of the way, there's a good chance we will see more archive reissues from Paul McCartney. The clever money is on London Town and Back to the Egg. They were released consecutively in 1978 and 1979 and if there were indeed reissued, it would mean that every Paul McCartney solo or Wings album up to 1983's Pipes of Peace has been released (although of course a few after that have also been tackled). Having said all of that, Press to Play is 35 in August, so that cannot be entirely ruled out although I'd be very surprised if McCartney gave his 1986 flop much priority. Talking of flops, Give My Regards To Broad Street has the potential to be a great archive reissue if Paul could acquire or license the rights to the film, but again despite the success of the soundtrack, it's hard to know whether enough time has passed for him to look back fondly on this enterprise and shrug off the critical panning the film received.
And as for the The Beatles, we know that the Let It Be happy-cut, The Beatles: Get Back, is scheduled for August by Disney. One presumes Universal Music will be given permission by Apple to reissue Let It Be for a belated 50th anniversary edition. If so, expect a new Giles Martin stereo mix, plenty of outtakes, a 5.1 surround sound and Dolby Atmos mix and an accompanying book. I can't see how it will contain either version of the film, since Disney will have its own plans for the post-theatrical release roll out (think home video and Disney+) which surely won't include bundling it as 'disc four' of a music box set.
2021 is the 40th anniversary of Duran Duran's self-titled debut and although Nick Rhodes confirmed to SDE that he and John Taylor have been "going through some of the old tapes for the anthology that we're planning at some point", it's not clear whether anything will come out this year. It seems unlikely. The long-awaited new album is in the can, so that will be the priority, although the group will not release it if they are unable to play live and despite confirmation of a London Hyde Park 'British Summer Time' headlining slot, nothing is a safe bet yet, due to the worrying situation in the UK with the COVID-19 pandemic. That could in turn open the door for some archival activity which other acts (The Divine Comedy being one) have found is a good use of 'lockdown' time.

A 1990s-era David Bowie box set will be released in 2021
The official David Bowie website has already confirmed – albeit in a rather convoluted manner – that a 1990s-era box set will be released in 2021. For most artists, you'd think, well, 'that's that', but with the David Bowie Estate and Parlophone, you never know. We already have three Brilliant Live Adventures live albums coming soon, plus the 45th anniversary 'random coloured vinyl' Station to Station and no doubt they'll be a least a couple of Record Store Day releases (although what the status of this year's RSD event is anyone's guess). Hunky Dory is 50 in December, although even Parlophone surely wouldn't try to squeeze in a major 'Conversation Piece' type box right at the death of 2021. Some kind of special coloured vinyl anniversary edition seems more likely.

SWINE: Animals reissue held up by 'relations' between Waters and Gilmour being sub-optimal
Pink Floyd's Animals reissue is long overdue. As reported on SDE last year, Roger Waters said in a radio interview in 2018 that it had been mixed for 5.1 and even went into specifics of how Aubrey 'Po' Powell had new photos of Battersea Power Station for the cover. Speaking of Pink Floyd, whatever happened to the Analogue Productions SACD of The Dark Side of the Moon that was announced ages ago? It has been listed on the Acoustic Sounds website for at least 18 months and it still reads: 'Arrival Date To Be Announced'! Since Roger Waters made some barbed remarks last year about David Gilmour's wife, Polly Samson – while complaining about not getting access to the official Floyd channels for promotion of his solo work – it's probably fair to say he's not in the Gilmour family's lockdown 'bubble' and relations appear to be at an all time low. This is undoubtedly a major obstacle in the path of getting this reissue work completed. A 5.1 surround sound mix of The Wall, which James Guthrie said was in the works at the end of 2011 (!) still hasn't emerged, so only a fool would hold their breath for anything that involves Gilmour and Waters having to come together to agree 'things'.

Will Warners opt for Parade as the next Prince reissue?
Warners are on a great run with their Prince reissues. 2019's 1999 was superb and last year's Sign O' The Times really upped the ante, in terms of content (and price). I have a feeling they will remain in the classic era of the 1980s and perhaps step back to the Parade album. Whatever happens, Michael Howe and team have a reputation for doing the job in a thoughtful and robust manner and another Prince reissue is an exciting prospect.
Cherry Red will continue with their recently kicked off Toyah reissue campaign. The Blue Meaning is next and the big one – 1981's Anthem – should follow later this year.
Will U2 be tempted to revisit Achtung Baby for that album's 30th anniversary in December? Apart from the always absent 5.1 surround sound mix, it's hard to see how they could improve on the super and 'uber' deluxe editions from 2011.
a-ha's Scoundrel Days is 35 in October, and The Police's Ghost in the Machine is 40. Neither seems very likely to be reissued. The former already received a very comprehensive two-CD deluxe in 2010 and unless someone creates a 5.1 mix and/or brings together a DVD of videos, TV appearances and live performances – or creates a new stereo remix of the album – it's hard to find a reason to do such a project. As for The Police… well, I give up, frankly. The rumours are that Universal have been 'ready to go' on various projects for years, only never to get the green light from all parties – perhaps one party in particular.
https://twitter.com/BlondieOfficial/status/1336713222196514816
At least the Blondie box set should happen in 2021. They announced it in late 2018 saying it was going to be released in 2019 – and then it wasn't. Nothing happened in 2020 except that Debbie Harry posted on twitter at the very end of the year, telling us to "GET READY" for a Blondie Archival box in August 2021! That's a weird month to release a box set, but we shall see.
What about Kate Bush? For what it's worth, this year is the 35th anniversary of her compilation album The Whole Story, a collection that is in desperate need of updating (it only contains tracks from half of her entire output). It's truly amazing that a major artist like Kate has had no compilations released into the commercial marketplace for over three decades! Especially when you consider that there have been large gaps with no new albums (for example, the 12 years between The Red Shoes and Aerial).  In all probability, NOTHING will happen in 2021, but if that proves to be incorrect, it will be either a new album (it has been ten years since Director's Cut and 50 Words For Snow) or an updated hits collection (hopefully with a DVD or blu-ray of restored promo videos). I don't think Ms Bush will ever release the video footage of Before The Dawn, for what it's worth, and while we all want a Hounds of Love box set it's pretty clear that Kate doesn't.
It's been almost a couple of years since Universal Music Catalogue acquired the ZTT catalogue (and all assets). Late last year we saw the first official releases with standard CD and vinyl reissues of both Frankie Goes To Hollywood studio albums and the Bang! compilation, but expect to see some more interesting reissue activity in the next 12 months. You may think "what more can be released?" but don't underestimate the breadth and depth of the ZTT archive. It should be interesting.
ABBA's last studio album, The Visitors, will undoubtedly get the 40th anniversary reissue treatment, probably late in 2021 to tie-in with the November 1981 release date. Expect the usual 2LP half-speed master, picture discs and seven-inch box set. Talking of ABBA, we've all been waiting for this new material. In April, it will be three years since they announced that they'd recorded two new songs. In 2019 Benny Andersson confirmed they'd written eight new songs and recorded five of them. The 'Avatar' tour project is now delayed until at least 2022, and although the new songs/album had been promised for 2021, it's hard to see them wanting to do this while the world is in the grips of this global pandemic.
Howard Jones' last album for Warners, 1992's In The Running, should complete Cherry Red's reissue campaign this year and we will also see 'Volume Two' of the Level 42 Polydor Years box set which will follow-up the soon-to-be-released first volume.
SDE would love to see some proper Wham! or George Michael reissues, but this isn't very likely. 'Team GM' seem to proceed at a pace that a snail in charge of 'time and motion' studies would have a problem with. Example? They've been 'working' on a vinyl reissue of the George's 2014 Symphonica album for OVER A YEAR. This is an album that has already been issued on vinyl, which means that artwork exists, original stampers exist, the track listing exists, etc. So if it takes over a year to make this happen (and it still hasn't been reissued), how long is it going to take them to put together, for example, a new product, like a Wham! anthology? This is putting to one side the wisdom of actually reissuing Symphonica in the first place. Do fans really want that above an Older vinyl reissue, for example?
Actually, Wham!'s The Final is 35 years old in 2021 and that would work really well as a super deluxe edition box set (of course, it was an early example of the form) but I can't see it happening. David Austin's stewardship of George Michael's 'legacy' has not been impressive, thus far. We've had event-based projects such as the sycophantic 'Freedom' documentary (read the SDE review), the awful 'Last Christmas' film, the high profile flogging of George's modern art collection but nothing in the way of reissues that offer a serious examination of THE MUSIC, whether that be based on an album, or an era.
Andrew Ridgeley's book confirmed what, frankly, I always suspected, that GM was kind, generous and talented but also a contrary pain in the arse, at times; a controlling and challenging person to work with. The prevarication over the 2017 Listen Without Prejudice reissue dragged on for so long that George didn't live to see it released. Of course, it is sad that George is no longer with us, but in later years it seemed as if he was incapable of making a decision and could often be a spanner in the works. That spanner has now been removed, but it sometimes feels as if Austin & co feel honour-bound to thrust it back in! It has now been over four years since George Michael's untimely death and Sony must be frustrated. Someone needs to put together a roadmap of reissues and get to work.
After a 'rest' year in 2020, R.E.M.'s reissue campaign should continue in 2021 with a 25th anniversary of the fine New Adventures In Hi-Fi album. This will be one to look forward to and while the content is normally predictable (remaster, demos, live, 5.1) the presentation isn't, since the last three deluxe editions (Out of Time, Automatic For The People and Monster) have each been delivered in different styles and shapes of packaging. We will have to wait and see what Concord Music 'do' with New Adventures in Hi-Fi.
---
As usual, there will inevitably be plenty of releases that will come as if from nowhere, to surprise, delight (and maybe disappoint) us along the way. That's part of the fun. If you are aware of some great impending reissue then leave a comment about it. Please enjoy expanding your physical music collection in 2021 and keep holding the music in your hands!