 News
Bill Bruford / Making a Song and Dance: A Complete Career Collection
6CD box set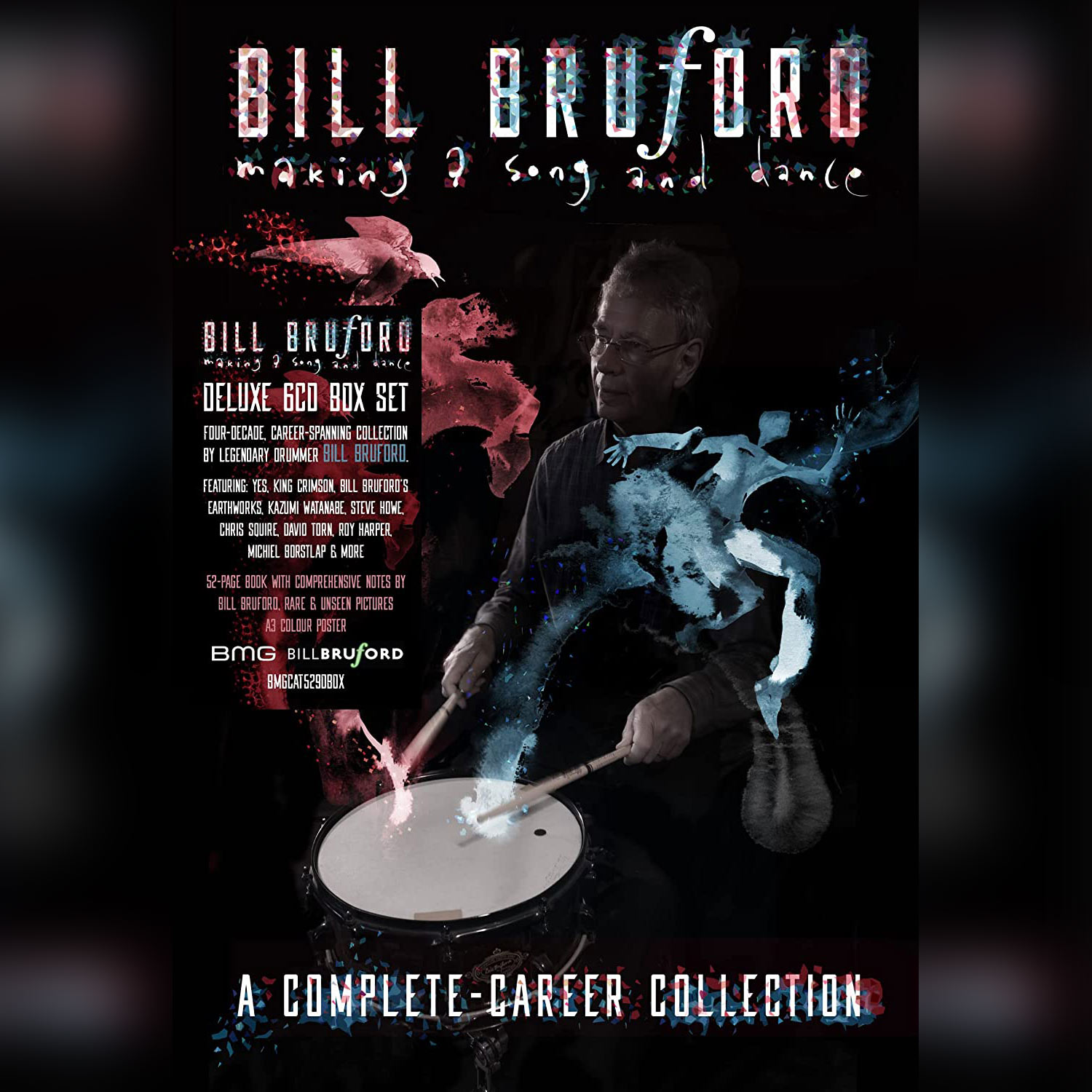 Making a Song and Dance is a new 6CD box set highlighting the considerable career achievements of legendary drummer Bill Bruford.
A young Bruford came to prominence in the late '60s with Yes, before joining King Crimson in the early 1970s and then going on to play live with a Gabriel-free Genesis in 1976. The period from 1975 to the early 80s saw albums by his band Bruford, a record with prog-rock supergroup U.K., and various collaborations, including with Swiss keyboardist Patrick Moraz and Chris Squire
Bill was back with King Crimson in the 1980s (he'd return for a third spell in the '90s) and later in that same decade started the jazz fusion band Earthworks, who would go on to record five studio albums (three between 1987 and 1991).
There have been numerous appearances on other people's records, including Roy Harper, Akira Inoue, Kazumi Watanabe, Steve Howe & many more.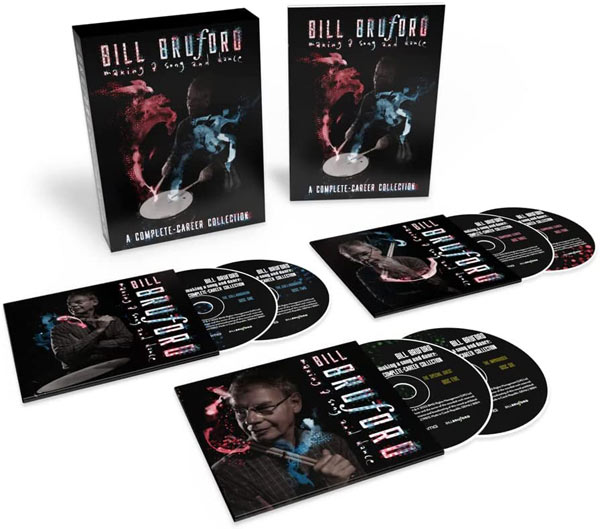 The new box set tries to make sense of all this by offered themed CDs. So the first two are dubbed 'The Collaborator' and largely concern Bruford's work with Yes and King Crimson. CDs 3 and 4 are titled 'The Composing Leader' (Bruford, Earthworks etc.) and CD 5 is called 'The Special Guest' and features some of those aforementioned appearances on other people's albums. The sixth and final disc is 'The Improviser' and includes some of the Moraz-Bruford compositions and work with David Torn.
Bill Bruford himself has written a detailed biography which, along with rare photos, is featured in the booklet within the box. The outer box artwork, gatefold CDs and booklet have been designed by graphic designer Dave McKean.
Making a Song and Dance: A Complete Career Collection is released on 29 April via BMG. Very good price in Germany, right now.
Compare prices and pre-order
Bill Bruford
Making a Song and Dance: A Complete-Career Collection
Tracklisting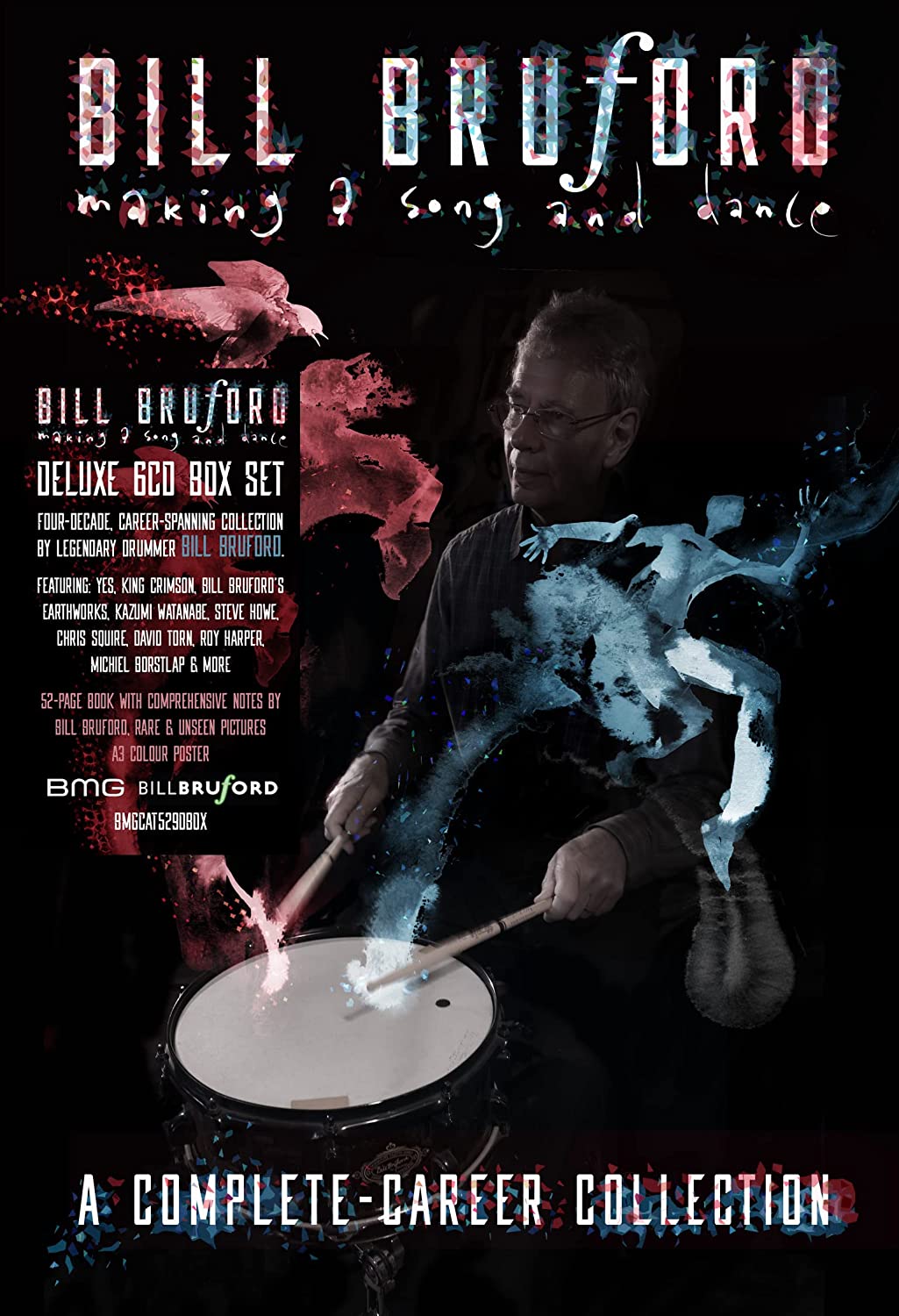 Making A Song and Dance: A Complete Career Collection Bill Bruford
/
6CD box set
CD 1 – "The Collaborator"

Yes – I've Seen All Good People
Yes – Heart of the Sunrise
Yes – And You & I
King Crimson – Great Deceiver
King Crimson – Fracture
King Crimson – One More Red Nightmare
King Crimson – Starless
UK – Nevermore

CD 2 – "The Collaborator"

King Crimson – Frame by Frame
King Crimson – Neal And Jack And Me
King Crimson – Heartbeat
King Crimson – Waiting Man
Anderson, Bruford, Wakeman, Howe – Brother of Mine
King Crimson – Sex Eat Sleep Drink Dream
National Health – Paracelsus
King Crimson – Larks Tongues in Aspic Pt 2
King Crimson – 3 of a Perfect Pair
King Crimson – Man With An Open Heart
King Crimson – Elephant Talk
King Crimson – Indiscipline
King Crimson – Big Funk

CD 3 – "The Composing Leader"

Bruford – Seems Like a Lifetime Ago: Pt 1
Bruford – Seems Like a Lifetime Ago: Pt 2
Bruford – One of a Kind: Pt 1
Bruford – One of a Kind: Pt 2
Bruford – Palewell Park
Bruford – Joe Frazier
Bill Bruford's Earthworks – It Needn't End in Tears
Bill Bruford's Earthworks – My Heart Declares a Holiday
Bill Bruford's Earthworks – Downtown
Bill Bruford's Earthworks – Pilgrims' Way
Bill Bruford's Earthworks – Temple of the Winds
Bill Bruford's Earthworks – Candles Still Flicker in Romania's Dark
Bill Bruford's Earthworks – Nerve
Bruford, Towner, Gomez – Thistledown

CD 4 – "The Composing Leader"

1. Bill Bruford's Earthworks – Beelzebub
Bruford-Levin – Original Sin
Bill Bruford's Earthworks – Revel Without a Pause
Bill Bruford's Earthworks – Triplicity
Bill Bruford's Earthworks – The Sound of Surprise
Earthworks Underground Orchestra – Speaking in Wooden Tongues
Bill Bruford's Earthworks – Modern Folk
Bill Bruford's Earthworks – White Knuckle Wedding
Earthworks Underground Orchestra – Footloose and Fancy Free
Heavenly Bodies – Thud!

CD 5 – "The Special Guest"

Roy Harper – Grown Ups Are Just Silly Children
Roy Harper – Hallucinating Light
Chris Squire – Lucky Seven (Single Edit)
Annette Peacock – Real and defined Androgens
Al Di Meola – Calliope
Akira Inoue – Pointille City
Kazumi Watanabe – Andre
Kazumi Watanabe – Small Wonder
Steve Howe – The Inner Battle
Buddy Rich Big Band – Lingo
Pete Lockett's Network of Sparks feat Bill Bruford – Prism
Gordian Knot – Singing Deep Mountain
Colin Riley feat Bill Bruford -Achilles Feel

CD 6 – "The Improviser"

Moraz-Bruford – Galatea
Moraz-Bruford – Symmetry
Moraz-Bruford – Blue Brains
King Crimson – No Warning
Moraz-Bruford – Flags
Moraz-Bruford -Split Seconds
David Torn – Previous Man
David Torn – Three Minutes of Pure Entertainment
Bruford-Borstlap – 16 Kingdoms of The 5 Barbarians
Bruford-Borstlap – Stand on Zanzibar
Earthworks – With Friends Like These…
Bruford-Borstlap – Low Tide, Camber Sands
Bruford-Borstlap – Kinship