 News
Billy Idol / Vital Idol: Revitalized
New remixes of Vital Idol songs issued on CD and vinyl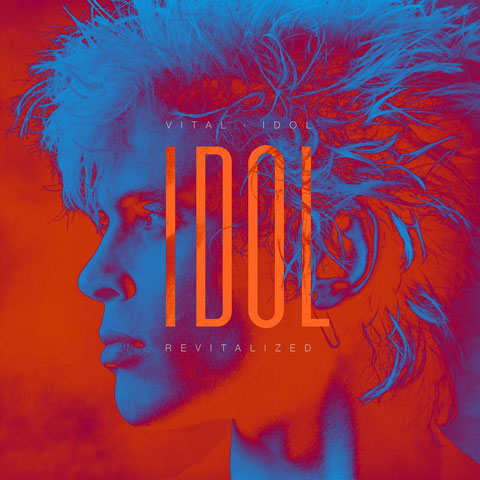 Billy Idol's 1985 remix album Vital Idol has been rebooted for 2018 and will be reissued as Vital Idol: Revitalized with new remixes from Moby, Paul Oakenfold and others.

Despite being a remix album and Idol only having issued two records at the time, Vital Idol became a defacto 'greatest hits' and was very popular, thanks to a brilliant song selection and some excellent remix work. The parts 1 & 2 'shotgun' mix of 'White Wedding' (remixed by Gary Langan) is a classic.

Vital Idol was actually updated in 1987 to include a remix of 'To Be A Lover' from the 1986 Whiplash Smile record and a year later in Japan there was yet another variant (which spoiled the fun a bit by including two live tracks).

Vital Idol: Revitalized is now 11 tracks and it remains to be seen whether selections like the Tropkillaz Remix of 'Eyes Without A Face', or the Shiba San Remix of 'Don't Need A Gun' are any good or not. You can preview the RAC Remix of 'Dancing With Myself', below.

There is actually a new Billy Idol/Steve Stevens Remix of "'Mony Mony' which sounds promising, but alas, this has been chosen as one of four exclusive digital mixes (see track listing further down).



When I heard rumours of this release, I very much hoped they'd paired a remastered version of the original with a second disc of new remixes. It seemed like an obvious thing to do, to keep fans of the old school mixes happy, while introducing the new reworkings. It's rather disappointing that they have chosen not to do that.

So format wise, there is a single CD and a 2LP 180g vinyl edition.

Vital Idol: Revitalized is released on CD on 28 September and the vinyl will follow on 16 November. It's out via Universal Music/EMI.
Compare prices and pre-order
Billy Idol
Vital Idol Revitalized - CD edition
Compare prices and pre-order
Billy Idol
Vital Idol Revitalized - 2LP vinyl


CD edition

1. White Wedding (CRAY Remix)
2. Dancing With Myself (RAC Remix)
3. Eyes Without A Face (Tropkillaz Remix)
4. Rebel Yell (The Crystal Method Remix)
5. (Do Not) Stand In The Shadows (Moby Remix)
6. Flesh For Fantasy (St. Francis Hotel Remix)
7. Catch My Fall (Juan Maclean Remix)
8. One Breath Away (Paul Oakenfold Remix)
9. To Be A Lover (DJDS Remix)
10. Don't Need A Gun (Shiba San Remix)
11. Hot In The City (Shotgun Mike Remix)

Digital only bonus tracks

12. Mony Mony (Idol/Stevens Remix)
13. One Breath Away (Paul Oakenfold Extended Remix)
14. (Do Not) Stand In The Shadows (Moby Remix) (Half Time Version)
15. Save Me Now (Lost Dog Remix)


2LP vinyl edition

LP 1
1. White Wedding (CRAY Remix)
2. Dancing With Myself (RAC Remix)
3. Eyes Without A Face (Tropkillaz Remix)
4. Rebel Yell (The Crystal Method Remix)
5. Do Not) Stand In The Shadows (Moby Remix)
6. Flesh For Fantasy (St. Francis Hotel Remix)

LP 2
1. Catch My Fall (Juan Maclean Remix)
2. One Breath Away (Paul Oakenfold Remix)
3. To Be A Lover (DJDS Remix)
4. Don't Need A Gun (Shiba San Remix)
5. Hot In The City (Shotgun Mike Remix)