 News
Bruce Springsteen / Western Stars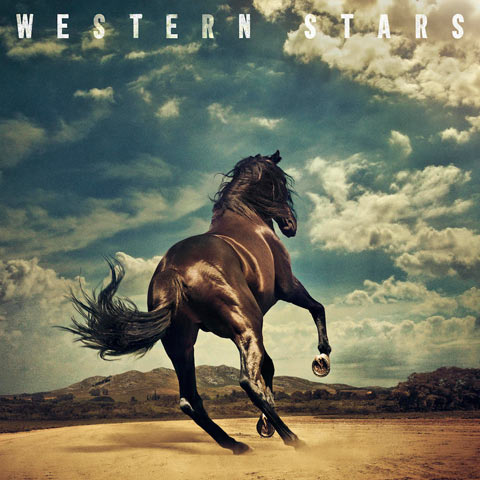 The Boss to release new album in June
Bruce Springsteen has announced details of a new studio album.
Western Stars, his first studio album in five years since 2014's High Hopes – and first of all new material since 2012's Wrecking Ball – sees him drawing inspiration in part from the Southern California pop records of the late '60s and early '70s. Telling Variety magazine that it's based around "Glen Campbell, Jimmy Webb, Burt Bacharach, those kinds of records. I don't know if people will hear those influences, but that was what I had in my mind. It gave me something to hook an album around; it gave me some inspiration to write."

The album – his 19th – was recorded primarily at Springsteen's home studio in New Jersey, with additional recording in California and New York.
Ron Aniello produced the album with Springsteen and plays bass, keyboard, and other instruments. Patti Scialfa provides vocals and contributes vocal arrangements on four tracks.  The musical arrangements include strings, horns, pedal steel and contributions from more than 20 other players including Jon Brion (who plays celeste, Moog, and farfisa), as well as guest appearances by David Sancious, Charlie Giordano, and Soozie Tyrell. The album was mixed by Tom Elmhirst.
He's popped the first taster of the set 'Hello Sunshine' online, with this lyric video (above).
Western Stars will be available on 2LP vinyl and CD formats. No box sets or deluxe editions but there is an exclusive blue vinyl is available via Bruce's online store and JPC in Germany also are doing what looks like a slightly different blue vinyl ("Clear Mixed With Blue Smoke") which actually looks nicer!
Western Stars is released on 14 June 2019.
Compare prices and pre-order
BRUCE SPRINGSTE
Western Stars - 2LP black vinyl
Compare prices and pre-order
BRUCE SPRINGSTE
Western Stars - CD
Western Stars CD
Hitch Hikin'
The Wayfarer
Tucson Train
Western Stars
Sleepy Joe's Café
Drive Fast (The Stuntman)
Chasin' Wild Horses
Sundown
Somewhere North of Nashville
Stones
There Goes My Miracle
Hello Sunshine
Moonlight Motel
Western Stars 2LP vinyl
Side one:
Hitch Hikin'
The Wayfarer
Tucson Train
Side two:
Western Stars
Sleepy Joe's Café
Drive Fast (The Stuntman)
Side three:
Chasin' Wild Horses
Sundown
Somewhere North of Nashville
Stones
Side four:
There Goes My Miracle
Hello Sunshine
Moonlight Motel