 News
David Bowie / Brilliant Adventure [1992-2001]
All the details with pre-order links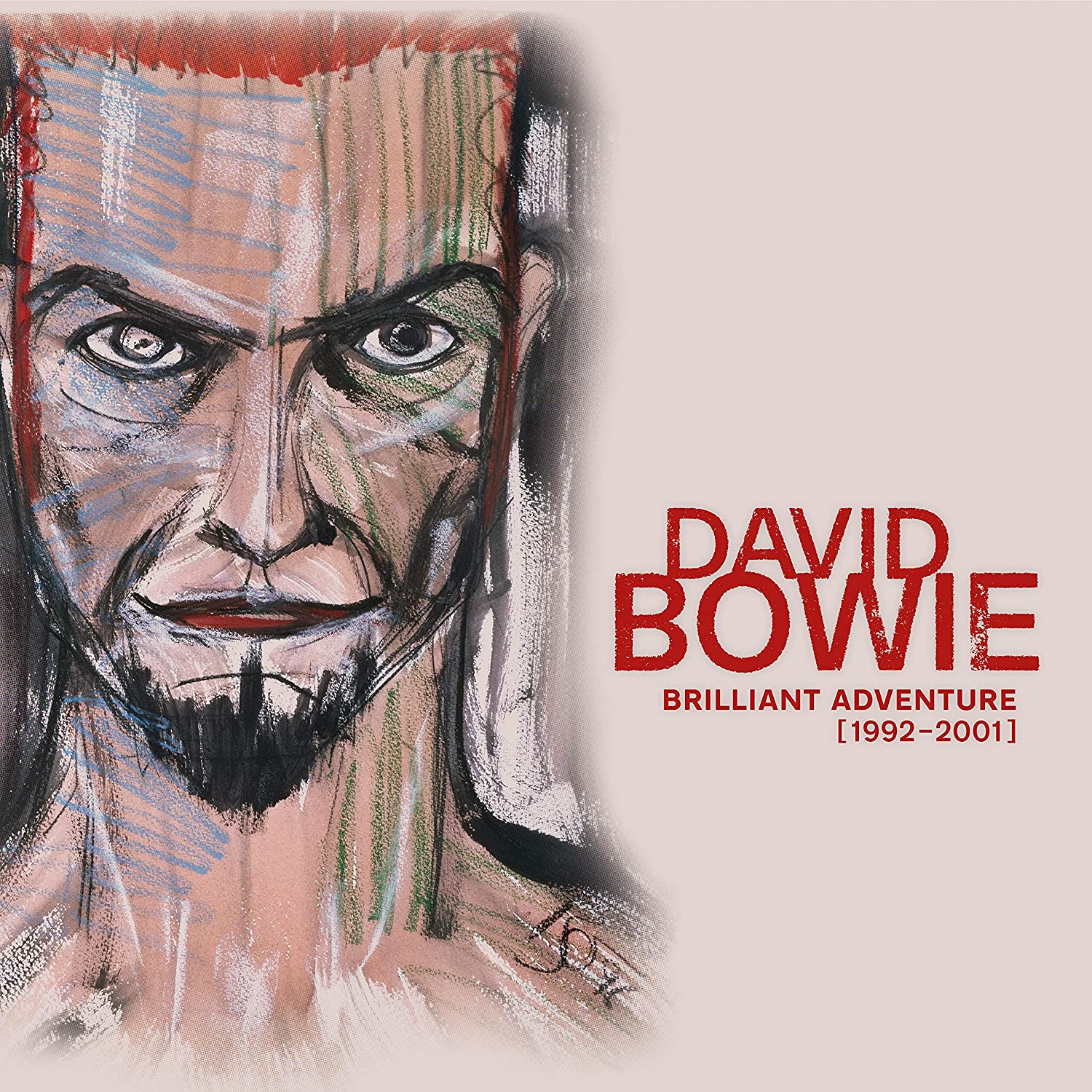 11CD or 18LP box sets. Toy included but also available as a separate box set.
The forthcoming David Bowie 'era' box set which covers most of the 1990s will be released in late November. Brilliant Adventures will be an 11CD box set or a 18LP vinyl box.
As expected, the boxes will include newly remastered versions of Black Tie White Noise (1993), The Buddha of Suburbia (1993), Outside (1995), Earthling (1997) and Hours (1999). It will also include David Bowie's unreleased album Toy (which is also being issued separately as a three-CD or vinyl box).
For the uninitiated, Toy was recorded in 2000 following David's Glastonbury 2000 performance. Bowie entered the studio with his band (at the time Mark Plati, Sterling Campbell, Gail Ann Dorsey, Earl Slick, Mike Garson, Holly Palmer and Emm Gryner) to record new interpretations of songs he'd first recorded from 1964-1971. For reasons unknown, it was never released.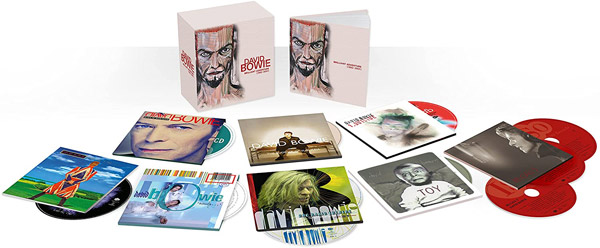 Exclusive to Brilliant Adventure [1992-2001] is Re:Call 5 – 39 tracks of non-album / alternative version / b-sides and soundtrack songs – and the complete BBC Radio Theatre show from 27 June 2000. An edited version of the latter was previously a bonus CD with the Bowie at the Beeb release of September 2000 (the new one has five more tracks) but it has never been issued on vinyl. Toy isn't actually exclusive, because of the separate box set (more on that below).
The Buddha of Suburbia uses the 1995 US/Canada cover (sepia version) rather than the UK original (which depicted characters from the 1993 BBC dramatisation of Hanif Kureishi's 1990 novel). For the vinyl box set of Brilliant Adventure, all the studio albums are 2LP sets, except Hours which is a single vinyl record. Earthling only has music pressed on three sides, however and likewise Toy is also a 3-sided 2LP set. Both have an etched side four. The BBC Radio Theatre show requires three vinyl records and Re:Call 5 goes one further and is a 4LP set. Hence the vinyl box is a massive 18LPs.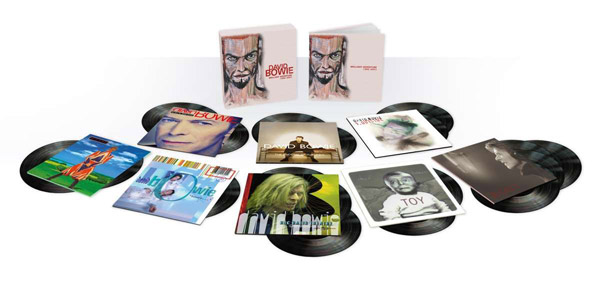 The boxes are in the same style as what has come before, with the CDs presented as "faithfully reproduced mini-vinyl versions" of the original albums. Gold-coloured CDs are used (this apparently makes counterfeiting harder).
There's an 124-page book in the CD box and a 84-page book in the vinyl set. These feature "rarely seen and previously unpublished photos" by photographers including Frank W. Ockenfels 3, Nick Knight, John Scarisbrick and Nina Schultz Terner, as well as memorabilia, technical notes about the albums from producers/engineers Brian Eno, Nile Rodgers, Reeves Gabrels and Mark Plati. Perhaps surprisingly, given his interview with SDE, there's also a new interview with Buddha of Suburbia collaborator Erdal Kizilcay.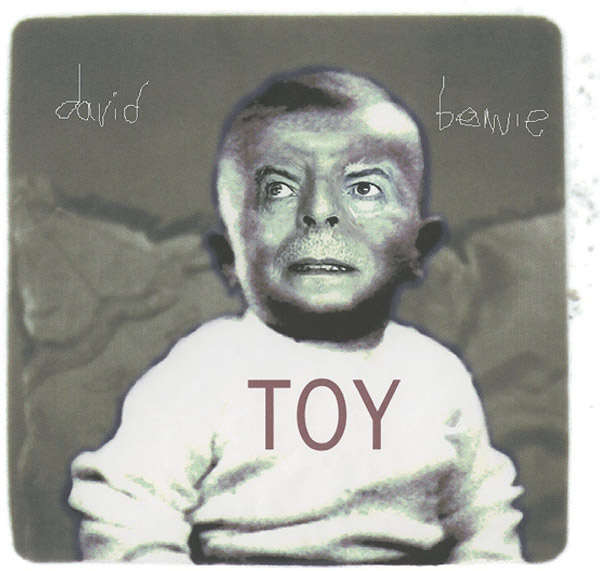 The cover to the Toy album is 'interesting', but it seems that this was very much Bowie's concept and now that he's gone, apparently a bad idea by him is trumps a good one by someone else!
In Toy:Box, as it's called, (one suspects they created a box set just to use that title) are three CDs. The first is the album as featured in Brilliant Adventure and the second CD is a bonus disc of alternative mixes, including proposed B-Sides (versions of David's debut single 'Liza Jane' and 1967's 'In The Heat Of The Morning'), later mixes by Tony Visconti and the 'Tibet Version' of 'Silly Boy Blue' (recorded at The Looking Glass Studio time at the of the 2001 Tibet House show in New York featuring Philip Glass on piano and Moby on guitar).
The third CD features 'Unplugged & Somewhat Slightly Electric' versions of all 13 Toy tracks. Mark Plati and Earl Slick had apparently messed around a bit at the original sessions and overdubbed acoustic guitar to some of the tracks. Bowie heard this and quite liked the idea of doing stripped down, acoustic versions. Given that that album proper wasn't even released, it probably comes as no surprise to find that this idea wasn't realised either but Plati has seen this through and finished this process for the Toy:Box. AS well as the 3CD version, there's a 6 x 10-inch single vinyl box set.
Brilliant Adventures [1992-2001] will be released on 26 November 2021 (both vinyl and CD boxes). Toy:Box comes out on 7 January 2022.
Compare prices and pre-order
David Bowie
Brilliant Adventure 11CD box
Compare prices and pre-order
David Bowie
Brilliant Adventure 18LP vinyl box
Compare prices and pre-order
David Bowie
Toy Box - 3CD set
Compare prices and pre-order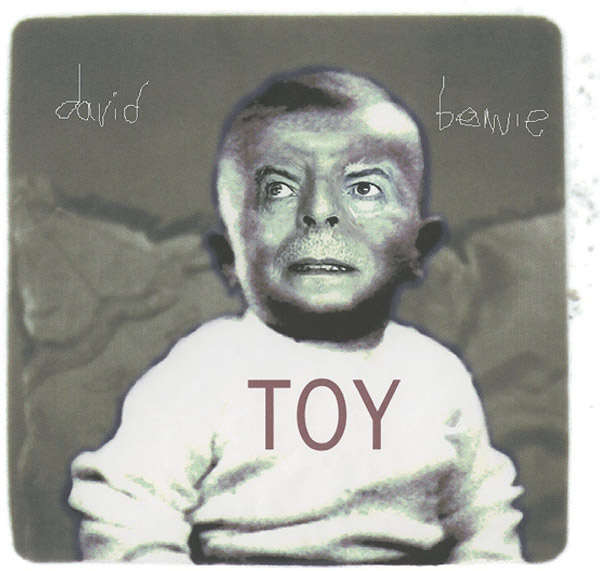 David Bowie
Toy - 6 x 10-inch vinyl box
Box summaries
LP Box Set:
84 Page hardback book
Black Tie White Noise (remastered) (2LP)
The Buddha Of Suburbia (remastered) (2LP)
1.Outside (remastered) (2LP)
Earthling (remastered) (2LP – 3-sided)
'hours…' (remastered) (1LP)
BBC Radio Theatre, London, June 27, 2000 (remastered and expanded 20 track version, previously unreleased on vinyl) (3LP)*
Toy (previously unreleased) (3 sided – 2LP)
Re:Call 5 (non-album singles, edits, single versions, b-sides and soundtrack music) (remastered) (4LP)*

* Exclusive to BRILLIANT ADVENTURE LP box
CD Box Set:
128 Page hardback book
Black Tie White Noise (remastered) (1CD)
The Buddha Of Suburbia (remastered) (1CD)
1.Outside (remastered) (1CD)
Earthling (remastered) (1CD)
'hours…' (remastered) (1CD)
BBC Radio Theatre, London, June 27th, 2000 (remastered and expanded 20 track version) (2CD)*
Toy (previously unreleased) (1CD)
Re:Call 5 (non-album singles, edits, single versions, b-sides and soundtrack music) (remastered) (3CD)*
*Exclusive to BRILLIANT ADVENTURE CD box
Tracklisting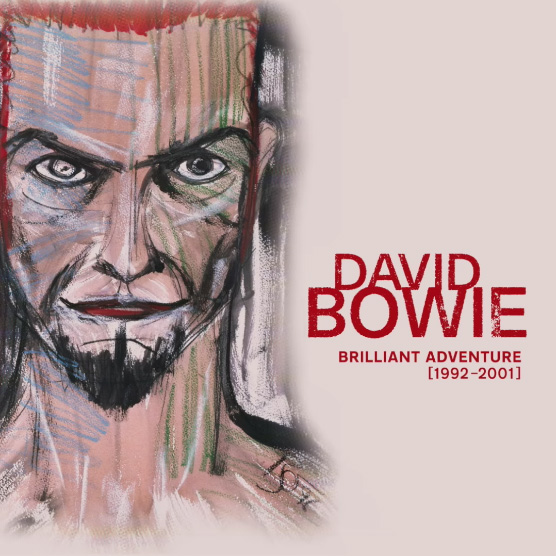 Brilliant Adventure [1992-2001] David Bowie
/
11CD box set
CD 1: Black Tie White Noise [Remastered]]

The Wedding
You've Been Around
I Feel Free
Black Tie White Noise (featuring Al B. Sure!)
Jump They Say
Nite Flights
Pallas Athena
Miracle Goodnight
Don't Let Me Down & Down
Looking for Lester
I Know It's Gonna Happen Someday
The Wedding Song

CD 2: The Buddha of Suburbia [Remastered]

Buddha of Suburbia
Sex and the Church
South Horizon
The Mysteries
Bleed Like a Craze, Dad
Strangers When We Meet
Dead Against It
Untitled No. 1
Ian Fish, U.K. Heir
Buddha of Suburbia (featuring Lenny Kravitz on guitar)

CD3: 1.Outside [Remastered]

Leon Takes Us Outside
Outside
The Hearts Filthy Lesson
A Small Plot of Land
Baby Grace (A Horrid Cassette)" (segue)
Hallo Spaceboy
The Motel
I Have Not Been to Oxford Town
No Control
Algeria Touchshriek (segue)
The Voyeur of Utter Destruction (as Beauty)
Ramona A. Stone/I Am with Name (segue)
Wishful Beginnings
We Prick You
Nathan Adler (segue)
I'm Deranged
Thru' These Architects Eyes
Nathan Adler (segue)
Strangers When We Meet

CD 4: Earthling [Remastered]

Little Wonder
Looking for Satellites
Battle for Britain (The Letter)
Seven Years in Tibet
Dead Man Walking
Telling Lies
The Last Thing You Should Do
I'm Afraid of Americans
Law (Earthlings on Fire)

CD 5: '…hours' [Remastered]

Thursday's Child
Something in the Air
Survive
If I'm Dreaming My Life
Seven
What's Really Happening?
The Pretty Things Are Going to Hell
New Angels of Promise
Brilliant Adventure
The Dreamers

CD 6: BBC Radio Theatre, London June 2000 [Box Set Exclusive]

Wild Is the Wind
Ashes to Ashes
Seven
This Is Not America
Absolute Beginners
Always Crashing in the Same Car
Survive
The London Boys
I Dig Everything
Little Wonder

CD 7: BBC Radio Theatre, London June,2000 [Box Set Exclusive]

The Man Who Sold the World
Fame
Stay
Hallo Spaceboy
Cracked Actor
I'm Afraid of Americans
All the Young Dudes
Starman
"Heroes"
Let's Dance

CD 8: Toy

I Dig Everything
You've Got A Habit of Leaving
The London Boys
Karma Man
Conversation Piece
Shadow Man
Let Me Sleep Beside You
Hole In The Ground
Baby Loves That Way
Can't Help Thinking About Me
Silly Boy Blue
Toy (Your Turn To Drive)

CD 9: Re:Call 5 part 1 [Box Set Exclusive]

Real Cool World (Sounds From The Cool World Soundtrack Version)
Jump They Say (7" version)
Lucy Can't Dance
Black Tie White Noise (feat Al B. Sure!) (Radio Edit)
Don't Let Me Down & Down (Indonesian Vocal Version)
Buddha Of Suburbia (Single Version) (featuring Lenny Kravitz on guitar)
The Hearts Filthy Lesson (Radio Edit)
Nothing To Be Desired
Strangers When We Meet (edit)
Get Real
The Man Who Sold The World (Live Eno Mix)
I'm Afraid Of Americans (Showgirls Soundtrack Version)
Hallo Spaceboy (Remix)
I Am With Name (Alternative Version)
A Small Plot Of Land (Long Basquiat Soundtrack Version)

CD 10: Re:Call 5 part 2 [Box Set Exclusive]

Little Wonder (Edit)
A Fleeting Moment (aka Severn Years In Tibet – Mandarin Version)
Dead Man Walking (Edit)
Seven Years In Tibet (Edit)
Planet Of Dreams – David Bowie and Gail Ann Dorsey
I'm Afraid Of Americans (V1 – Edit)
I Can't Read (The Ice Storm Long Version)
A Foggy Day In London Town – David Bowie and Angelo Badalamenti
Fun (BowieNet Mix)
The Pretty Things Are Going To Hell (Stigmata Soundtrack Version)
Thursday's Child (Radio Edit)
We All Go Through
No One Calls

CD 11: Re:Call 5 part 3 [Box Set Exclusive]

We Shall Go To Town
1917
The Pretty Things Are Going To Hell (Edit)
Thursday's Child (Omikron: The Nomad Soul Version)
New Angels Of Promise (Omikron: The Nomad Soul Version)
The Dreamers (Omikron: The Nomad Soul Version)
Seven (Demo)
Survive (Marius De Vries mix)
Something In The Air (American Psycho Remix)
Seven (Marius De Vries Mix)
Pictures Of Lily
Tracklisting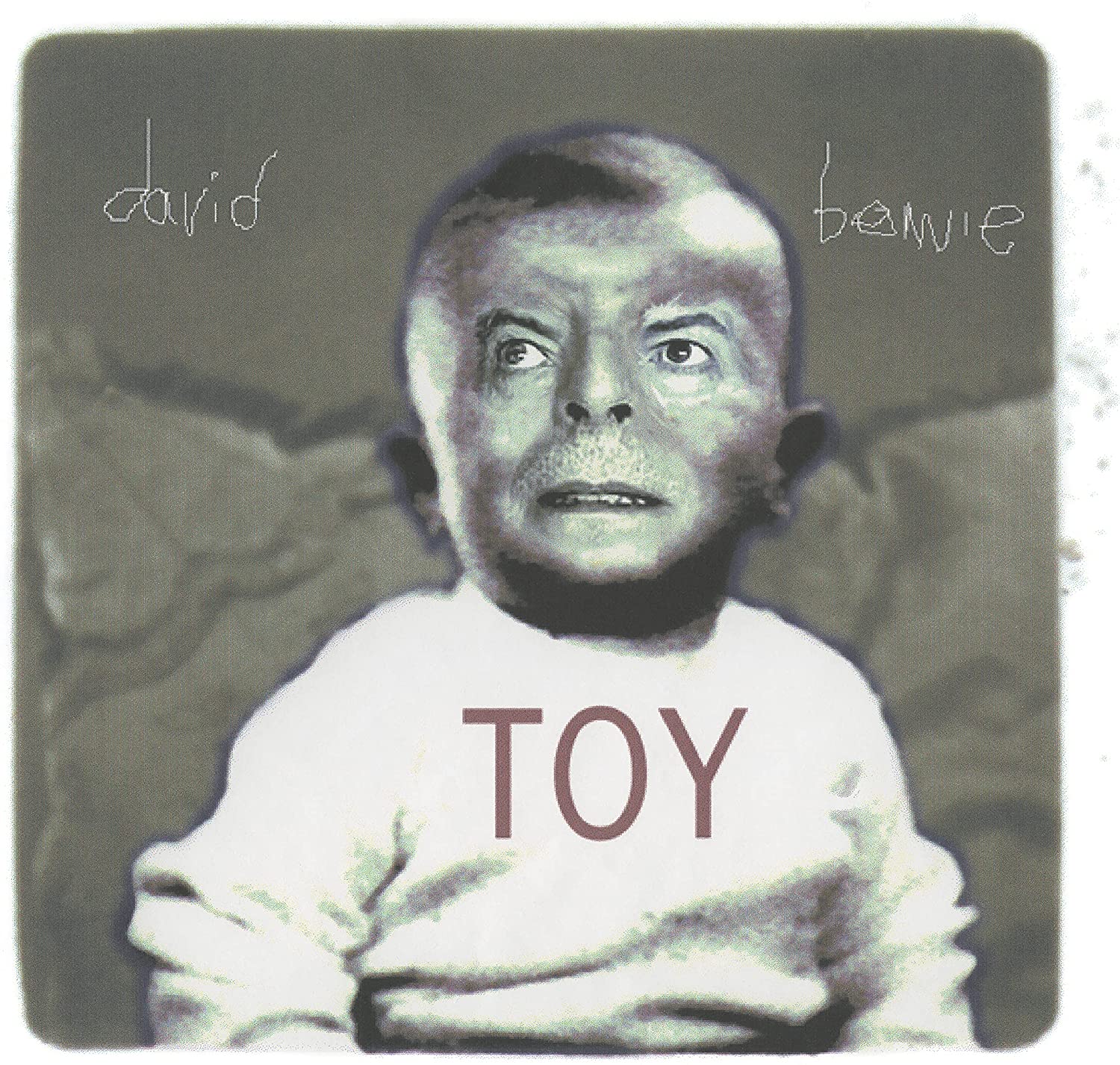 Toy Box David Bowie
/
3CD box set
CD 1: Toy

I Dig Everything
You've Got A Habit of Leaving
The London Boys
Karma Man
Conversation Piece
Shadow Man
Let Me Sleep Beside You
Hole In The Ground
Baby Loves That Way
Can't Help Thinking About Me
Silly Boy Blue
Toy (Your Turn To Drive)

CD 2: Alternatives & Extras

Liza Jane
You've Got A Habit of Leaving (alternative mix) *
Baby Loves That Way (alternative mix) *
Can't Help Thinking About Me (alternative mix)
I Dig Everything (alternative mix)
The London Boys (alternative version)
Silly Boy Blue (Tibet version)
Let Me Sleep Beside You (alternative mix) *
In The Heat Of The Morning
Conversation Piece (alternative mix) *
Hole In The Ground (alternative mix)
Shadow Man (alternative mix) *
Toy (Your Turn To Drive) (alternative mix) *

* previously unreleased

CD 3: Unplugged & Somewhat Slightly Electric

In The Heat Of The Morning (Unplugged & somewhat slightly electric mix)
I Dig Everything (Unplugged & somewhat slightly electric mix)
You've Got A Habit of Leaving (Unplugged & somewhat slightly electric mix)
The London Boys (Unplugged & somewhat slightly electric mix)
Karma Man (Unplugged & somewhat slightly electric mix)
Conversation Piece (Unplugged & somewhat slightly electric mix)
Shadow Man (Unplugged & somewhat slightly electric mix)
Let Me Sleep Beside You (Unplugged & somewhat slightly electric mix)
Hole In The Ground (Unplugged & somewhat slightly electric mix)
Baby Loves That Way (Unplugged & somewhat slightly electric mix)
Can't Help Thinking About Me (Unplugged & somewhat slightly electric mix)
Silly Boy Blue (Unplugged & somewhat slightly electric mix)
Toy (Your Turn To Drive) (Unplugged & somewhat slightly electric mix)