 News
David Bowie's Tin Machine II to be reissued on coloured vinyl and CD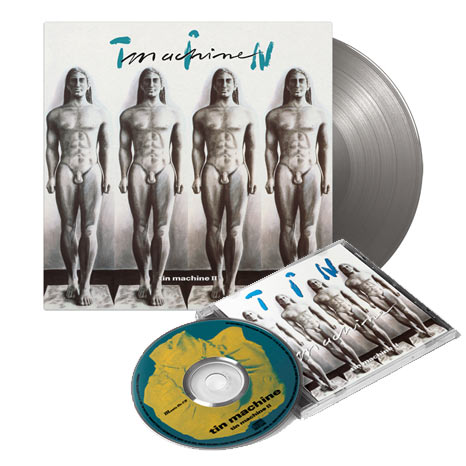 The second Tin Machine album is back in print!
Tin Machine II, David Bowie's second and final studio album with his late eighties band Tin Machine was released in 1991. It remains one of the few albums in Bowie's canon that is properly out-of-print and therefore expensive to pick up on both vinyl and CD. All this changes in July since Music On Vinyl will reissue a limited edition coloured vinyl pressing and a CD edition of the album.

Tin Machine were David Bowie, brothers Tony and Hunt Sales (the rhythm section on Iggy Pop's Lust For Life) and guitarist Reeves Gabrels (who is now a member of The Cure). The rock band was formed as a way for Bowie to get 'back to basics' and escape from some of the commercial cul-de-sacs he'd found himself in during the 1980s. This was very much him 'pleasing himself' rather than trying to second guess what people wanted to hear.

Tin Machine
The first self-titled album was issued in 1989 and was fairly well received (Q Magazine gave it four stars, for example). Bowie had to wait until 1991 to put out the second Tin Machine album (simply called Tin Machine II) since he spent 1990 on his Sound+Vision world tour.
While Tin Machine II didn't follow its predecessor into the top 10 of the UK albums charts, the second album does contain 'You Belong In Rock n' Roll', the one and only Tin Machine single that penetrated the UK top 40 singles chart (it peaked at 33 in August 1991).
The album also features 'Baby Universal' (the 1997 re-recording was recently unearthed for the Is It Any Wonder? album), a cover of Roxy Music's 'If There Is Something', and third single 'One Shot' (which was co-produced by Tonight producer Hugh Padgham, fact fans).
The album doesn't have the rawness and, arguably, the focus of the first Tin Machine album, but there's still much to enjoy and it's probably an easier listen for the more casual Bowie fan. In places, it sounds more like a David solo album, with highlights including 'Goodbye Mr Ed', 'Shopping For Girls' and 'Betty Wrong'. It's not all good news though, because the Hunt Sales-sung 'Stateside' is possibly the nadir of the entire TM oeuvre.
Nevertheless, this reissue is tremendous news and I'd highly recommend the album to anyone half interested. The final Tin Machine release was the live album Oy Vey, Baby which was issued in 1992.
The silver vinyl of Tin Machine II has now sold out despite an increased 10,000 print run.
Tin Machine II is released on 17 July 2020 via Music On Vinyl. Pre-order both formats now from the SDE shop using this link or the buttons below.
Tin Machine II vinyl reissue
Side A
Baby Universal
One Shot
You Belong In Rock N' Roll
If There Is Something
Amlapura
Betty Wrong
Side B
You Can't Talk
Stateside
Shopping For Girls
A Big Hurt
Sorry
Goodbye Mr. Ed
 Hammerhead (Instrumental) (Hidden track/unlisted)
Tin Machine II CD reissue
Baby Universal
One Shot
You Belong In Rock N' Roll
If There Is Something
Amlapura
Betty Wrong
You Can't Talk
Stateside
Shopping For Girls
A Big Hurt
Sorry
Goodbye Mr. Ed
 Hammerhead (Instrumental) (Hidden track/unlisted)