 News
Depeche Mode / Construction Time Again & Some Great Reward 12″ boxes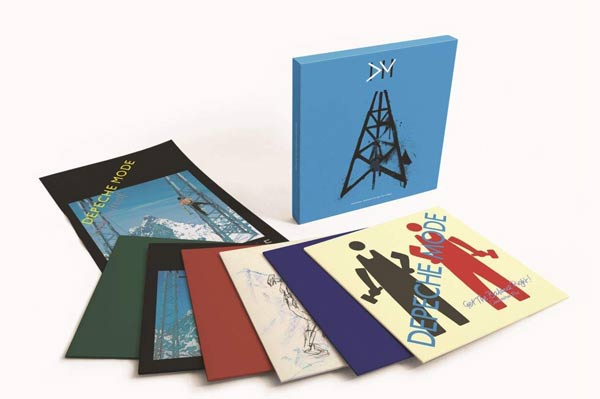 The next two albums • Six vinyl records in each box this time • A price hike
Depeche Mode continue with their 12-inch vinyl box set reissue campaign with packages around the singles pulled from their third and fourth albums Construction Time Again and Some Great Reward.

As predicted when the first two box sets were announced back in June, the ante – and the price – has been upped this time around because while both 1983's Construction Time Again and 1984's Some Great Reward albums still only had three singles apiece, each of the new boxes contains SIX 180g vinyl records in order to replicate both the original UK 12-inch and the limited edition 12-inch singles with the latter normally offering new mixes, and in these early days, quite a few live tracks.
And what singles they were. While Depeche Mode would wait a few more years for the widespread critical plaudits received by long-players such as Music For The Masses and Violator, the singles circa 83-84 were almost uniformly excellent. 'Get The Balance Right,' 'Everything Counts,' 'Love In Itself,' 'People Are People,' 'Master and Servant' and 'Blasphemous Rumours/Somebody' was a brilliant run of 45s – arguably their best.
In the case of 'Blasphemous Rumours', the second 12-inch in the new Some Great Reward 12-inch singles box set actually replicates the seven-inch EP that was issued at the time. As before these boxes include a poster.
Construction Time Again and Some Great Reward The 12″ Singles box sets are released on 14 December 2018
Compare prices and pre-order
Depeche Mode
Construction Time Again - The 12 inch Singles
Compare prices and pre-order
Depeche Mode
Some Great Reward - The 12-inch Singles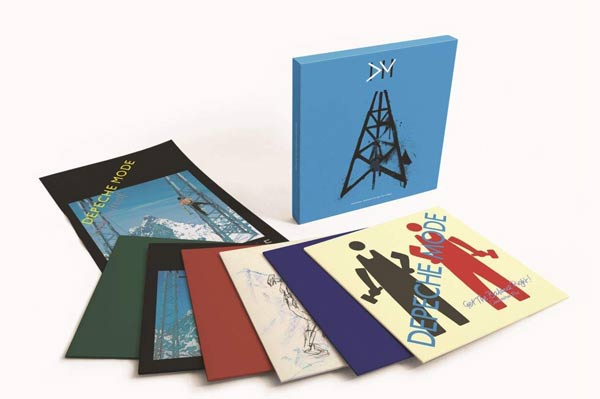 Construction Time Again | The 12" Singles
Get The Balance Right! (12BONG 2)
A Get The Balance Right! (Combination Mix)
B The Great Outdoors!
C Tora! Tora! Tora! (Live)
Get The Balance Right! (L12BONG 2)
A Get The Balance Right! (Original Mix)
B My Secret Garden (Live)
B See You (Live)
B Satellite (Live)
B Tora! Tora! Tora! (Live)
Everything Counts (12BONG 3)
A Everything Counts (In Larger Amounts)
B Work Hard (East End Remix)
Everything Counts (L12BONG 3)
A Everything Counts (Original 7" Mix)
B New Life (Live)
B Boys Say Go! (Live)
B Nothing To Fear (Live)
B The Meaning Of Love (Live)
Love In Itself (12BONG 4)
A Love In Itself•3
B Fools (Bigger)
B Love In Itself•4
Love In Itself (L12BONG 4)
A Love In Itself•2
B Just Can't Get Enough (Live)
B A Photograph Of You (Live)
B Shout (Live)
B Photographic (Live)
Some Great Reward | The 12" Singles
People Are People (12BONG 5)
A People Are People (Different Mix)
B In Your Memory (Slik Mix)
People Are People (L12BONG 5)
A People Are People (On-U Sound Remix By Adrian Sherwood)
B People Are People (Original 7" Version)
B In Your Memory (Original 7" Version)
 Master And Servant (12BONG 6)
A Master And Servant (Slavery Whip Mix)
B (Set Me Free) Remotivate Me (Release Mix)
C Master And Servant (Voxless)
Master And Servant (L12BONG 6)
A Master And Servant (An On-U Sound Science Fiction Dance Hall Classic Re-Remixed By Adrian Sherwood)
B Are People People? (Re-Remixed By Adrian Sherwood)
B (Set Me Free) Remotivate Me (7" Mix)
 Blasphemous Rumours (12BONG 7)
A Blasphemous Rumours
B Somebody (Live)
B Two Minute Warning (Live)
B Ice Machine (Live)
B Everything Counts (Live)
Blasphemous Rumours (L12BONG 7)
A Somebody (Remix)
AA Everything Counts (Live)
AA Blasphemous Rumours (Single Version)
AA Told You So (Live)