 News
Depeche Mode's 'Songs of Faith and Devotion' 12-inch box available in the US
The elusive box set is available in America right now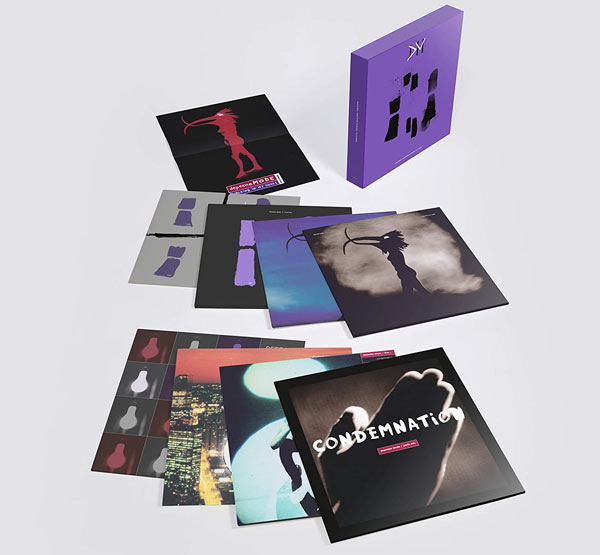 Depeche Mode's last 12-inch box set, Songs of Faith and Devotion, is already very hard to get hold of, so fans might be interested to know that there's some in stock available via Amazon in the USA.

This numbered limited edition replicates the two 12-inch singles originally offered in the UK for each of the four single releases: 'I Feel You', 'Walking In My Shoes', 'Condemnation' and 'In Your Room'.
It's all but out of print at this point in time, but for whatever reason, Amazon Stateside have some availability.
It's listed at $153 which equates to just £114, although shipped and with the import fees deposit paid the 'all in price' for UK buyers is around £148.
You can pick this up direct from Amazon US, but for those in the UK, the better option is probably to order from the UK site, making the most of Amazon's 'global stores' initiative and paying a flat rate of £140.
The box was issued at the end of October. The widget below illustrates how inflated prices are already being charged for this item.
Compare prices and pre-order
Depeche Mode
Songs Of Faith And Devotion - The 12" Singles [VINYL]
Songs Of Faith And Devotion | The 12″ Singles contains:
I Feel You (12BONG21)
I Feel You – Remix (L12BONG21)
Walking In My Shoes (12BONG22)
Walking In My Shoes – Remix (L12BONG22)
Condemnation (12BONG23)
Condemnation – Live (L12BONG23)
In Your Room (12BONG24)
In Your Room – Live (L12BONG24)
I Feel You (12BONG21):
I Feel You (Throb Mix)
I Feel You (Seven Inch Mix)
I Feel You (Babylon Mix)
One Caress
I Feel You – Remix (L12BONG21):
I Feel You (Life's Too Short Mix)
I Feel You (Swamp Mix)
I Feel You (Renegade Soundwave Afghan Surgery Mix)
I Feel You (Helmet At The Helm Mix)
Walking In My Shoes (12BONG22):
Walking In My Shoes (Grungy Gonads Mix)
Walking In My Shoes (Seven Inch Mix)
My Joy (Seven Inch Mix)
My Joy (Slow Slide Mix)
Walking In My Shoes – Remix (L12BONG22):
Walking In My Shoes (Extended Twelve Inch Mix)
Walking In My Shoes (Random Carpet Mix)
Walking In My Shoes (Anandamidic Mix)
Walking In My Shoes (Ambient Whale Mix)
Condemnation (12BONG23):
Condemnation (Paris Mix)
Death's Door (Jazz Mix)
Rush (Spiritual Guidance Mix)
Rush (Amylnitrate Mix – Instrumental)
Rush (Wild Planet Mix – Vocal)
Condemnation – Live (L12BONG23):
Condemnation (Live)
Personal Jesus (Live)
Enjoy The Silence (Live)
Halo (Live)
In Your Room (12BONG24):
In Your Room (Zephyr Mix)
In Your Room (Apex Mix)
In Your Room (The Jeep Rock Mix)
Higher Love (Adrenaline Mix)
In Your Room (Extended Zephyr Mix)
In Your Room – Live (L12BONG24):
In Your Room (Live)
Policy of Truth (Live)
World In My Eyes (Live)
Fly On The Windscreen (Live)
Never Let Me Down Again (Live)
Death's Door (Live)