 News
Depeche Mode's Violator box delayed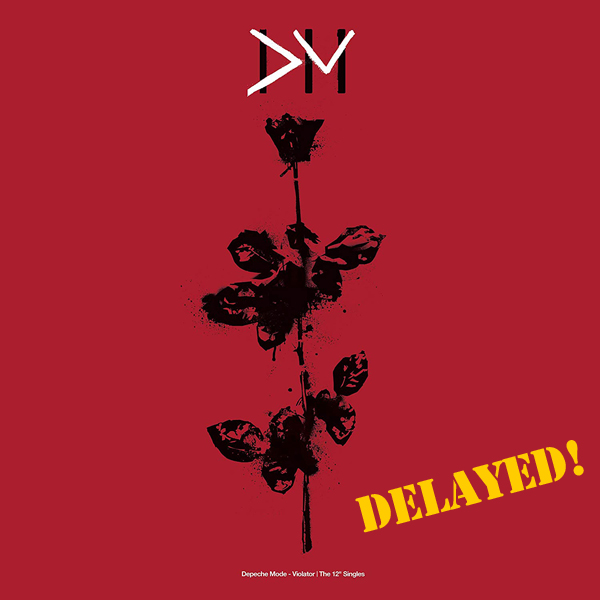 Basildon band move releases back to the summer
Depeche Mode's Violator: The 12″ Singles box will be delayed, the band have announced.

In a post on Facebook early this morning, the band stated the following:
While it is far from the top of the list of important items right now, we wanted to let you know that the releases scheduled for April and May will be delayed into the summer as supply chains and retailers focus on delivering essential goods where they're needed around the world. We apologise and we'll provide a further update when we know more.
The Violator box was due on 24 April, and 'May' references the Spirits in the Forest deluxe sets which have already been postponed from March to 1 May and are now delayed until  'the summer', like Violator.
One small bit of good news is that the Violator pre-order price is down to £124.99 on Amazon in the UK which is £15 less than previously and as 'cheap' as I've seen this set.
More on Depeche Mode release dates when we have them! Full details of Violator: The 12″ Singles can be found here, while Spirits in the Forest information is here.
Violator | The 12″ Singles contains:
Personal Jesus (12BONG17)
Personal Jesus – Remix (L12BONG17)
Enjoy The Silence (12BONG18)
Enjoy The Silence – Remix (L12BONG18)
Enjoy The Silence – Remix (XL12BONG18) – Etched
The Policy Of Truth (12BONG19)
The Policy Of Truth – Remix (L12BONG19)
World In My Eyes (12BONG20)
World In My Eyes – Remix (L12BONG20) – Blue sealed edition
World In My Eyes – Promo (P12BONG20)
Personal Jesus (12BONG17):
Personal Jesus (Holier Than Thou Approach)
Dangerous (Sensual Mix)
Personal Jesus (Acoustic)
Personal Jesus – Remix (L12BONG17):
Personal Jesus (Pump Mix)
Personal Jesus (Telephone Stomp Mix)
Dangerous (Hazchemix)
Enjoy The Silence (12BONG18):
Enjoy The Silence (Single Version)
Enjoy The Silence (Hands And Feet Mix)
Enjoy The Silence (Ecstatic Dub)
Sibeling (Single Version)
Enjoy The Silence – Remix (L12BONG18):
Enjoy The Silence (Bass Line)
Enjoy The Silence (Harmonium)
Enjoy The Silence (Ricki Tik Tik Mix)
Memphisto (Single Version)
Enjoy The Silence – Remix (XL12BONG18):
Enjoy The Silence (The Quad: Final Mix)
The Policy Of Truth (12BONG19):
Policy Of Truth (Beat Box Mix [Edit])
Policy Of Truth (Capitol Mix)
Kaleid
The Policy Of Truth – Remix (L12BONG19):
Policy Of Truth (Trancentral Mix)
Kaleid (Remix)
Policy Of Truth (Pavlov's Dub)
World In My Eyes (12BONG20):
World In My Eyes (Oil Tank Mix)
Happiest Girl (Kiss-A-Mix)
Sea Of Sin (Sensoria)
World In My Eyes – Remix (L12BONG20):
World In My Eyes (Dub In My Eyes)
World In My Eyes (Mode To Joy)
Happiest Girl (The Pulsating Orbital Mix)
World In My Eyes – Promo (P12BONG20):
World In My Eyes (Mayhem Mode)
Happiest Girl (The Pulsating Orbital Mix [Instrumental])