 News
Ian Dury & the Blockheads / Do It Yourself 40th anniversary edition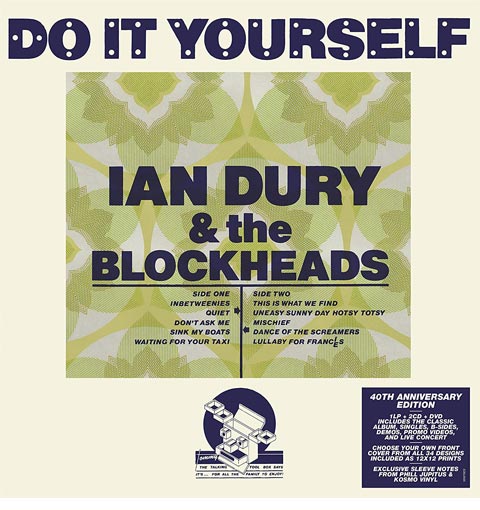 LP+2CD+DVD super deluxe comes with 34 different sleeves!
Ian Dury & the Blockheads' album Do It Yourself is to be celebrated this June with a 40th anniversary reissue package.

First released in May 1979 following the chart-topping success of 'Hit Me With Your Rhythm Stick', Do It Yourself omitted the track due to his policy of not including singles on his albums, although opening track 'Inbetweenies' was issued in Europe. Despite this, the Chaz Jankel/ Laurie Latham produced album still managed to reach number two in the UK album charts (denied the top spot by Abba's Voulez Vous, no less) although any money made was soon lost on the ensuing European tour where Dury would insist on staying in top hotels, and the whole affair was so stressful for Chaz Jankel he left immediately afterwards.
It was also the first album to credit The Blockheads, having only previously mentioned on the 1978 single 'What A Waste'.
This new 40th anniversary super deluxe is a four-disc LP+2CD+DVD set and sees the original album pressed on magnolia coloured vinyl, freshly cut from the original master tapes. The two CDs and DVD containing the album, all of the singles, B-Sides, demos, videos, and a live concert recorded in Belfast, in February 1979.
A cute selling point here is a 'choose-your-own-cover' option. The 34 different front cover sleeves, originally designed by Barney Bubbles (based around various samples of Crown wallpaper) are included on 17 large art cards. These can be switched around and slide into a special die-cut. This set also comes with a 12-page booklet with input from Phill Jupitus and Kosmo Vinyl.
Do It Yourself: 40th Anniversary Edition is released 14 June 2019.
Compare prices and pre-order
Ian Dury & The Blockheads
Do It Yourself - 40th anniversary deluxe
Vinyl and CD1
Inbetweenies
Quiet
Don't Ask Me
Sink My Boats
Waiting For Your Taxi
This Is What We Find
Uneasy Sunny Day Hotsy Totsy
Mischief
Dance Of The Screamers
Lullaby For Franci/es
CD2
Singles
What A Waste
Hit Me With Your Rhythm Stick
There Ain't Half Been Some Clever Bastards
Reasons To Be Cheerful, Part 3
Common As Muck
Hit Me With Your Rhythm Stick (12 inch version)
Reasons To Be Cheerful, Part 3 (12 inch version)
Demos
This Is What We Find
Boogie Woogie (Duff 'Em Up)
Quiet
Inbetweenies (Backing Track)
Babies Kept Quiet Uneasy (Sunny Day Hotsy Totsy)
Blow (Instrumental)
DVD
Promo Videos:
What A Waste
Hit Me With Your Rhythm Stick
Reasons To Be Cheerful, Part 3
Live:
Rock Goes to College: in concert at Queen's University, Belfast. 3rd February 1979
Sex & Drugs & Rock & Roll
I'm Partial to Your Abracadabra
Clevor Trevor
This Is What We Find
Hit Me With Your Rhythm Stick
There Ain't Half Been Some Clever Bastards
Sweet Gene Vincent
What A Waste
Blockheads