 News
INXS / Live Baby Live Wembley concert film issued on 4K UHD blu-ray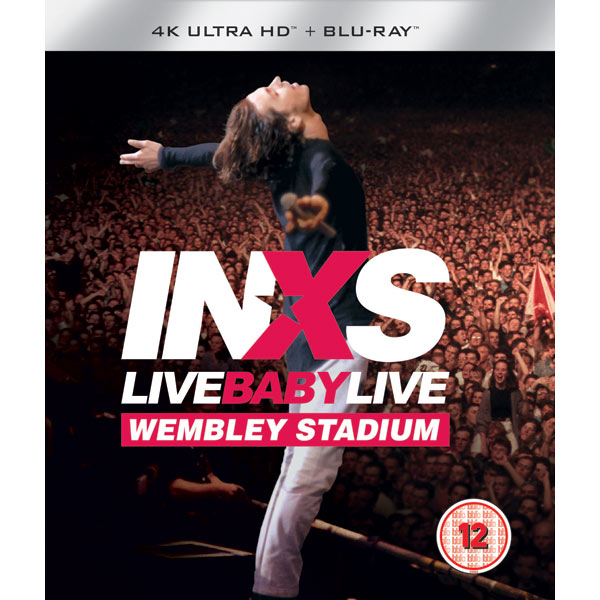 2CD+blu-ray, blu-ray and DVD also available
Live Baby Live, INXS' incredible 1991 live show at Wembley Stadium was issued last year on audio formats, but next month will finally be released on blu-ray and DVD, and the good news is the fully restored film – with Dolby Atmos soundtrack – will be available on the 4K Ultra High Definition (UHD) blu-ray format for incredible picture quality.

This visuals have been meticulously restored over a twelve-month period from the original 35mm negative to 4K Ultra HD, and during the process a previously thought lost performance of the X album track 'Lately' was discovered and reinstated into the film.
I was lucky enough to see a screening of this last year and can confirm that it's stunningly good. They've actually converted 4:3 to 16:9 with careful shot-by-shot reframing, for the full cinematic experience. The audio for the film will be in Dolby Atmos and DTS-HD Master Audio (Blu-ray only), DTS 5.1 Surround and Dolby 5.1 Surround (all created by Giles Martin and Sam Okell at Abbey Road Studios). See the video below which goes a great job of explaining the process and illustrating the improvements.
It's important to be aware that the 4K UHD version will not play on a standard blu-ray player, you need a player that is 4K UHD compatible (and a TV that will cope!). However, the 4K disc is a two-disc package that does include a 'standard' blu-ray as well, so even if you aren't set up right now, you are future proofed for later hardware upgrades. Also, both blu-rays are ALL REGION so that is not an issue (in fact all the discs, including DVDs are all region, NTSC).
There are audio/video bundles available too, but only 2CD+blu-ray and 2CD+DVD, so no 4K bundle option…
All the various formats – and there are FIVE different physical configurations – are available on 26 June 2020. We are making the 4K blu-ray package available via the SDE shop which you can pre-order with this link or by using the button below.
Compare prices and pre-order
INXS
Live Baby Live - 2CD+Bluray
Compare prices and pre-order
INXS
Live Baby Live - 2CD+DVD
4K UHD Blu-ray spec
Region:   ABC (all)
4K Visual Format:   2160p Ultra High Definition
BD Visual Format:   1080i High Definition
Picture Format:   NTSC
Aspect Ratio:   16:9
BD & 4K BD Audio:  LPCM Stereo, DTS-HD 5.1 Master Audio, Dolby Atmos
4K BD Format:   UHD-66
BD Format:   BD-50
1.     Guns in the Sky
2.    New Sensation
3.     I Send a Message
4.    The Stairs
5.    Know the Difference
6.    Disappear
7.     By My Side
8.    Hear That Sound
9.    Lately*
10. The Loved One
11.  Wild Life
12. Mystify
13.  Bitter Tears
14. Suicide Blonde
15. What You Need
16. Kick
17.  Need You Tonight
18. Mediate
19. Never Tear Us Apart
20. Who Pays the Price
21. Devil Inside
22. Shining Star

* Previously unseen/unheard performance