 News
Mystify: A Musical Journey with Michael Hutchence / new doc and soundtrack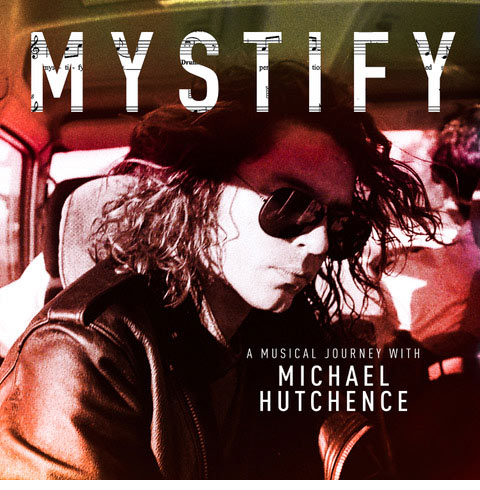 A new feature length Michael Hutchence documentary called Mystify will be released this year along with an accompanying soundtrack.

The film has been directed by Richard Lowenstein, who worked with the band throughout their career, directing 18 of their promo videos, for example, and was recently premiered at the Tribeca Film Festival in New York where it was apparently very well received. The documentary delves into the singer's complicated upbringing, his rise to fame, his relationships with women such as Helena Christensen, Kylie Minogue, and Paula Yates, a growing drug problem, the brain injury that changed the course of his life, and more.
If you've seen the Senna documentary, that charts the career, life (and death) of the Formula 1 world champion, Mystify looks like it shares a similar style with no 'talking heads' and utilising period footage and interviews to tell the story.
Inevitably, there is a soundtrack, but here's where it gets interesting, because rather than cobble together another INXS best of, longtime band manager Chris M. Murphy (working with Mark Edwards) have come up with something much more creative.
They've pulled together some INXS hits (not necessarily the familiar versions) and hidden gems from both Michael and the band's back catalogues and fused them with snippets of dialogue from interviews, discussions in the studio and so on. This has resulted in four 'tracks' – Side A, Side B, Side C and Side D, of roughly 20 minutes each. I had a sneak preview this week and really loved the approach. It reminded me a little bit of Trent Reznor's work on the Natural Born Killers soundtrack released back in 1994, which similarly fused dialogue with songs. The Mystify soundtrack is being described as a dreamlike 'musical journey,' which sounds a bit pretentious but isn't actually far off.
I think I may have opted for some grittier, classier, black and white artwork… but my only real criticism is that there is nothing included on the soundtrack from the wonderful Max Q album – Michael's 1989 collaboration with Ollie Olsen. To me, that's one of the best things he did, period, never mind outside of INXS, so the omission is both very disappointing and hard to understand.
The soundtrack will be issued on CD on 5 July 2019 (four tracks, with no indexing of individual songs or dialogue) with a double vinyl edition following in September. The documentary film is expected to be released around the world in summer/autumn of this year.
Compare prices and pre-order
Michael Hutchence
Mystify - A Musical Journey With Michael Hutchence [VINYL]
Compare prices and pre-order
Michael Hutchence
Mystify - A Musical Journey With Michael Hutchence
MYSTIFY – A MUSICAL JOURNEY WITH MICHAEL HUTCHENCE
SIDE A
Let It Ride • Deliver Me (Demo) • Black & White • Need You Tonight (Live 1988) • Under My Thumb** • Please (You Got That)
SIDE B
What You Need • Don't Change • Spill The Wine* • Move On • Need You Tonight
SIDE C
Devil Inside • Love Is (What I Say) • Baby Don't Cry • All I'm Saying* • Shine Like It Does
SIDE D
Burn For You • Viking Juice • Kiss The Dirt (Falling Down The Mountain) • Original Sin • Never Tear Us Apart***
* Michael Hutchence
** Michael Hutchence & London Symphony Orchestra
*** Michael Hutchence, Mylène Farmer & INXS