 News
James / Living In Extraordinary Times
Signed deluxe CDs  • Signed coloured vinyl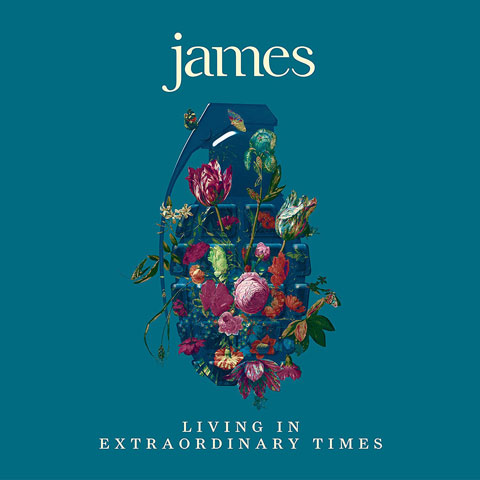 James will release a new album, Living In Extraordinary Times, in August.

It's the band's 15th studio long-player and the first since 2016's Girl at the End of the World. Speaking about the record (which is produced by Charlie Andrew and Beni Giles) frontman Tim Booth said: "We knew something was up when Leicester city won the league then Brexit, then Trump. It is as if we'd slipped into an alternate reality, a Philip K Dick reality. We are living in extraordinary times."



Living In Extraordinary Times will be available on CD, double black vinyl and a deluxe casebound book CD edition which offers four bonus tracks.

HMV (UK Shipping only) and 'indies' are doing a double LP with a special grey cover with the audio pressed on magenta vinyl

That's only scratching the surface though, because the official James store is offering its own coloured (white) vinyl exclusive with a signed art print, signed deluxe CDs and various bundles, including a 'Super Deluxe Father's Day' package!

Living In Extraordinary Times will be released on 3 August 2018.
Compare prices and pre-order
James
Living In extraordinary times deluxe CD
Compare prices and pre-order
James
Living In extraordinary times - 2LP black vinyl
Compare prices and pre-order
James
Living In extraordinary times standard CD
Living In Extraordinary Times
deluxe CD
1. Hank
2. Coming Home (Pt.2)
3. Leviathan
4. Heads
5. Many Faces
6. How Hard The Day
7. Extraordinary Times
8. Picture Of This Place
9. Hope To Sleep
10. Better Than That
11. Mask
12. What's It All About
Bonus Tracks:
1. Backwards Glances (Bonus Track)
2. Moving Car (Demo)
3. Overdose (Demo)
4. Trouble (Demo)
Living In Extraordinary Times
2LP vinyl
Side 1
1. Hank
2. Coming Home (Pt.2)
3. Leviathan
Side 2
1. Heads
2. Many Faces
3. How Hard the Day
Side 3
1. Extraordinary Times
2. Picture of This Place
3. Hope to Sleep
Side 4
1. Better Than That
2. Mask
3. What's It All About