 News
The new Tears For Fears album is being issued on blu-ray audio with a Steven Wilson Dolby Atmos mix
A SDE-exclusive product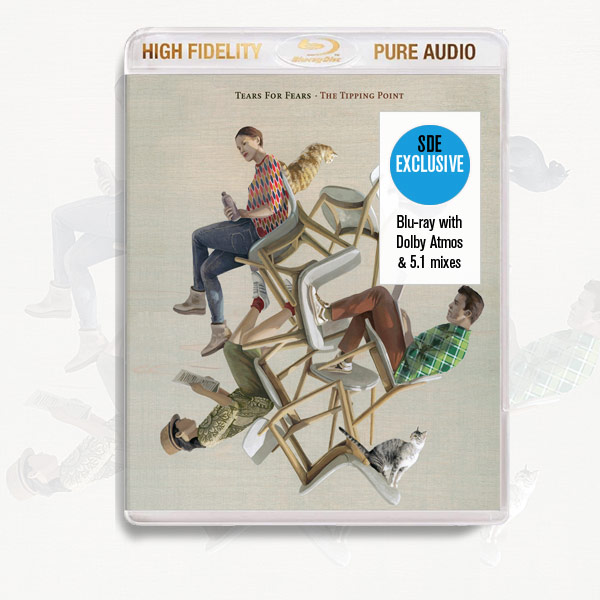 I am pleased to announce that SuperDeluxeEdition.com, in collaboration with the band and Concord Records, is taking pre-orders (via the SDE shop) for a very special blu-ray audio of Tears For Fears forthcoming album The Tipping Point, which features two spatial audio or surround sound mixes, including a Dolby Atmos mix of the album by musician and remixer extraordinaire, Steven Wilson.
The Atmos mix should surface at some point in the future via streaming services, but this is your one and only opportunity to own a physical copy on blu-ray. In addition to the Dolby Atmos mix, the blu-ray audio will also feature a 5.1 DTS-HD mix (also by Steven Wilson) which will not be available anywhere else, even on streaming.
The blu-ray is exclusive to the SDE shop and is a limited edition product. Only 2000 copies will be available. If you recall, we SOLD OUT of the same quantity of the SDE-exclusive deluxe CD of The Tipping Point in 24 hours, back in October, so secure your pre-order in at the earliest opportunity, to avoid any disappointment.
I'd personally like to make it clear that this product was not planned from the very beginning and therefore hasn't been 'held back' for any kind of strategic reasons. It came about after discussions between SDE and Concord towards the end of last year, following the success of the SDE-exclusive deluxe CD (Steven Wilson completed his mixes in December). This blu-ray edition exists because SDE believes there is still a market for physical product when it comes to surround sound (or spatial audio mixes) and Concord Records and Tears For Fears share our enthusiasm, in this regard.
Reasons you should own this blu-ray!
The album is truly stunning and the Dolby Atmos / 5.1 mixes take it to the next level
It's the only way to enjoy these spatial audio mixes of The Tipping Point via a physical product
The DTS HD 5.1 mix of the album is totally exclusive
You don't have to subscribe to a streaming service like Tidal or Apple Music to hear the spatial audio mixes
It's yours to keep forever. You own the product, you are not renting it from a 'DSP' (digital service provider)
You love 'Holding the Music in Your Hands', so here's your chance!
You enjoyed Steven Wilson's remix work on Songs From The Big Chair and The Seeds of Love
The blu-ray audio is a great format for audio and you don't want to see it die off
Supporting SDE with this venture could lead to similar collaborations with labels/artists
I know that you've only heard a couple of tracks so far, but let me assure you that The Tipping Point is a genuinely superb album and Steven's surround sound remixes are wonderful and make full use of the rear channels for a truly 'immersive' experience. Being a blu-ray audio, this is not region-locked in any way, although without wanting to state the obvious you do need a blu-ray player and appropriate kit to enjoy these spatial mixes (see technical notes, below).
The Tipping Point blu-ray will be released on 25 February 2022 and is available to pre-order ONLY from the SDE shop using this link or the button below. The shop ships internationally, and all international orders will be sent tracked to ensure speedy and reliable service (we have kept international shipping prices as low as possible).
TECHNICAL NOTES: This blu-ray audio requires a blu-ray player. Decoding the Dolby Atmos mix requires a Dolby Atmos-certified soundbar or a Dolby Atmos-compatible AV Receiver/Amp. The Dolby Atmos mix will 'fold down' to 5.1 or stereo if a Dolby Atmos decoder is not detected. The DTS HD 5.1 mix should work with virtually all home cinema set-ups.
ADDITIONAL SHIPPING NOTES: Many of you will have already pre-ordered the SDE-exclusive CD. Unfortunately the SDE shop will be unable to combine shipping with your previous order. There are logistical challenges which prevent this, so the orders will remain separate and ship individually.
Tracklisting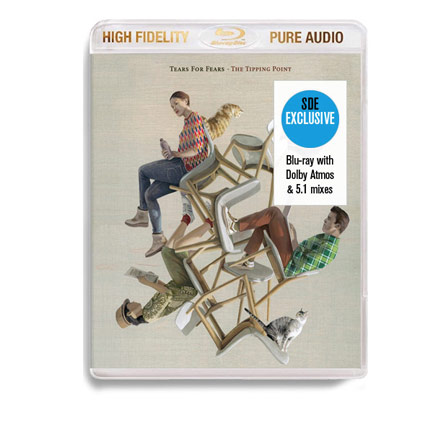 The Tipping Point Tears For Fears
/
SDE-exclusive blu-ray audio
Dolby Atmos Mix

No Small Thing
Tipping Point
Long, Long, Long Time
Break The Man
My Demons
Rivers of Mercy
Please Be Happy
Master Plan
End of Night
Stay

DTS-HD Master Audio 5.1

No Small Thing
Tipping Point
Long, Long, Long Time
Break The Man
My Demons
Rivers of Mercy
Please Be Happy
Master Plan
End of Night
Stay