 News
Level 42 / The Complete Polydor Years 1980-1984 / 10CD box set
10CD box set • Albums, B-sides, remixes and more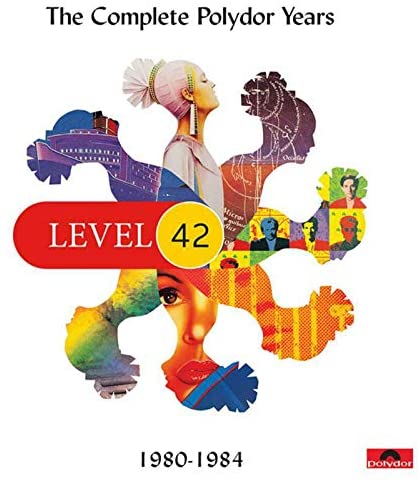 Early next year, Cherry Red will issue The Complete Polydor Years 1980-1984, a ten-CD Level 42 box set that brings together the first five albums alongside an extraordinary amount of bonus material.

This new package features the albums Level 42 (1981), The Early Tapes (1982), The Pursuit of Accidents (1982), Standing in the Light (1983) and True Colours (1984). But that's only half the story because five further CDs offer a wealth of seven-inch remixes (some new to CD), B-sides, 12-inch mixes and bonus tracks including early performances at the Regal Theatre in Hitchin (in Hertfordshire, England).
The set has been compiled in conjunction with Level 42 and band experts Paul Wallace, Paul Waller and Simon Carson. Tony Dixon at Masterpeice Masters has handled the remastering process.
Daryl Easlea has spoken to band members current and past and provides sleeve notes for this set and the good news is there will be a 'part two' which will continue the Polydor story and cover when the band become commercially very successful.
The Complete Polydor Years 1980-1984 will be released on 26 February 2021.
Compare prices and pre-order
Level 42
The Complete Polydor Years 1980-1984 10CD box
CD 1: LEVEL 42
1. TURN IT ON
2. "43"
3. WHY ARE YOU LEAVING?
4. ALMOST THERE
5. HEATHROW
6. LOVE GAMES
7. DUNE TUNE
8. STARCHILD
CD 2: THE EARLY TAPES
1. SANDSTORM
2. LOVE MEETING LOVE
3. THEME TO MARGARET
4. AUTUMN (PARADISE IS FREE)
5. WINGS OF LOVE
6. WOMAN
7. MR. PINK
8. 88
CD 3: THE PURSUIT OF ACCIDENTS
1. WEAVE YOUR SPELL
2. THE PURSUIT OF ACCIDENTS
3. LAST CHANCE
4. ARE YOU HEARING (WHAT I HEAR)?
5. YOU CAN'T BLAME LOUIS
6. EYES WATERFALLING (THE PRODIGY)
7. SHAPESHIFTER
8. THE CHINESE WAY
CD 4: STANDING IN THE LIGHT
1. MICRO KID
2. THE SUN GOES DOWN (LIVING IT UP)
3. OUT OF SIGHT OUT OF MIND
4. DANCE ON HEAVY WEATHER
5. A PHARAOH'S DREAM (OF ENDLESS TIME)
6. STANDING IN THE LIGHT
7. I WANT EYES
8. PEOPLE
9. THE MACHINE STOPS
CD 5: TRUE COLOURS
1. THE CHANT HAS BEGUN
2. KANSAS CITY MILKMAN
3. SEVEN DAYS
4. HOT WATER
5. A FLOATING LIFE
6. TRUE BELIEVERS
7. MY HERO
8. KOUYATE
9. HOURS BY THE WINDOW
CD 6: 7" SINGLES
1. LOVE MEETING LOVE – (7″ VERSION) (FIRST TIME ON CD)
2. (FLYING ON THE) WINGS OF LOVE (U.S. MIX – 7″ EDIT)
3. LOVE GAMES (7″ VERSION)
4. TURN IT ON (7″ VERSION)
5. STARCHILD (7″ REMIX)
6. ARE YOU HEARING (WHAT I HEAR)? (7″ VERSION)
7. WEAVE YOUR SPELL (7″ REMIX)
8. THE CHINESE WAY (7″ VERSION)
9. OUT OF SIGHT OUT OF MIND (7″ VERSION)
10. THE SUN GOES DOWN (LIVING IT UP) (7″ VERSION)
11. MICRO KID (7″ VERSION)
12. HOT WATER (7″ VERSION)
13. THE CHANT HAS BEGUN (7″ EDIT)
CD 7: B SIDES
1. INSTRUMENTAL LOVE
2. FORTY-TWO
3. BEEZER ONE
4. FOUNDATION AND EMPIRE (PARTS 1 & 2)
5. THE RETURN OF THE HANDSOME RUGGED MAN
6. DUNE TUNE (LIVE)
7. LOVE GAMES (LIVE)
8. 88 (LIVE)
9. YOU CAN'T BLAME LOUIS (REMIX – 7″ VERSION) (FIRST TIME ON CD)
10. CAN'T WALK YOU HOME (7″ VERSION)
11. CAN'T WALK YOU HOME
12. TURN IT ON (LIVE)
13. ALMOST THERE (EDITED VERSION)
CD 8: 12" SINGLES & RARITIES
1. (FLYING ON THE) WINGS OF LOVE (U.S. MIX – FULL LENGTH VERSION)
2. (FLYING ON THE) WINGS OF LOVE (REMIX '81)
3. LOVE GAMES (FULL LENGTH VERSION)
4. TURN IT ON (FULL LENGTH VERSION)
5. STARCHILD (REMIX – LONG VERSION)
6. ARE YOU HEARING (WHAT I HEAR)? – (EXTENDED VERSION)
7. WEAVE YOUR SPELL (EXTENDED VERSION)
8. THE CHINESE WAY (EXTENDED VERSION)
9. OUT OF SIGHT OUT OF MIND – (EXTENDED VERSION)
10. YOU CAN'T BLAME LOUIS (EXTENDED REMIX)
11. THE SUN GOES DOWN (LIVING IT UP) (EXTENDED VERSION)
CD 9: 12" SINGLES
1. MICRO KID (EXTENDED VERSION) (FIRST TIME ON CD)
2. MICRO KID (I-LEVEL REMIX)
3. THE CHINESE WAY (NEW YORK REMIX)
4. THE CHINESE WAY (DUB)
5. HOT WATER (MASTERMIX)
6. STANDING IN THE LIGHT (EXTENDED VERSION)
7. MICRO KID (SPECIALLY REMIXED VERSION)
8. MICRO KID (DUB VERSION)
9. THE CHANT HAS BEGUN (POWER MIX)
10. THE SUN GOES DOWN (LIVING IT UP) (UPFRONT MIX)
CD 10: BONUS TRACKS
1. LOVE GAMES (U.S. REMIX)
2. SANDSTORM (LIVE MAY 1982)
3. MR. PINK (LIVE MAY 1982)
4. IT'S A HAPPENING
5. THE CHINESE WAY (DUB – EDIT) (FIRST TIME ON CD)
6. LAST CHANCE (EXTENDED VERSION)
7. HEATHROW (LIVE AT REGAL THEATRE, HITCHIN)
8. TURN IT ON (LIVE AT REGAL THEATRE, HITCHIN)
9. EYES WATERFALLING (THE PRODIGY) (LIVE AT REGAL THEATRE, HITCHIN)
10. THE PURSUIT OF ACCIDENTS (LIVE AT REGAL THEATRE, HITCHIN)
11. ARE YOU HEARING (WHAT I HEAR)? (LIVE AT REGAL THEATRE, HITCHIN)
12. STANDING IN THE LIGHT (7″ VERSION)
13. GOODBYE RAY SCHMIDT-VOLK