 News
Marion / Coloured & signed vinyl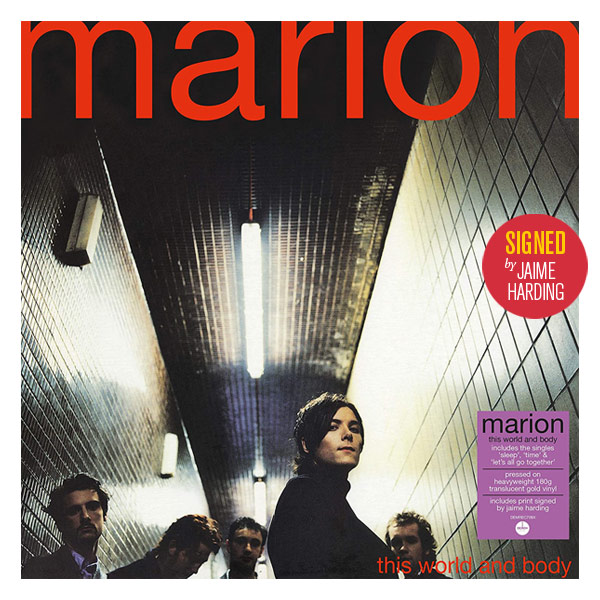 Britpop era band Marion, see both of their album reissued on coloured vinyl in May with limited numbers available signed by frontman Jaime Harding.

After the Manchester group issued a debut single on Rough Trade, Marion signed with London Records with debut album This World And Body being released in early 1996. It contains three top 40 singles including number 17 hit 'Sleep'.
1998 follow-up The Program secured the production services of Smiths guitar legend Johnny Marr, although it didn't do much commercially – Britpop had left the building.
Both albums are now reissued as coloured vinyl pressings (gold and green respectively) and initially 500 copies are available with a print of the album artwork SIGNED by Jaime Harding.
This World And Body and The Program vinyl reissues are out on 22 May 2020 (was 8 May).
Compare prices and pre-order
Marion
this world and body - signed coloured vinyl
Compare prices and pre-order
Marion
The Program - signed coloured vinyl
This World and Body – gold vinyl LP (signed)
Side A
1. Fallen Through
2. Sleep
3. Let's All Go Together
4. Wait
5. The Only Way
6. I Stopped Dancing
7. All For Love
Side B
1. Toys For Boys
2. Time
3. Vanessa
4. Your Body Lies
5. My Children
The Program – green vinyl (signed)
Side A
1. The Smile
2. Miyako Hideaway
3. Sparkle
4. Is That So?
5. What Are We Waiting For?
Side B
1. Strangers
2. The Powder Room Plan
3. The Program
4. All Of These Days
5. Comeback