 News
Nick Cave & Warren Ellis / Proposition soundtrack to be issued on vinyl
First time on vinyl • Gold coloured gatefold vinyl LP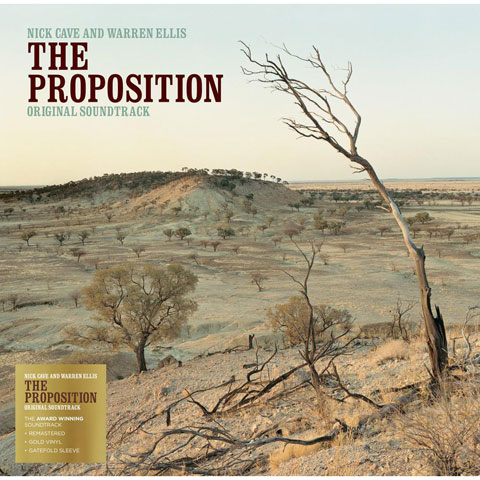 Nick Cave and Warren Ellis' soundtrack for 2005 film The Proposition will receive a first vinyl release in November.

The film was written by Cave and directed by John Hillcoat. Since working on this project Cave and Ellis have created soundtracks to a number of other films including The Assassination of Jesse James By The Coward Robert Ford, Lawless, Hell Or High Water, and Kings.



The soundtrack is being pressed on special gold coloured vinyl and comes in a gatefold sleeve. After the first pressing these will revert to black vinyl.

The soundtrack to The Proposition is released on 2 November 2018 via Mute / BMG.


Compare prices and pre-order
Nick Cave & Warren Ellis
The Proposition - Gold vinyl LP
  1. Happy Land (2018 – Remaster)
  2. The Proposition #1 (2018 – Remaster)
  3. Road to Banyon (2018 – Remaster)
  4. Down to the Valley (2018 – Remaster)
  5. Moan Thing (2018 – Remaster)
  6. The Rider #1 (2018 – Remaster)
  7. Martha's Dream (2018 – Remaster)
  8. Gun Thing (2018 – Remaster)
  1. Queenie's Suite (2018 – Remaster)
  2. The Rider #2 (2018 – Remaster)
  3. The Proposition #2 (2018 – Remaster)
  4. Sad Violin Thing (2018 – Remaster)
  5. The Rider #3 (2018 – Remaster)
  6. The Proposition #3 (2018 – Remaster)
  7. The Rider Song (2018 – Remaster)
  8. Clean Hands, Dirty Hands (2018 – Remaster)