 News
Now Yearbook '79
4CD deluxe or 3LP coloured vinyl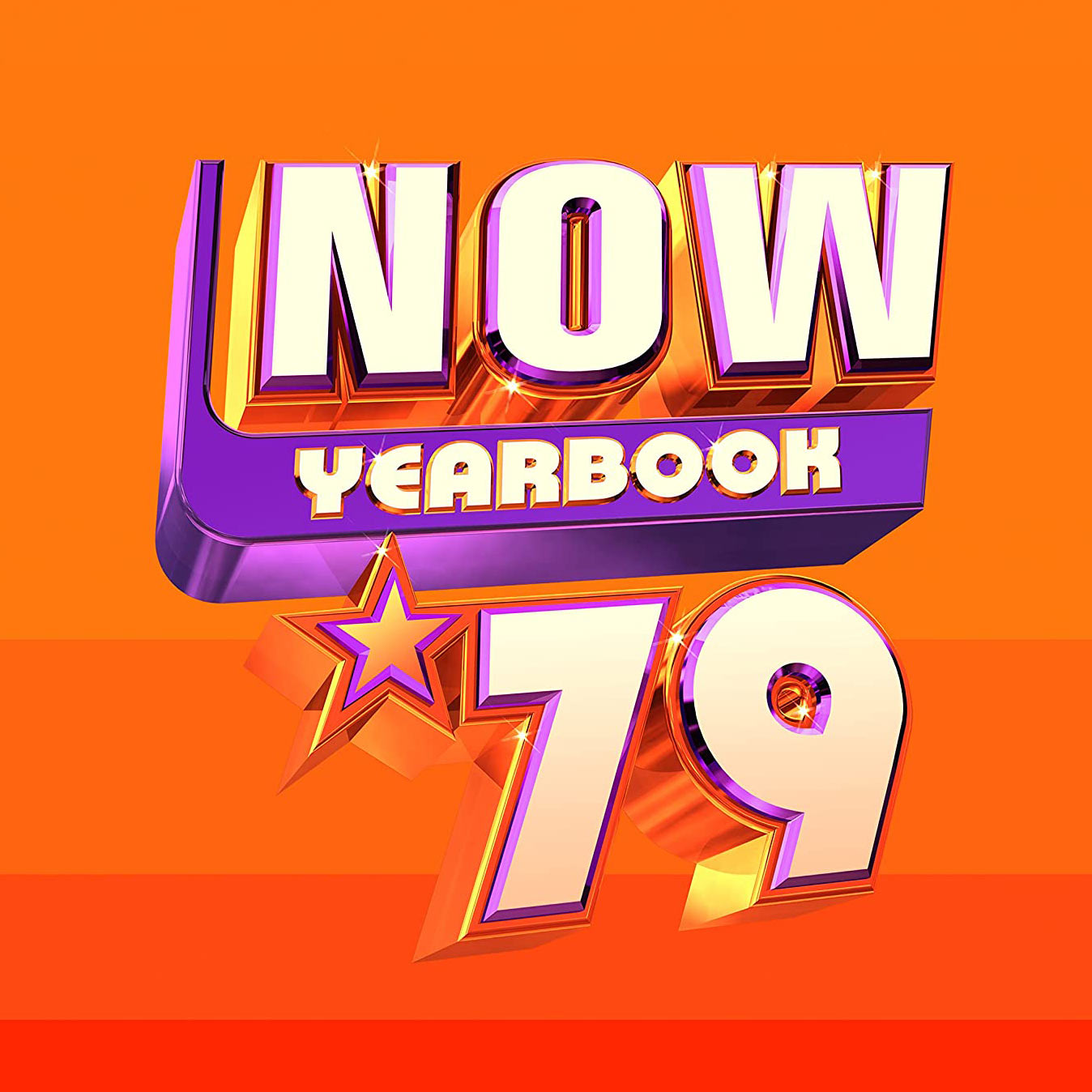 The NOW Yearbook series continues to go 'backwards' with a focus on the year 1979. Now Yearbook '79 is consistent with the other Yearbooks in that it comes in 4CD deluxe hardcover book, 3LP coloured (orange) vinyl (both limited) and standard 4CD editions, but is notable in featuring what NOW call a 're-imagined' look that "reflects the era". Whether they needed to do that is up for debate, but the fact they've bothered does rather suggest their will be more Yearbooks for the 1970s.
Design aside, it's business as usual. 1979 was a great year for pop music and Now Yearbook '79 reflects that. Queen's 'Don't Stop Me Now' kicks off the first CD, which also includes number ones from The Police, The Boomtown Rats, Ian Dury & The Blockheads as well as 'Heart Of Glass' from Blondie, and hits from Kate Bush, Roxy Music and the Pretenders.
There's a number of standard single versions of songs that appear on the recently announced 12″ 70s compilation, including Wings' 'Goodnight Tonight', Cliff Richard's 'We Don't Talk Anymore' and The B-52's 'Rock Lobster', but that's hardly an issue. I don't think anyone would have wanted them to avoid such hits just because they are on the other set in extended form.
The compilation really does illustrate the variety of the era, with ska/pop crossover hits, classic rock tracks, new wave post-punk selections, dancefloor numbers and even rap, with The Sugerhill Gang's 'Rapper's Delight'. It ends with Gary Numan and The Buggles (full track listings are below).

Now Yearbook 79 will be released on 9 September 2022.
Compare prices and pre-order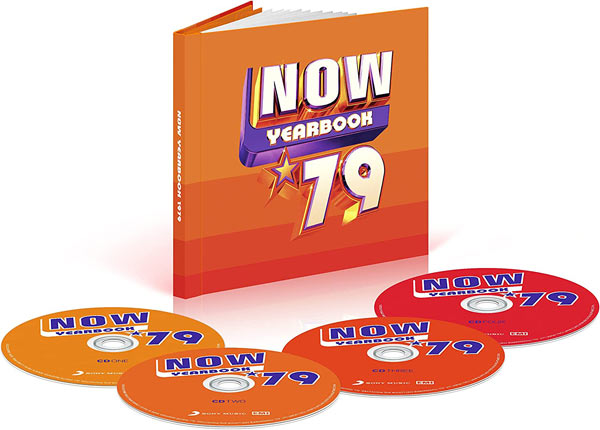 Various Artists
Now Yearbook 79 - 4CD deluxe hardcover book edition
Compare prices and pre-order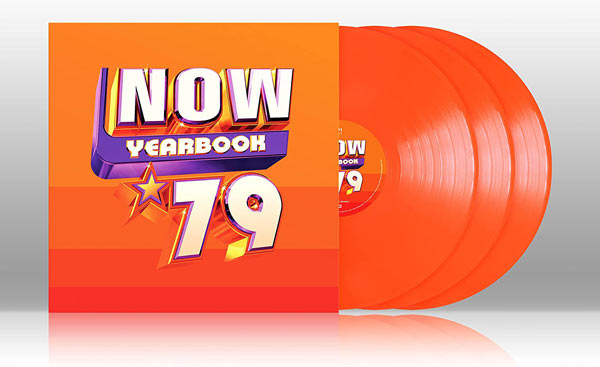 Various Artists
Now Yearbook 79 - 3LP orange vinyl
Compare prices and pre-order
Various Artists
Now Yearbook 79 - 4CD standard edition
Tracklisting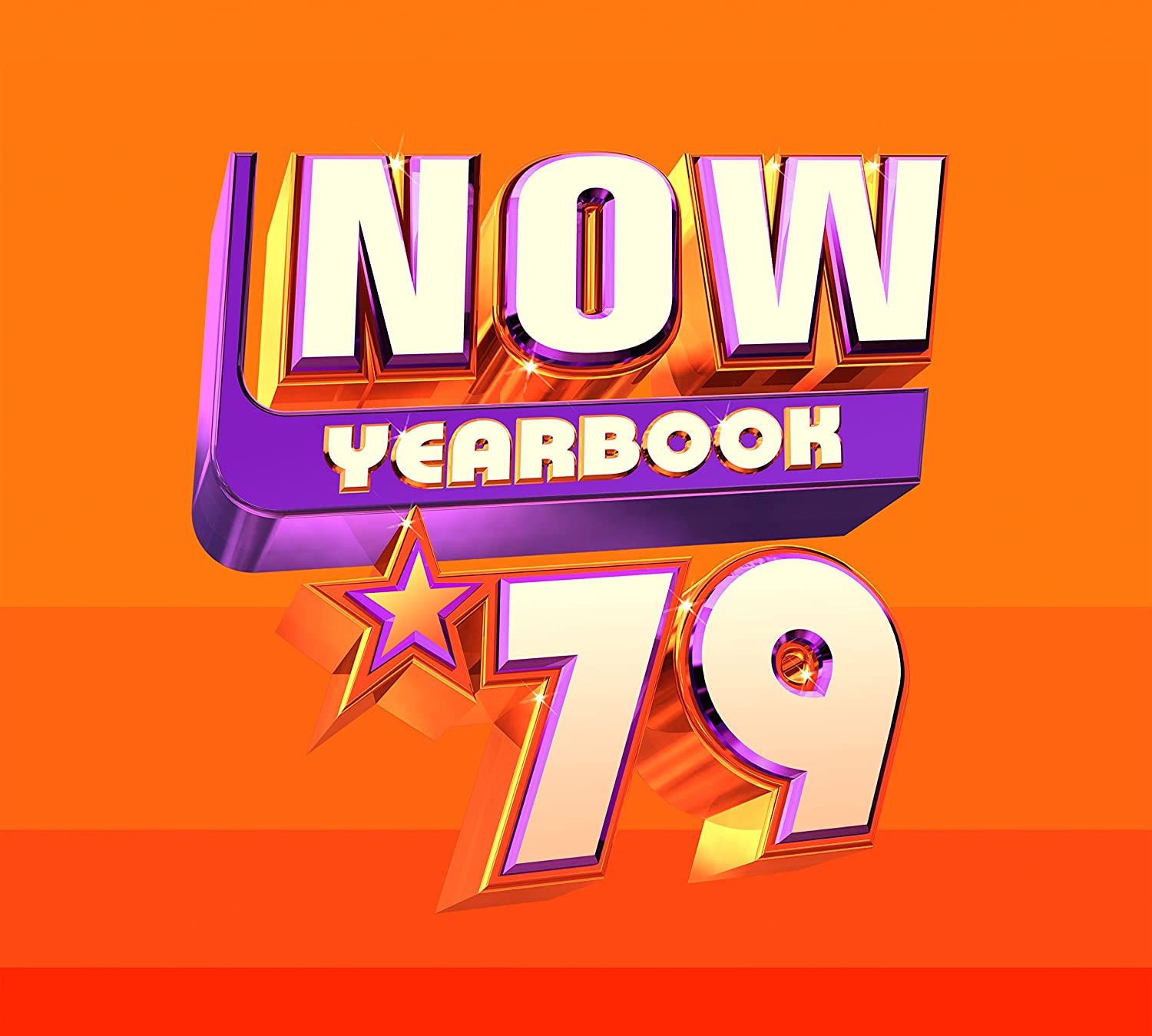 Now Yearbook '79 Various Artists
/
CD 1

Queen – Don't Stop Me Now
The Police – Walking On The Moon
The Boomtown Rats – I Don't Like Mondays
Kate Bush – Wow
Ian Dury & The Blockheads – Hit Me With Your Rhythm Stick
Blondie – Heart Of Glass
ABBA – Gimme! Gimme! Gimme! (A Man After Midnight)
Chic – Good Times
Sister Sledge – We Are Family
Earth, Wind & Fire – September
Gloria Gaynor – I Will Survive
Village People – YMCA
Donna Summer – Hot Stuff
Sparks – Beat The Clock
Gary Numan – Cars
The Flying Lizards – Money
Pretenders – Stop Your Sobbing
Dave Edmunds – Girls Talk
Gerry Rafferty – Night Owl
Billy Joel – My Life
Roxy Music – Dance Away

CD 2

Madness – One Step Beyond
The Selecter – On My Radio
The Specials – Gangsters
Janet Kay – Silly Games
Gary Moore & Phil Lynott – Parisienne Walkways
Meat Loaf – Bat Out Of Hell
Electric Light Orchestra – Don't Bring Me Down
Rainbow – Since You Been Gone
The Charlie Daniels Band – The Devil Went Down To Georgia
The Knack – My Sharona
The Tourists – I Only Want To Be With You
Squeeze – Cool For Cats
Skids – Into The Valley
Sex Pistols – Something Else
The Clash – I Fought The Law
The Jam – The Eton Rifles
Elvis Costello & The Attractions – Accidents Will Happen
XTC – Making Plans For Nigel
Joe Jackson – Is She Really Going Out With Him
The Cure – Boys Don't Cry
Siouxsie And The Banshees – The Staircase (Mystery)
Lene Lovich – Lucky Number
The B-52's – Rock Lobster

CD 3

ABBA – Chiquitita
Art Garfunkel – Bright Eyes
Elton John – Song For Guy
Sad Café – Every Day Hurts
Eruption – One Way Ticket
Amii Stewart – Knock On Wood
Chic – I Want Your Love
Sister Sledge – He's The Greatest Dancer
Donna Summer – Bad Girls
The Crusaders – Street Life
Earth, Wind & Fire With The Emotions – Boogie Wonderland
McFadden & Whitehead – Ain't No Stoppin' Us Now
Kool & The Gang – Ladies Night
The Real Thing – Can You Feel The Force
Edwin Starr – Contact
Leif Garrett – I Was Made For Dancin'
The Dooleys – Wanted
Frantique – Strut Your Funky Stuff
Dynasty – I Don't Want To Be A Freak (But I Can't Help Myself)
The Sugarhill Gang – Rapper's Delight

CD 4

Cliff Richard – We Don't Talk Anymore
Neil Diamond – Forever In Blue Jeans
Wings – Goodnight Tonight
Electric Light Orchestra – Shine A Little Love
Olivia Newton-John – A Little More Love
Blondie – Dreaming
Suzi Quatro – She's In Love With You
Hook – When You're In Love With A Beautiful Woman
The Korgis – If I Had You
Dollar – Love's Gotta Hold On Me
Milk & Honey – Hallelujah
The Three Degrees – Woman In Love
Peaches & Herb – Reunited
Commodores – Still
Racey – Lay Your Love On Me
BA Robertson – Bang Bang
Village People – In The Navy
Boney M. – Hooray! Hooray! It's a Holi-Holiday
M – Pop Muzik
Tubeway Army – Are 'Friends' Electric?
The Buggles – Video Killed The Radio Star

LP 1

Side A

Queen – Don't Stop Me Now
The Police – Walking On The Moon
Blondie – Heart Of Glass
ABBA – Gimme! Gimme! Gimme! (A Man After Midnight)
Olivia Newton-John – A Little More Love
Kate Bush – Wow
Elton John – Song For Guy

Side B

Donna Summer – Hot Stuff
Chic – Good Times
Sister Sledge – He's The Greatest Dancer
Amii Stewart – Knock On Wood
Gloria Gaynor – I Will Survive
Village People – YMCA
McFadden & Whitehead – Ain't No Stoppin' Us Now
Commodores – Still

LP 2

Side A

Ian Dury & The Blockheads – Hit Me With Your Rhythm Stick
The Boomtown Rats – I Don't Like Mondays
Elvis Costello & The Attractions – Accidents Will Happen
Sex Pistols – Something Else
The Clash – I Fought The Law
Siouxsie And The Banshees – The Staircase (Mystery)
Squeeze – Cool For Cats
The Specials – Gangsters
The Selecter – On My Radio
Madness – One Step Beyond

Side B

Meat Loaf – Bat Out of Hell
Electric Light Orchestra – Shine A Little Love
Blondie – Dreaming
Pretenders – Stop Your Sobbing
Dave Edmunds – Girls Talk
Gerry Rafferty – Night Owl
Billy Joel – My Life
Gary Moore & Phil Lynott – Parisienne Walkways

LP 3

Side A

ABBA – Chiquitita
Art Garfunkel – Bright Eyes
Roxy Music – Dance Away
Neil Diamond – Forever In Blue Jeans
Cliff Richard – We Don't Talk Anymore
Milk & Honey – Hallelujah
Sad Café – Every Day Hurts

Side B

The Crusaders – Street Life
Earth, Wind & Fire – September
Wings – Goodnight Tonight
The B-52's – Rock Lobster
The Flying Lizards – Money
M – Pop Muzik
Gary Numan – Cars
The Buggles – Video Killed The Radio Star