 News
Paul Young / Greatest Hits: Japanese Singles Collection / CD+DVD set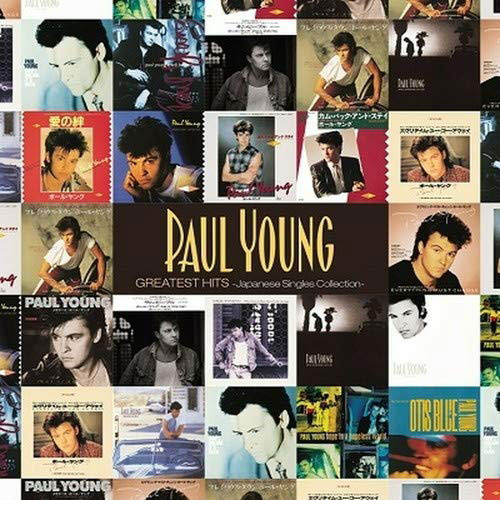 CD+DVD package • First time videos on DVD outside the recent box set
Sony Music Japan are issuing a new Paul Young best of. Greatest Hits: Japanese Singles Collection features 18 singles and will be of interest to fans as it includes a DVD of videos.

The CD+DVD set features a 'blu-spec CD2' audio disc (compatible with all CD players) coupled with a DVD of 18 videos. The CD apparently features all Young's CBS singles issued in Japan.
Paul issued 19 CBS singles in the UK and of those, 'Iron Out The Rough Spots' and 'Calling You' are missing from this set, while 'Come On In' (a 1991 Japan-only single with Masayuki Suzuki) is added, giving a total of 18 songs. It will be interesting to see which versions are used here.
Greatest Hits: Japanese Singles Collection sees Paul's videos issued on DVD for the first time outside Edsel's SDE-curated CBS Singles box set of January this year. This is great news for anyone who missed out on the box, which effectively went out of print on or around the release date in late January! Looking at the track listing, this DVD is identical to the one included in the box set (it doesn't feature 'Come On In' for example) which I suspect means Sony have effectively just ripped/duplicated that very same DVD (but presumably with new menus and the like).
The DVD is now confirmed as NTSC all-region, so no concerns about compatibility.
Greatest Hits: Japanese Singles Collection is released on 29 May in Japan and can be ordered via Amazon Japan or CD Japan. You can pay a bit more and just order from Amazon in the UK or other European stores, where the release date is 7 June 2019 (see widget, below).
Compare prices and pre-order
Paul Young
Greatest Hits Japanese Singles Collection [CD+DVD] [Blu-spec CD2]
Disc: 1 (CD)
1. Love of the Common People
2. Wherever I Lay My Hat (That's My Home)
3. Come Back and Stay
4. Every Time You Go Away
5. I'm Gonna Tear Your Playhouse Down
6. Everything Must Change
7. Tomb of Memories
8. Wonderland
9. Some People
10. Why Does a Man Have to Be Strong
11. Softly Whispering I Love You
12. Oh Girl
13. Heaven Can Wait
14. Don't Dream It's Over
15. Come on in
16. Now I Know What Made Otis Blue
17. Hope in a Hopeless World
18. It Will Be You
Disc: 2 (DVD)
1. Love of the Common People
2. Wherever I Lay My Hat (That's My Home)
3. Come Back and Stay
4. I'm Gonna Tear Your Playhouse Down
5. Everything Must Change
6. Every Time You Go Away
7. Tomb of Memories
8. Wonderland
9. Some People
10. Why Does a Man Have to Be Strong
11. Softly Whispering I Love You
12. Oh Girl
13. Heaven Can Wait
14. Calling You
15. Don't Dream It's Over
16. Now I Know What Made Otis Blue
17. Hope in a Hopeless World
18. It Will Be You