 News
Philip Pullman / His Dark Materials 9LP coloured vinyl box signed by the author
Limited 9LP coloured vinyl box signed by Philip Pullman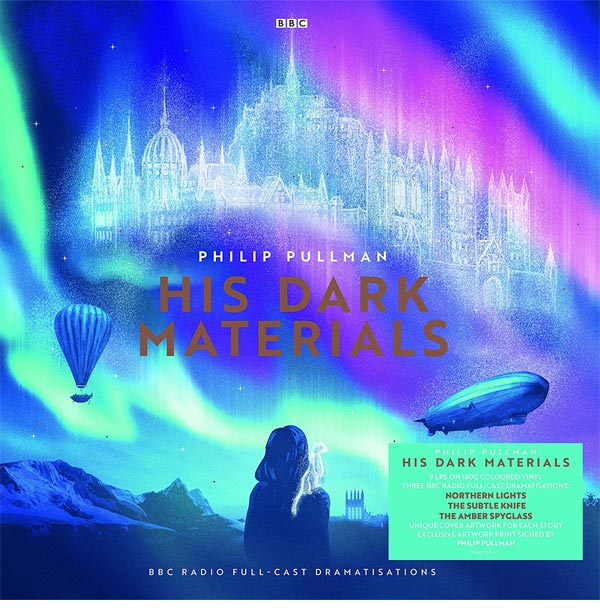 Demon Music continue their passion for spoken word/comedy vinyl packages with what looks like another lavish presentation, this time of Phillip Pullman's His Dark Materials trilogy, as adapted for BBC Radio back in 2003.

The novels are back in the public consciousness thanks to HBO/BBC's universally acclaimed series which covered the events of the first book, Northern Lights. That was published in 1995 and The Subtle Knife followed in 1997, with The Amber Spyglass completing the fantasy trilogy in 2000.

The BBC Radio radio plays consisted of three two-and-a-half hour adaptations, each covering one book. The cast included no less than Terence Stamp as Lord Asriel and Lulu Popplewell as Lyra. These have been rebroadcast twice since the original airing, with the most recent being back in 2017.

Click image to enlarge

This is a nine vinyl LP package with the audio pressed on 'daemonic dustburst' splatter vinyl and each comes housed in its own illustrated inner sleeve. As can be seen above, the gatefold sleeves feature dust-inspired illustrations, created with metallic copper ink. Anyone who has bought the recent Terry Pratchet Discworld set or perhaps one of the Hitchhiker's Guide to the Galaxy packages will know what to expect of this.

Most impressive of all is that 500 of these – the Amazon UK exclusive version – come with an art print signed by Philip Pullman himself, which one suspects really is a future collectible.

This His Dark Materials 9LP vinyl box set will be released on 27 March 2020.


Compare prices and pre-order
Philip Pullman
His Dark Materials - 9LP coloured vinyl set signed by Philip Pullman
Click image to enlarge

LPs 1,2,3

Northern Lights


Click image to enlarge

 

LPs 4,5,6

The Subtle Knife



Click image to enlarge

LPs 7,8,9

The Amber Spyglass